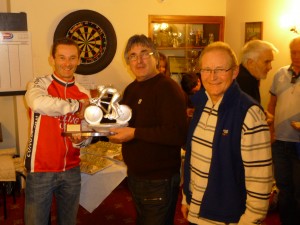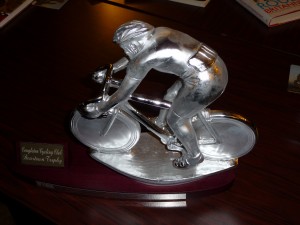 Ian Burns, Proprietor and Managing Director of the Beartown
Brewery stepped in and offered to buy a new road race trophy for Congleton
Cycling Club, following the loss of their original Elsie Barnett Trophy. This
has been named the Beartown Road Race Trophy.
It was presented to Mike Harrison on Thursday Feb 2nd
at an evening club meeting at the Beartown Tap in Willow Street. Around 20 club
members enjoyed an evening in the pub, during which Mr Burns presented Mike
with the new award. (see photo). Ian was himself a club member about 20 years
ago, and has always maintained an interest in the clubs affairs.
Mike is the clubs Road Race Champion. Last year he earned
120 points competing in Road races under British Cycling Regulations.  This included a win in the prestigious Tom
Simpson Memorial race and many podium finishes in British races. He also
achieved a fine fourth place in his age group in The World Masters Road Race
Championship in Austria. Mike has been club road race champion since rejoining
three years ago after a long and successful career at elite level, most
recently with the Sigma Sport race team.
Club Chairman Bob Norton explained said that "We have been
embarrassed not to have a trophy to award. The club members enjoy the
hospitality of the Beartown Tap on the first Thursday of each month. The multi
award winning pub has a warm and friendly atmosphere that is a reflection of
the efforts of the licensee and staff.
These evening meetings are always well attended by our members. We enjoy
sampling the range of real ales on offer". However, he added "Not too many"!