Press Report – 9th January 2014
Happy New Year everyone! On behalf of everyone at Congleton Cycling Club, we would like to wish everyone a healthy and happy 2014. The Club celebrated New Year with a rather rainy walk, starting from Holmes Chapel library then via a 7 mile circuit going across to Goostrey and ending in the Red Lion for a well deserved beverage.
Despite the weather over the last few weeks, our weekly club runs have continued, as have the Saturday social rides on the first and third Saturday of each month. The club runs program continues throughout the winter months – everyone is welcome, so feel free to join us one weekend – details on the website https://congletoncyclingclub.org.uk/
A number of the keener members have also been spotted indulging in some additional winter training, which is either an attempt to get a head start on the 2014 season or a result of too many mince pies over Christmas!
Annual prize giving dinner
71 members and guests met at Astbury Golf Club for Congleton Cycling Club's annual dinner and awards presentation in December. After the meal, guests were welcomed by club vice chairman Rob Waghorn. The Guest of Honour was Barney Storey MBE, multi paralympic and world championship gold medal winner as a tandem pilot for blind and partially sighted athletes. He was accompanied by Mary Bailey, who is Dame Sarah Storey's mother (i.e his mother in law). Rob refrained from mother in law jokes in his introduction! Barney had brought his gold medals from Beijing and London with him for club members to see and feel. He entertained everyone with tales of paralympic competition , medal ceremonies and visits to Buckingham Palace to receive honours.
Club chairman Bob Norton thanked both speakers before proceeding with the annual awards for the clubs competitions. With over 100 members, competition for the trophies in 2013 was stronger than ever, with 30 riders receiving medals and/or trophies. He was assisted by Nick Decker and Barney Storey. The main trophy winners were:-
| | |
| --- | --- |
|  FRANK BIDDULPH MEMORIAL      SENIOR Best All Rounder    24.731 mph | Pete Smith |
| Ladies Best All Rounder Shield   19.75 mph | Sue Blake |
| GRAHAM McCARGO TROPHY Veterans Best All Rounder    +59 mins 4 secs | Pete Smith |
| BOB JOB MEMORIAL Club Events on Points | Pete Smith |
| BILL MEES TROPHY Senior Club Events 24.839 mph | Pete Tatton |
| LYNDON TROPHY Veterans Club Events +20 mins 54secs | Mike Jones |
| Junior BAR Shield 21.61 mph | Tristan Roberts |
| Juvenile BAR Shield 21.75 mph | Mark Allen |
| DENBY BIDDULPH PLATE  Fastest 10 miles 22:06 | Steve Hulme |
| GEOFF BURT MEMORIAL TROPHY      Fastest 25 miles       56:45 | Kelvin Milward |
| VEN MACHIN TROPHY                           Fastest 50 miles    1:56:50 | Kelvin Milward |
| L H BROOKS TROPHY                           Fastest   100 miles. 4:22:07 | Pete Smith |
| ALAN WAKEFIELD TROPHY Track Racing | Joe Langford |
| BEARTOWN TROPHY Road Racing | Pete Tatton |
| MOUNTAIN BIKE TROPHY  Meritorious performance | Charlie Evans |
| TONY WILLIS CUP Senior Hill climb | Nick Decker |
| Veterans Hillclimb Trophy | Pete Smith |
| Junior Hill climb Trophy | Tristan Roberts |
| Juvenile Hill climb Trophy | Sam French |
| Ladies Hill Climb Trophy | Denise Hurst |
| Ladies Touring Shield | Georgina Norton |
| Mens Touring Shield | Rob Waghorn |
| GRAHAM McCARGO CUP Audax long distance cycling | Rob Waghorn |
| JACK ROSSITER MEMORIAL Most improved Rider | Mike Jones |
| SID HANCOCK PLATE for Club run points | Bob Norton |
| Clubroom   attendance. | Denise Hurst |
| Clubman of the Year | Peter Hayhurst |
Bob Norton thanked Nick Decker, the club racing secretary for his hard work in coordinating the awards, before the presentation of gifts to the chief guests. Flowers were also given to Georgina Norton, who received applause for organising the event.
Amongst the guests was Mark Lovatt. A special presentation was made to him by Barry Broadbent and Mike Taylor, who are ex organisers of the now defunct elite level Tour of the Peak cycle race. Mark who started his cycling career with Congleton Cycling Club before turning professional, won this race a record six consecutive times between 1998 and 2003. He was awarded the Tour of the Peak Trophy in perpetuity, in recognition of his achievement. The names engraved on the trophy read like a who's who of British Cycling going back to 1943, but no rider was more successful than Mark.
During the evening a raffle was held, which raised £163, which together with a £50 donation from Denise Hurst's October Audax promotion, is being given to the Childrens Adventure Farm Trust, who's patron is Dame Sarah Storey. Bob Norton thanked all members who donated raffle prizes and in particular the Congleton Cycle Centre and Cyclestore.co.uk for their generous donation of cycling accessories.
The formalities were brought to a close by Kelvin Milward who spoke on behalf of the prize winners, thanking the club, and all the members and volunteers who had helped make 2013 such a success.
Club runs & Social Rides
A much larger crowd than normal turned out for a mid-winter Club ride to Audlem. So either the inspiring speech from Barney Storey at the Annual Dinner had an impact, or we are all worried about the amount of mince pies we will eat over the festive period!
The riders that enjoyed the outing were Jim Cook, Bill Boynton, Stephen Kane, Dave and Denise Hurst, Bob Norton, Pete Smith, Wayne Powell, Janet and Sam Alston-Spiers, Mark Allen, Sue Blake and finally Georgia Kirkham and her friend Connie.
The route to Audlem went via Audley and then over Bar Hill. After an extended lunch break the group returned via Dagfields, only for the weather to finally catch up with them in the last 5 to 10 miles. The ride was approximately 53 miles in length.
The first club run of 2014 was led by Jim Cook, who was accompanied by six other riders : Mary Renshaw, Denise Hurst, David Hurst and 3 new members, Sharon May, Jonathon May and Graham Mitchell.
The group set off along Holmes Chapel Road then Sandy Lane to Brownlow, Brookhouse Green, Hassall Green, Haslington and Oakhanger to their cafe stop at Radway Garden Centre. A 'brisk' 16 miles covered in about 70 minutes with a well-earned rest and plenty of refreshments at the cafe.
The return journey was more leisurely via Oakhanger, following lanes around Alsager to Rode Heath, Scholar Green, (where Graham, Denise and David left the group to scale Mow Cop for a more direct route to their homes), the remaining four riders continuing through Acker's Crossing and Astbury to Congleton.
Total mileage was approximately 31 miles and, although the roads were wet, the group luckily managed to avoid the rain and it was mild for January.
2014 events
Just a quick reminder that a number of 2014 events are now 'open' for entries, including the local 'Cheshire Cat' sportive, scheduled for the end of March – this makes a great early season goal and focus for winter training when motivation is sometimes lacking!
Press Report – January 23rd 2014
The weather has not been particularly kind over recent weeks, with rain or ice affecting a number of weekend plans, but a few hardy club members have braved the seasonal challenges to keep the Saturday social rides and Sunday club runs going. However, one fortunate club member was spotted doing a bit of warm weather training in Tenerife recently!
Club runs & social rides
On a cold and frosty January Sunday morning, with ice in the side roads 7 turned out for the club ride to Tatton Park. Three club riders had fallen on ice on the previous club run, so the party decided to stay on the main roads through Holmes Chapel and Knutsford, instead of taking Wayne Powells pre planned route via the lanes. A rapid tempo warmed us up, and we encountered several other groups, also staying away from the minor roads. As it turned out, the group of Wayne Powell, Stephen Kane, Mark Allen, Bob Norton and Julian and Janet Alston, were pleased that it was a short ride, because soon after setting out from the coffee stop in Tatton Park, the forecast rain started. At least the ice had gone, enabling riding in the lanes through Ashley, Mobberley, Chelford and Lower Withington to arrive back after 43 miles.
Last Saturday, 18th, although the weather forecast was dire, 4 members set off on the Saturday
Social club ride. They were Georgina Norton, Bev Hambleton and Paul and Amanda Turner. The ride out went up Wall Hill , Rode Heath, Alsager , Barthomley then Haslington to reach the cafe stop at Wheelock Farm. After coffee and refreshments plus plenty of social chit chat, the return was via
Elworth , Middlewich and Brereton Heath , to record a distance of 31 miles. While it was very windy and the lanes were mucky the dreaded rain never arrived. A good ride was had by all with the only downside being the state of the bikes at the end.
The next couple of social rides are Saturday 1st and Saturday 15th February, leaving from the Unicorn pub car park at 10am.
Club runs continue every Sunday – 9.30am from the Rugby Club. The 9th and 23rd February see the first two Reliability rides of the year, with a 29 or 45 mile option on the 9th, followed by a 65 mile route on the 23rd, building up for the new season.
Macclesfield Supercross (Sunday December 29th)
The club had 2 riders competing in the 1 hour senior race in this Macclesfield Wheelers annual cyclocross promotion. The race was a round of the North West Cyclo Cross League and it was good to see club riders competing. Both aquitted themselves well with James finishing 22nd and Pete 48th on a demanding and slippery circuit in Macclesfields South Park. The massed start of about 70 riders was impressive, with riders fighting for position before the track narrowed down. The race after this was a flat out hard effort for the riders on a fairly firm but wet and slippery circuit. The race was won by Ian Bibby a professional with the Madison Genesis cycling team.
Press Report – 27th February 2014
Reliability rides
Last Sunday, Feb 23rd, saw the second club reliability trial for 2014. The weather forecast for Sunday Feb 23rd was dire with wind and rain. As it happened the participants in the clubs 65 mile reliability trial on that day only had to contend with the wind. Sixteen club members were joined by ten visitors, with eighteen signing on to achieve an 18 mph, and eight a 15 mph average speed over a rolling route which went out to Tarvin via, Church Minshull, Cotebrook and Utkinton, returning to Congleton through Ashley, Delamere, Acton Bridge, Great Budworth, Knutsford and Lower Withington. Only two riders actually beat the faster target speed, but most of the faster groups were within the ten per cent deviation allowed. All of the slower group were within their target plus ten percent. The rider times varied between 3 hours and 32 minutes to 4 hours 10 minutes to complete the route. In a reliability trial riders choose a target time based on either a 12.5 mph, 15 mph or 18 mph average speed, but the strong wind made the fastest target difficult on the day.
Prior to this, the first of the clubs 2014 Reliability Trials was held on Feb 9th. There was a choice of either a 29 miles or 49 mile route. This year a total of 53 riders participated of which 25 were CCC members. This was a huge increase on 2013 when the day attracted a total of 22 riders. The weather was at least dry, although with a strong SW wind. This helped on the first part of the route which went up to Bosley and then via Fools Nook to Gawsworth and Broken Cross, before heading on to the Wizard on Alderley Edge. The shorter route turned back through Birtles and returned to Congleton by way of Siddington, Newsbank and Giantswood Lane. The longer route went into the wind through Nether Alderley, Ollerton, Middlewich out to Coppenhall before turning back, with a tail wind again, through Haslington, Hassal Green, Smallwood and Astbury, to finish with tea and biscuits in the Rugby Club. There was a set route, but some did their own variations. Mike Jones and Charlie Evans got extra training by doing a deviation which took in the cobbled climb of Swiss Hill in Alderley Edge. They are preparing to ride the Tour of Flanders Sportive in Belgium in April.
The series continues with a 100 mile reliability ride on the 9th March.
On March 16th Leek CC are staging the Paul Derbyshire Memorial Reliability ride together with their prize presentation. The ride is a 52 mile route into the Derbyshire Dales. Signing on from 8.00-8.15am outside Den Engel, Stanley St, Leek. Riders off at 8.30am.
Club runs
The club runs program continues throughout the winter months – everyone is welcome, so feel free to join us one weekend – details on the website https://congletoncyclingclub.org.uk/
In between the two recent Reliability rides, the club run on Sunday 16th was to the Shire Horse Sanctuary at Cotebrook. Wayne Powell, Bill Boynton, Sue Blake, Roy Hayhurst, John Broadbent, Chris Gledhill, Stephen Kirkham, Denise Hurst and Andy Farr enjoyed a steady ride out through the Cheshire lanes before returning to the club by approximately 3pm. The weather was excellent for February, which was lucky for all who made the trip.
Bike maintenance
This Thursday Feb 27th, the fourth in the clubs series of bike maintenance evenings takes place in the Rugby Club at 20:30 hours. The subject is brakes. Last week Feb 20th covered the transmission system. Derek Coates a mechanic from Congleton Cycle Centre demonstrated how to fit a new chain and sprockets and how to get derailleur gears perfectly adjusted. The week before members were entertained by a demonstration on how to check tyres, change and repair punctured inner tubes, before getting the chance to do a repair for themselves.
Press Report – 20th March 2014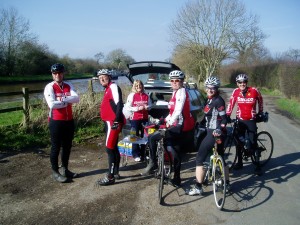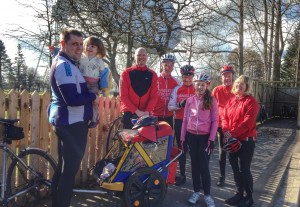 Saturday Club Ride 1.3.14
Club Runs & Saturday Social Rides
Adrian shot some video on the ride which can be seen on http://youtu.be/7JStCXN6BYE
On Sunday March 2nd the club run went to Lavender House Farm at Dunham Massey on a very windy and overcast day. The route out via Jodrell Bank, Mobberley, Ashley and Bucklow Hill was "easy" enough but the return though Knutsford and Tatton Park was tough because of the wind. It provided a good work out for the 10 participants.
On Sunday 9th March, Stephen Kane was the sole entrant for the Club Run (as other riders were taking part in the 100-mile reliability ride) which was meant to be to Dones Green Café but as he stumbled across Brookhouse Equestrian Centre (near Comberbach) on his travels and with no one else to please, that became his impromptu destination instead. The staff were very welcoming and would appreciate a horde descending on them on a Sunday, so another possible café for the list. His destination home wasn't quite as scenic, as he ended up going past the lovely Lion Salt works before he stumbled across more familiar pastures. As a rhetorical question, if the Saturday runs are know as social rides, are solo Sunday runs, unsocial rides? It was still a very enjoyable day out.
On March 15th the second of this month's Saturday rides went to Minshulls Garden Centre near Crewe with eleven riders, not counting young Bethan Wright, again towed in a trailer by Dad Ed. We should have got used to wind by now but it always makes for a hard ride. For Helen Jones out for her first ride it was a new Personal Best distance by a long way, showing what can be done with support and a little determination. The Saturday ride is usually around 30 miles from the meeting point but people usually ride from home to the start.
The following day, on the Sunday, ride five riders fought the same wind out to Delamere Station via Goostrey, Lach Denis, and Whitegate. The return to Congleton through Cotebrook, Church Minshull and Brereton was fast with the tail wind welcomed by all, except Bob Norton who was riding a single speed bike and at times had to pedal at more than 120 rpm to keep up!
Reliability Rides
25 riders braved the club's annual 100 mile reliability ride on a loop through South Cheshire and North Shropshire. They enjoyed the best weather for years. The riders set off in two groups an hour apart at 8 a.m. and 9 a.m. There were eighteen riders in the first group and seven in the second "fast" group. Supported by Bob and Georgina Norton providing refreshments en route the first stop was at Eccleshall for tea and cold cross buns. Then followed a further 30 miles to lunch at Prees Heath (Whitchuch), before turning towards home with more tea and buns at Barbridge near Nantwich. All returned to the finish at the Rugby Club between 3 and 4 p.m.
"chain gang" training sessions
The clubs "chain gang" training sessions have started as the new racing season gets underway. On Saturday March 1st, eight members participated in a chain gang taster session under the guidance of Pete Smith. This was followed up on the last two Thursday evenings with sessions on the same circuit, based on lanes around Newsbank (in the dark). Other sessions are planned, but riders are advised to check in advance at the moment.
Bike maintenance
On Thursdays the Bike Maintenance Instruction sessions are proving popular. The last two Thursdays have been on Brakes (instructed by Rob Langford) and Wheels (instructed by Tony Elliott). The next and final session of the six is planned for March 27th starting at 8:30 p.m. in the Rugby Club. This will cover bottom brackets and headsets with Wayne Powell. This Thursday, March 20th there is a club committee meeting at 8:00 p.m. All are welcome to attend.
Events
Charlie Evans opened his 2014 racing season at the 53rd Eddie Soens Memorial cycle on Saturday 1st March. The race took place in calm, sunny conditions at the Aintree race course venue, with 172 riders competing over the 30 laps of the flat 1.6 mile tarmac circuit. The event is a classic season opener on the UK road racing scene, featuring many of the country's best riders and teams, as well as club riders of a range of abilities, all in the same race. The race has a staggered start, with the lower ability riders being set off 3 minutes ahead of the elite riders, with several other ability groups set off in between. However in the calm conditions the handicap was soon cancelled out, with the majority of the field lapping as one bunch, at an average speed of over 27.5 mph. The high speed negated any breakaway groups forming, until the latter stages of the race where three riders broke clear to make up the podium places with a 10 second lead, with Ian Wilkinson (Team Raleigh) taking the win ahead of Graham Briggs (Rapha Condor JLT) and Rob Partridge (Velosure – Giordana). Charlie finished safely with the main field, rolling in with the bunch after avoiding a serious crash in the finale. The 49 mile race was completed in 1 hour and 40 minutes.
The Cheshire time trial season has started. The club has had riders in both the Manchester and District Time Trail Association events so far this month. Both have been on difficult windy days.
On March 8th the ride was on the Cranage, Lach Denis, Middlewich, Byley circuit. Congleton rider times were Peter Smith 24 mins 9 secs, Wayne Powell 25:05, Sam French (junior) 27:59, Mark Allen (juvenile) 30:57, Denise Hurst 33:00, David Hurst 36:40. Mark Allen punctured with about a mile to go and finished on a flat tyre. The event was won by Nigel Haigh (Strategic Lions) in 21:28.
On March 15th, this time on the Cranage, Chelford, Twemlow course the Congleton rider times were Peter Smith 24:06, Wayne Powell 25:07, Mark Allen 28:54, Denise Hurst 31:03, David Hurst 37:15. The Event was won by Simon Bridge (Manchester Wheelers Club) in 21:24.
March 9th saw a number of Congleton CC riders enter the annual Jodrell Bank sportive, which is an 80-mile loop around the Cheshire lanes, blessed this year with fantastic weather. The next major sportive is the Cheshire Cat on Sunday 23rd March, which sees 3,000 riders taking part over varying distances up to 100-miles.
Press Report – 10th April 2014
Time Trialling
Two members competed in the Withington Wheelers 25 mile time trial on the J2/9 course. The conditions were unsettled with a moderate southerly wind. Member's times were Ben Norbury 57:27 and Kelvin Milward 1:01:39. The event was won by Adam Duggleby with a time of 52:05.
Six club members were on the start sheet for the final of series of three 10 mile TT promoted by the Manchester and District TT Association on March 29th. Ben Norbury in his opening race of 2014 recorded an excellent 23 minutes and 15 seconds for 10th place overall in windy conditions. Other times were Peter Smith 24:28, Kelvin Milward 24:55, Duncan Poole 28:00, Edgar Reynolds 29:40. Mark Allen (juvenile) was a non starter because of injury, although he did win a team award in the first of the series. Together with Joe Langford and Peter Smith, he won the best team consisting of a Juvenile, junior and veteran. Pete was also third best veteran and Wayne Powell won the spot prize for 30th position, making it a good day for the club.
The clubs Tuesday evening TT program got underway on April 8th with a 9.5 mile hilly circuit of the cloud. Results will be published in the next Chronicle report. Next week the event is on the Congleton-Holmes Chapel-Brereton circuit.
Hilly Reliability Ride
There were 15 club members out for the hilly reliability on 30th March, but sadly no visitors this time. The route went up Park lane, around the cloud through Bosley and Macclesfield forest before entering the peak district and then returning to Congleton. This year parts of the route were shared with the Cheshire Cat sportive which crossed on a number of occasions. It was a cold and drizzly day and riders were met by some short downpours of hail followed by a few spells of sunshine. Unfortunately one member had a mechanical problem and could not finish but everyone else got back with no problems.
A few members entered the Cheshire Cat sportive, completing a mixture of medium (75 miles) and long (100 miles) routes.
Club runs
On Sunday 30th March, a group of 5 riders took part in the ride to Dagfields Craft Centre at Hatherton. As the crow flies this is not so far but by riding a circuitous route the ride distance was about 55 miles, going out via Church Minshull and Nantwich, returning via Betley, Audley and Alsager.
On Saturday April 5th, nine riders started out on a wet morning headed for Grasslands Garden centre near Lower Peover. These included Bob Banner making a comeback after convalescing from illness and new member Jane Eardley out on her first ride with the club. These twice monthly Saturday rides are always about 30 miles with a cafe stop, and a good place for new and
improving riders to start.
The following day (Sunday 6th), the forecast was dire. The rain stayed away, but not the wind. Seven riders including prospective member Polly Wilding set off into the wind, bound for Audlem through Alsager, and Audley, before taking to the smaller lanes to Madeley and over Barr Hill. More small (and muddy) lanes were used onward to Norton in Hales and Audlem, where lunch was at the
Priest Hole cafe. Coming home was easier. The wind was now behind for the return through Wybunbury, Weston, Barthomley and Hassall Green.
Ashbourne Duathlon
John Broadbent completed the Ashbourne duathlon on Sunday 6th April, which involved a 5K run, 30k hilly bike ride (470 metre elevation gain) and another 5k run. John finished in 1hr 59 mins and 37 secs and was 2nd in his age group (he asked that we do not enquire how many were in his age group!).
Club news
Tonight (10th April) is the club quiz, at the Rugby club. The bar will be open and there will be a break for toasties (included in the entrance fee of £2:00 per person). Starting at 8:00p.m. it is sure to be a great social event. New members especially welcome, so come and meet some of your club mates.
The six sessions on bike maintenance concluded on March 27th. with Wayne Powell demonstrating how to change the bottom bracket bearings and fit a new chain set. This was very well attended and members are asking for the program to be repeated (next winter). Upcoming social events on Thursday evenings in the Rugby Club include a slide show by Rob Waghorn on April 17th about his 2013 ride from Alaska to Mexico, starting at 8 p.m.
This Sunday sees the clubs first Audax promotion of 2014 also organised by Rob. Two rides are on offer, a 207 km route to Ironbridge and back and a 133 km route to Hawkstone. Pre entry is necessary and entries are now closed, but the next of Rob's Audax promotions is on June 1st with 200 and 100 km routes on offer.
Press Report – 1st May 2014
Club news
The club continues to go from strength to strength, with another 7 new members in the last 3 weeks – new members are always welcome, please see the website for details www.congletoncyclingclub.org.uk . We have club runs every Sunday morning, with social rides every other Saturday morning. Why not come along and meet a few of the members?
Our Facebook page is also back up and running, with regular updates on activities and results. Link via the website.
Time Trialling
The clubs evening TT season opener, the 9.5 mile circuit of The Cloud, took place on Tuesday April 8th. Thirty seven competitors took on the course in fine but cool conditions. The fastest time of 27:28 was done by junior Alex Braybrooke of Team Velocity WD40. He beat professional Andy Magnier of Velosure Giordana 27:35 into second place with the "podium" rounded out by our own Ben Norbury 28:20. Ben was also the best club member in the new handicap competition with a nett 25:36.
Best Congleton lady was Sharon May in 43:17. Best Congleton Junior was Sam French in 35:00 and best Congleton veteran was Steve Hulme in 29:24.
There were some sore legs on the start line. Mike Jones and Edgar Reynolds completed the 260 km Tour of Flanders Sportif in Belgium on Saturday and Pete Tatton ran under 4 hours in the Manchester Marathon on Sunday.
Great weather brought 42 riders out on Tuesday 15th April for the weeks 10 on the JC26 circuit 10 course. Ben Norbury was fastest in 23:01, from junior visitor Alex Braybrooke (Velocity-WD40) 23:31 who was 1 second ahead of Steve Hulme 23:32. Fastest lady was another junior visitor Paige Milward (Bike Pure) in 27:18. Best club lady was Denise Hurst in 30:10 and best club junior was novice rider Will Booth in 27:13.
Tuesday 22nd saw a 10-mile time trial on the Gawsworth course. Immediately after finishing in a winning 21:40, Jack Green (V.C. St Raphael), said "I was a bit slow tonight!".
Ben Norbury took 2nd and the maximum club points with a time of 22:05, with Steve Hulme 22:31 and Pete Smith 23:09 the next best Congleton finishers. Best Junior, in a new PB, was Sam French in 25:51 and Best Lady Denise Hurst in 29:07. Steve Hulme took top place in the Veterans competition with a Plus of 4:19 and comeback rider Steve Sladin best on Handicap with a PB of 25:59 giving a nett 17:59.
A total of 42 riders competed, including 26 from our club, on what turned out to be a fast evening. There will be quite a few handicap adjustments for future weeks! The club TT league tables are now starting to take shape. To view these and the weekly league points see the club website www.congletoncyclingclub.org.uk
Club runs
The destination for 13th April was the Ice Cream Farm at Tattenhall, however, we ended up at Old Ma's Gatesheath due to the fact that the Ice Cream Farm was too busy. There were 9 riders out, however, Mike Line turned off in Middlewich.
Participants were Paul Kennington, Karen Dennett, Wayne Powell, Sue Blake, Andrew & Penny Thomas, Denise Hurst, Mike Line and a new member Kelvin France. Mileage was approx 55mls, following the usual route to Brereton, Middlewich, Church Minshull, Calverley, Bunbury passing both Peckforton and Beeston Castles to arrive at 'Old Ma's' for lunch. On the way home the group cycled via Eaton, Wettenhall, and then reversed their ride out to some degree. It was a lovely day. Sunshine all the way, however, they had to contend with a strong headwind on the way out but it was great to have the wind behind on the way home. There was lots of chatter along the way.
On Sunday the 20th April the destination was Longnor. 10 riders joined the run: Andy Farr, Wayne Powell, Mike Line, Stephen Kane, Richard Cowan, John Broadbent, Rowland Bainbridge, Mike Tilstone, Sue Blake and Denise Hurst.
This is a hilly ride. From the Rugby Club the group cycled out of Congleton via Buglawton, North Rode, Fools Nook where they turned right to go through Sutton and onto Algreave where they turned right for Gradbach, on through Flash and then onto Longnor. The weather was good apart from the strength of the wind which was particularly strong on the hills. Thanks to Wayne Powell and Richard Cowan the ladies were sheltered from this.
Lunch was taken at Longnor and then set off home hoping for a tail wind. The route went via Dowell Dale and past the Axe Edge racecourse. When they reached the Buxton, Congleton road they turned left toward Algreave, where, after a very fast descent, due to the tail wind everyone was hoping for, they turned right for Wildboarclough, just before Blaze farm, to take the route through Macclesfield Forest passing all three reservoirs, then returned via Sutton and Gawsworth where for some it turned out to be another tea stop. This time at the house of Membership Secretary Sue Blake, after which the group number was down to three. This was due to the fact that various people had peeled off from the main group to make their own way back home. The final riders arrived back in Congleton at about 3.30pm after approx 50mls.
Press Report – 29th May 2014
Club news
The club continues to go from strength to strength, with more new members in the last 3 weeks – new members are always welcome, please see the website for details www.congletoncyclingclub.org.uk Club runs are every Sunday morning, with social rides every other Saturday morning. Why not come along and meet a few of the members?
Our Facebook page is also back up and running, with regular updates on activities and results. Link via the website.
Charity Fundraising
Sam French, aged 16, of Congleton Cycling Club with his two friends Joe Swinnerton and James Duncalf, both 14 and members of Lyme Racing Club completed the challenge of climbing the Killer Mile ten times nonstop on May Day Bank Holiday. A small group of supporters stood on the 25% slope past the Cheshire View to witness the feat and shout encouragement.
The group of teenagers who all attend Alsager School, have raised over £600 so far, for the Donna Louise Trust hospice in Trentham, which assists terminally Ill young people. Further donations are welcome. Contact chairman@congletoncyclingclub.org.uk
Another Congleton Club Member also rode the challenge. Steve Sladin, who had only gone to make a donation, ended by riding the climb ten times as well. This was good training because the following weekend Steve rode the Fred Whitton Challenge which is a 112 mile loop of the Lake District, taking in all the major Passes with nearly 12,000 feet of climbing. Steve used this event to raise money for Macmillan Cancer Support http://www.justgiving.com/Steve-Sladin.
Elsewhere junior members Mark Allen and Joe Langford rode the 50 mile route of the Dougie Mac Bike Ride on may the 18th for Douglas Macmillan Hospice, while senior member Richard Cowan rode the 110 mile event to Llangollen.
Time Trialling
For Tuesday May 6th, the threat of rain kept some away. Never the less 32 club members and 10 visitors braved the elements. In the event the roads at the start finish were wet, but strangely, were actually dry at the western end of the course.
In the conditions, most were slower than the previous week. Ben Norbury, 22:19, got back in front of Steve Hulme, 22:39, with Mike Stretch of Macclesfield Wheelers third in 22:46. Third place points in the league went to Pete Smith in 23:11. Ben is league leader with 149 points Steve second (146) and Pete Tatton third (131). Steve is leading the veteran league table.
In the ladies competition Denise Hurst again took maximum points with 28:45 but Sharon May was only 10 seconds behind in 28:55. Sue Blake retains the lead in the Ladies League.
Sam French was fastest club junior in 26:01, just a day after his charity challenge of 10 ascents of the Killer Mile to Mow Cop nonstop. He retains his league lead but has now been pushed into second place in the Handicap League by Angelo DeAngelis.
The following week, 13th May, conditions were cool with a stiff breeze against on the return leg of the JC/5 course. Competition was tough but friendly as always. Steve Hulme took top spot in 22:03 from Ben Norbury in 22:15 and regular visitor, junior Alex Braybrooke 22:19.
The full results can be seen on the website.
The Handicap competition is developing into an interesting one. Rob dale took top points on the night with an improvement to 23:47, but second place points went to Joe Langford with a new PB of 27:28 and now moves up to third in the league behind Angelo DeAngelis and Ben Norbury.
A wet night welcomed the 33 competitors to the start line on May 20th, on a new 10 mile time trial course on the Congleton to Holmes Chapel road.
Ex member Mark Lovatt (Planet X) cycles set the best time in 22:07 from Ben Norbury 22:23 and Steve Hulme 22:42, with Pete Smith taking third place points in the clubs TT competition with 23:18.
Sam French was best of the clubs juniors in 26:01 from Joe Langford 27:53. Both commiserated with Mark Allen who suffered a double puncture a mile after the start.
In the Ladies competition Denise Hurst came out top with 29:24 from Sharon may 29:35 and Sue Blake 29:57. Making a comeback after 30 years, was former ladies junior national 10 mile champion Karen Line, who on this occasion was somewhat slower than her 23 minute personal best.
Graham Mitchell managed a PB 29:22 to take top handicap points from Mike Line 25:09 and Rob Dale 23:47.
As always full results are available on the clubs website.
Congleton Cycling Campaign
Congleton Cycling Campaign's Pedalling Picnic for new and returning cyclists starts at 10.30 from Congleton Town Hall on Sunday 15 June at the start of the Food Festival.
The ride is approximately 12 miles return to Biddulph Grange Country Park, get back to Food Festival at about 13.30.
Bring your own picnic. Toilets available.
Some noteable achievements
Bill Boynton competed in the Stockton Duathlon on Sunday 27 April, the final UK qualifier for the World Age-Group Duathlon Championships next month. Over the Standard (Olympic) distance of 10k run, 40k bike, and 5k run, Bill, who was the second oldest competitor, finished 135th from 248 competitors in a time of 2:28:51. He was the leading over 60 veteran, but more importantly qualified for World Duathlon event in Pontevedra, Spain, next month.
Jamie Willetts competed in the Erlestoke 12 MTB event – his first endurance event of the year was meant to be a fun intro back into racing, but the bank holiday weather put pay to that. The heavy rain which hit the course in the hours in the run up to the start left what would be a fantastic (dry) course to be a somewhat shortened mudfest.
The race set off at midday and the pattern for the day was set – slippy grassy climbs and descents and deep muddy single track. The first lap wasn't too bad as the mud was still runny, but as the sun came out, more time was spent pulling huge amounts of mud off the bike to keep it moving. Towards the end of his fourth lap Jamie's rear mech seized leading to a very big gear to try and single speed! Despite his best efforts to clean and get it moving again his race ended at about 5 hours and four laps completed. Jamie still finished 12th from 40, despite his mechanical problems.
Two weeks ago Steve Sladin did the Fred Whitton Challenge on the 11th of May, 111 miles and 11,200ft of climbing including Hardknott pass with gradients of 30% at around 96miles in the lake district raising money for Macmillan Cancer Care in memory of his Dad… https://www.justgiving.com/Steve-Sladin
Asked for a comment on his day, Steve said 'Two words…never again !!' but he was very pleased with his time of 8hrs 34mins.
Press Report – 19th June 2014
Club news
The club continues to go from strength to strength, with two more new members in the last 3 weeks – new members are always welcome, please see the website for details www.congletoncyclingclub.org.uk Club runs are every Sunday morning, with social rides every other Saturday morning. Why not come along and meet a few of the members?
Our Facebook page is also up and running, with Sue Blake doing a great job of virtually daily updates on activities and results. Link via the website.
Charity Fundraising & community support
Stephen Kane completed a 100 mile charity ride on Sunday 15th June for Kidscan. The ride left Rusholme, through Altrincham and then transversed a lumpy bit over Delamere Forest and then looped south of Chester before repeating the outward journey in reverse. Stephen completed the ride in 5hrs 40min. Over 500 people took part in raising money for the charity, so thanks to those that sponsored Stephen in this event.
The club also does some community support work. Cheshire East run cycling activity sessions for people with differing needs at Congleton Leisure Centre. Club members have just completed a service on their fleet of adapted bikes and ran a cycling session for young people at the Cheshire East Carers Event in the Leisure Centre on June 14th.
Time Trialling
Congleton beat Macclesfield by 8 minutes and 53 seconds in the first of two inter club 25?s on Tuesday 3rd June, counting towards the Karl Austin Memorial Inter Club 25 Shield. The second leg will be promoted by Congleton CC on June 24th. A repeat performance will bring the shield home. The format of the competition is an aggregate of the best 6 rider times from each club. Steve Hulme won the event in 57:26 with Ben Norbury second in 57:52, Pete Smith 59:09 (5th), Wayne Powell 1:01:26 ((10th) Jamie Willetts 1:01:48 (13th), and Kelvin Milward 1:01:55 (15th), gave Congleton an aggregate of 5:59:29 compared to Macclesfield Wheelers 6:08:53.
Best Congleton Lady on the night was Sue Blake in 1:12:55 (PB) by just 5 seconds from Denise Hurst. The Best Congleton Junior was Mark Allen in a PB of 1:08:19. The Best on handicap was Angelo DeAngelis whose 1:07:16 gained him maximum points on the night and further advantage at the top of the Handicap Points League.
A stiff headwind faced riders to the turn in Tuesday 10th June's club 10 at Gawsworth. This did not stop some of the 39 starters from doing PB's, which produced hot competition for handicap league points. Steve Webb's 1:40 improvement to 27:31 secured first on handicap this week.
The actual fastest was visitor and former junior 25 mile competition record holder, Alex Royle (BH Solidos WAM Youth) with a time of 21:47. Ben Norbury also produced a PB with 21:55 for second spot with regular visitor Alex Braybrooke (Velocity WD 40) third in 22:53. The next best Congleton rider times were Rob Dale improving to 23:26 and Charlie Evans 23:51 (fastest on a road bike).
Best lady was Sue Blake in a new PB 28:09 from Claire Thompson 28:18 and Helen Evans 28 46.
Mark Allen again took top place in the club juniors competition with a new PB of 25:18, with Tristan Roberts 26:59 and Joe Langford 28:03 taking second and third places.
As always full results are available on the clubs website.
Racing results
As well as the clubs Tuesday evening events, many club members ride in open time trial events, with some good results in the last month.
Pete Smith
In the Stone Wheelers 25 on May 17th, Pete Smith achieved the fastest time by a club member so far this year with a personal best 55:29. He was supported by Kelvin Milward 56:30 and Wayne Powell in another PB of 57:57 giving a team total of 2:49:56, which may be a club record. In the South Pennine C.C. 25 a week earlier, Kelvin recorded 57:54.
In the Dukinfield C.C. 24.5 mile TT on May 31st, we had six riders. Ben Norbury was best in 57:37 with Steve Hulme 58:10, Pete Smith 1:0:14, Wayne Powell, 1:2:30, Kelvin Milward 1:2:37 and Nick Decker 1:3:49. In the Manchester and District Ladies C.A event which ran alongside the Dukinfield, Denise Hurst returned 1:13:02. In last weekends Janus R.C. 25, Ben Norbury improved his PB to 57:07 with Kelvin Milward finishing with 1:01:35 and Nick Decker 1:03:18. At this time of year the longer time trials start appearing in the calendar. In the Anfield 100 mile event in Shropshire on May 31st, Edgar Reynolds achieved 5:20:57 as part of his build up to three planned 24 hour events this season.
The club also has riders competing in circuit races, with Mark Allen competing in the junior category on closed circuits at Darley Moor and Shrewsbury. At Shrewsbury on June 8th, he made a spirited attempt to break away with two laps to go but was reeled in and finished 12th. Joe Langford has been competing with the senior 2nd, 3rd and 4th category riders, and doing well, with mid field finishes. Senior/veterans are also represented with Charlie Evans and Mike Jones competing in the supporting races. More on this in a future report.
Press Report – 28th August 2014
Club Open 50
The club's annual open 50 mile time trial, which took place on August 16th 2014 on the J4/16 course had 80 entrants. In a strong westerly wind there were some really good times. The winner was Charles Taylor (South Pennine R.C.) in 1:45:24 from Simon Bridge (Manchester Wheelers) in 1:47:21 and Ian Holbrook (Stone Wheelers) in 1:53:29.
The club had 11 members participating. Best was Ben Norbury 1:56:59 (PB). Others were Kelvin Milward 2:07:55, Mike Jones 2:10:01, Pete Tatton 2:10:23, Matt Tatton 2:11:08, Edgar Reynolds 2:18:44, Duncan Poole 2:22:39 (PB), Angelo de Angelis 2:24:48, Denise Hurst 2:31:46 and David Hurst 3:18:20. Jamie Willetts was DNF with a puncture.
The time trial was a counting event in the Manchester and District Time Trial Association's Points League. The club currently lies in 5th place from 26 affiliated clubs.
Evening TT's
The evening of July 22nd was a near perfect one to ride a time trial. Twelve riders got personal best times and several more seasons bests in warm calm conditions on the Chelford course.
The winner was Ben Norbury in 21 minutes and 52 seconds, with Steve Hulme 22:22 second and Mike Stretch (Macclesfield Wheelers) 22:33 third. Third spot for the club competition was taken by Pete Smith 23:12 who just beat Wayne Powell 23:15.
Fastest lady was Denise Hurst in 27:53 from Claire Thompson 28:19.
The best junior time was Mark Allen 24:28 from Will Booth 24:39 (PB) and Joe Langford 25:27 (PB) and Tristan Roberts 27:50 (PB).
The handicap competition was won on this occasion by Roy Hayhurst, in his first event this year, with 25:35 giving a net 18:19, from Nick Wood 25:15 net 18:54 with Will Booth net 19:10. Nick's ride was his first try on a TT bike, as opposed to a road bike, resulting in a PB by more than a minute.
On July 29th, frequent guest Mark Lovatt continued his winning ways with the fastest time on the night at 21:14 ahead of Steve Hulme on 21:49 who kept scratch league leader Ben Norbury out of maximum points by a single second. Pete Smith (23:14) completed the podium of members in the scratch competition.
In the hard-fought junior league, personal bests by both Tristan Roberts, 25:20 (PB) and Joe Langford 25:25 (PB) could not stop Mark Allen (24:44) from taking maximum points.
In the Ladies competition, Sue Blake (27:51) took maximum points, beating Denise Hurst (28:29) and Claire Thompson (28:43).
August 5th should have been the penultimate of the clubs TT league events, but road works near Eaton caused its cancellation. The final evening TT of the season was on the new Holmes Chapel Road 10 mile course on August 12th. Conditions were dry but windy and the competition intense as always. Ben Norbury confirmed his position as overall league winner with a winning time of 21:59 beating Steve Hulme 22:16 and Pete Tatton 22:59 into second and third places. The second and third places in the overall league ended as Steve Hulme and Wayne Powell. In the final veterans league table, these two finished first and second with Pete Smith third.
Sue Blake was best lady with 27:37 from Denise Hurst 29:13. Leslie Norbury was persuaded by son Ben to have a go and in her first ever 10 mile TT returned a very respectable time of 31:27. The Ladies League winner is Sue Blake from Denise Hurst and Claire Thompson.
In the Junior competition Will Booth used his new bike well to record 24:26 ahead of Mark Allen 25:05, Tristan Roberts 25:12 and Joe Langford 25:15. Marks gained him a win in the junior TT league ride ahead of Joe and Tristan Joe. Will was handicap winner on the night with a net time of 19:47 from Joe 19:50 and Tristan 19:52.
The Handicap league was not decided until this final event. The winner is Angelo de Angelis whose 24:33 was enough to give him top spot ahead of Ben and Joe.
Club Runs
The clubs Saturday and Sunday rides continue to be well supported although there have been some wet rides in the last month. The Saturday rides are twice monthly on the first (30 miles) and third (45 miles) weekends starting at 10:00 from the Unicorn at West Heath, with the Sunday 50 – 60 miles rides every weekend starting 09:30 from the rugby club. Recent Destinations have been Tarvin, Bunbury and Hatherton on Sunday rides, and Knutsford, and Church Minshull on the shorter Saturday rides.
Other Events
Club members have been active in European events recently. Club coach Charlie Evans has been in the Alps wearing club colours in the Grand Raid Cristalp, from Verbier-Grimentz, in Switzerland. This was a 125 km ride off road mountain bike event with over 5000 meters of vertical ascent
In July, Mark Tilstone completed his 15th Etap du Tour, the annual event in which riders can emulate the Tour de France professionals and ride a stage of the Tour. This year the stage was the 18th from Pau to Hautacam in the Pyrenees which was 148 km including climbs of the Col du Tourmalet, 17.1 km long with an average gradient of 7.3% and the fearsome ascent of the Hautacam, covering 13.6km with a gradient of 7.8%. Mark is raising money for Kids Get Going (see www.justgiving.com/MarkTilstoneEtape2014).
The Club meets every Thursday at 8.30 p.m. at the Rugby Club, Park Street, except for the first Thursday of the month where the venue is Beartown Tap. New members are always welcome.
Press Report – 25th September 2014
Racing,
The Time Trial season is coming to an end just as the hill climb season is getting into full swing. The club recently had three riders in the National Championship 12 hours in Yorkshire. Mike Jones, Edgar Reynolds and Wayne Powell represented the club. The result is to be confirmed.
In the West Cheshire 12 Edgar covered 206.82 miles only a week after riding the Le Mans 24 hour race in France.
Over the 25 mile distance Steve Hulme recorded 57:17 in the North Shropshire Wheelers event on Sept 10th. In the Stone Wheelers 25 on Sept 13th Kevin Milward and Duncan Poole recorded season's bests of 56:38 and 1:3:30 respectively. The pair also rode the Nova Raiders 25 on August 30th where they recorded 59:57 and 1:08:10.
Sue Blake competed in the Chester Road Club 50 mile TT. A novice at the distance, Sue returned a time of 2 hours 37 minutes. She was riding her training bike having had her racing bike (a Trek Madone) stolen from her workplace. Her preparation the previous day had been a 5.6 mile swim in Lake Coniston completed in just over 3 hours.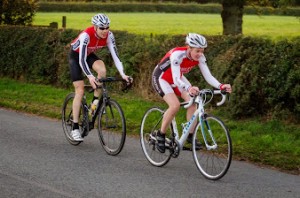 Sue teamed up with Ben Norbury to ride the Manchester Wheelers Lads n Lasses 10 mile team TT on Aug 29th They finished in 26:48. The photo shows Sue on the bike that was soon to be stolen. Denise Hurst and Wayne Powell also rode.
In the Glossop Kinder hill climb on the Snake Pass Ben Norbury was 5th in a time of 13 minutes 31.4 seconds and Tristan Roberts was 3rd junior with 16:30.4. Ben followed this with a 4th place in the Buxton C.C. climb of Long Hill in 13:41.4 with Nick Decker finishing well in 15:46.1.
The clubs best bunch racer this year has been junior Mark Allen, who has now gained 13 national ranking points in circuit races with a win, two second and six third places
This Sunday the club Hill Climb Championship takes place on Ganny Bank starting at 10:00 a.m. It will be followed by a club ride to Wybunbury. Signing on will be from 09:30 in the lay-by just below the Horseshoe Inn.
Club Runs
The weekly Sunday Club Runs and twice monthly Saturdays are a cornerstone of club activity. On 31st August Ten riders turned out for the ride to the Old Fire Station Café in Tarporley, Two potential new members, Megan Giglia and Chris Thomas were welcomed.
On 6th September there were 18 riders with a destination of the Riverside Organic Farm near Davenham making a 33 mile round trip. Riders included Kay May visiting from Somerset, and potential new members Jill Jervis and Simon Leyshin.
On Sept 7th the club ride went to Bunbury with 11 riders including prospective new junior member Jonathon Chatten
On Sept 14th. 11 riders enjoyed an outing to Audlem on a fine late summer's day. Others joined them at the cafe.
On Sept 20th 14 riders went out to Great Budworth via Lower Withington and Knutsford, returning through the brine fields at Lach Denis to Allostock and Goostrey for a round trip of 42 miles.
September 21st was perfect cycling weather for the Sunday ride to Delamere, which was enjoyed by 13 riders.
Other News
Club member Dave Hurst was diagnosed with prostate cancer in early June of this year. After an intensive course of treatment at the Christie hospital in Manchester he is now in remission. Dave was more than impressed, and humbled, with the speed, care and compassion in which he was treated. He now feels compelled to help raise money and awareness to further the amazing work of the Christie Hospital. On Tuesday the 16th September he will be starting a ride, with support from members of the CTC, a 600 km route including 16 000 metres of climbing from Geneva over the Alps to Nice.
You can sponsor Dave for Christies on his Just Giving page https://www.justgiving.com/600k-geneva-to-nice/
Hats off to Joe Langford who has just completed a 4 day Alpine Challenge event based at Annecy in the French Savoie region. Joe needed special dispensation to ride as he was not yet 18.
Riding in breathtaking scenery, Joe completed the ride which was about 110 km per day and a total of over 8000 metres of ascent in fine style wearing the club jersey. The event started with a timed mountain Prologue which was used to seed riders into appropriate groups. Thereafter, 3 mountain stages followed, scaling some of the famous Tour de France mountain climbs such as the Cols des Aravis, Col de la Crox Fry, Semnoz and Col de la Forclaz. Each day there was a flagged timed climb, with the aggregate times deciding the Leaders Jersey winners (male and female). Joe got a photo of himself with Stephen Roche (winner of the Tour de France, Tour of Italy and the world Championship triple in 1987), and also met Magnus Backstedt (winner of the classic Paris Roubaix race in 2004)
Richard and Tom Cowan have recently returned from their own climbing "fest" in the Alps. They rode the classic Alpine Cols Challenge between Sept 1st and 7th. Richard carried this fitness on to be 4th fastest in the Grindleford Goat Sportive ride on Sept 13th This was 108 km ride in the Peak District with 1577 metres of ascent.
Club Members have enjoyed the spectacle of two great cycle races being televised recently with the Tours of Britain and Spain running simultaneously. Mark Tilstone has just returned from a visit to see the Vuelta A Espania. He says "This was my fifth attendance at the Vuelta since my first trip over there in 2006." He witnessed Chris Froomes valiant attempt to win the race on stages 14 15 and 16 against the Spanish trio of Contador, Valverde and Rodrigez. In the end he was beaten by Alberto Contador. Mark's visit to the Asturias region involved riding about 200 miles during which he climbed over 24000 feet.
The first 2 stages of the tour of Britain race took place on roads in our region, with stage 1 being in Liverpool and stage 2 going from Knowsley to Llandudno passing through neighbouring West Cheshire.
Prior to stage 1 there was a rare opportunity to ride the closed streets of Liverpool before the professionals. Club members Adrian Pennington, Greg Spencer and Ed Wright & family took advantage on Sunday 7th September.
Thousands took part in the event giving an opportunity to ride the 8k lap the professionals would later race on. Riders were waved off by Sir Bradley Wiggins and Davina McCall.
Adrian said "we had a great day, it was a superbly well organised and marshalled event, to see people from such diverse backgrounds joining together with their love of cycling was lovely to see"
The clubs triathlon members have been active in September. Brothers Pete and Matt Tatton both competed in Iron Man Wales with Matt finishing in 13 hours and 8 minutes and Pete in 14:10. In the shorter sprint discipline Gill and John Horne competed in the North West Triathlon at Nantwich on Sept 14th and Sue Blake was the bike part of a relay team. More on this in the next club report.
Press Report- 16th October 2014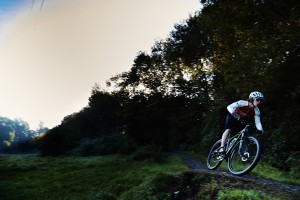 The club recently gained some publicity from an unexpected source. Club coach Charlie Evans featured in British Cycling's press releases, to announce that they have just passed 100,000 members. Charlie who works for BC, in Coach Education, was photographed in Congleton Cycling Club kit whilst cycling along a single track path on his mountain bike. This photograph (taken by Luke Webber), was then used in the publicity.
Racing
The club's annual hill climb championship was held on September 28th on the 1 mile Mow Lane (Ganney Bank) course. There were 23 entries on a fine warm day and a slight breeze which was a three quarter headwind for the riders.
The Overall winner was Ben Norbury in 5 minutes 41.6 seconds from Nick Decker 6:28.3 and Tristan Roberts (fastest junior) in 6:43.6. Mike Jones was 4th overall and best veteran in 6:53.6. Ladies Champion is Sue Blake in a time of 8:47.7. Twelve year old Joe France was best juvenile in 10:23.4.
On the same day Mark Allen, the clubs rising junior road race star, competed in a 3 lap race on the perimeter road of the Great Orme, finishing a creditable 22nd.
Mark also competed in his first cyclo cross event on October 5th finishing 11th in the junior race in the Manchester Wheelers North West Cyclo Cross Assocation event at Heaton Park, Manchester. Charlie Evans was 25th in the senior event.
Kelvin Milward set the fastest 50 mile time by a club member in 2014 with a time of 1 hour 54 minutes and 47 seconds in the Manchester Wheelers event on the fast Blyth Bridge – Uttoxeter course in Staffordshire on September 27th.
The last of the 2014 Cheshire Time Trial series events was the Seamons C. C. Event on September 20th where several club members were entered. The event was called off when a car overturned on the A50 south of Knutsford denying the club further points. None the less the club finished 6th in out of 28 qualifying clubs with 959 points. Manchester Wheelers were the winners with 1317 points. Our counting riders were Ben Norbury (8th), Kelvin Milward (22nd) and Edgar Reynolds (32nd). Denise Hurst was 3rd in the ladies competition. Edgar was also 2nd in the 60 – 69 year old age group with Denise third.
In the Johnny Helms 2 Up 25 mile team time trial held on Oct 4th Ben Norbury paced Edgar Reynolds to 25th, place 1hour 4minutes 39seconds. Denise Hurst was paced by Wayne Powell finished with 1.13.34 in 45th place from 50 teams who started.
The national championship 12 hour Time Trial results have now been confirmed. Club rider's results were Edgar Reynolds 223.91 miles (35th), Wayne Powell 222.57 miles (37th) and Mike Jones 216 miles (43rd). Mikes original mileage was declared as 230.59 (which he believed to be correct) would have placed him 29th.
Saturday Oct 11th Jamie Willetts competed in the World 24 hour Mountain Bike Championships at Fort William in Scotland. He finished 7th in his age group and 79th overall in a very strong field.
Sunday Octo 12th four club riders competed in the Lyme R.C. hill climb up the Mow Cop "Killer Mile". The competitors included many of the best hill climbers in the country. Ben Norbury got up in 5 minutes 17.5 seconds for 13th place, Nick Decker was25th in 5:46.7 and Club Juniors Mark Allen and Joe Langford finished in 6:22.4 (41st) and 7:41.1 (58th) respectively
Club Runs
September 28th. Following the hill climb eleven riders did a 45 mile club run to Dagfields Craft Centre at Hatherton. Having just ridden the hill climb, the race heads were on, and the pace was at times high. The ride, starting from Mow Cop was a flat one intended as a recovery ride for the competitors.
October 4th. This was a wet Saturday ride of 36 miles with refreshments at Jodrell Bank, with only Bob Banner and Stephanie Cooke braving the conditions.
Oct 5th Thirteen riders started out on a lovely morning. The ride was hilly, with over 4000 ft of climbing in just over 40 miles. Sue Blake reported "We enjoyed a very late lunch at Morrison's café in Leek before making our way home. A very sociable occasion, with much banter."
Other News
Karen Line took part in the MacMillan Cycletta 80km sportive at Tatton Park on 28th September and the Tour Ride 50 mile sportive on October 5th. Joe Langford also did the 50 mile route of the Friends Life Tour Ride event from Stoke, and Tim Boaler rode the 100 mile option taking in many of the Staffordshire Moorlands climbs.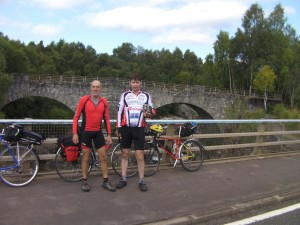 Early in September, two members of the Congleton Cycle Club, Roy Hayhurst and Stephen Kane, along with John Cottrell travelled to Inverness to begin a cycle around the farthest reaches of Scotland.
Unfortunately, the weather in first few days was far from good. Stephen said "As a native, I can only state it could have been a lot worse and the mist only added to the ethereal grandeur, as ghostly peaks waxed and waned into view."
On the third day they reached the aptly named Cape Wrath, the most North Westerly point of the mainland. At the end of the road was a Stevenson built lighthouse. The road could only be reached by ferry and was last repaired in 1870. Stephen said "I will never again complain about Cheshire East pothole, well until next week anyway". Congratulations go to Roy as the only person to make it over the rough road, without vehicular assistance. Roy had a mountain bike. The others left their road bikes at a bus stop and caught the bus.
The weather became more benign as they turned east and they even had a strong tailwind for a couple of days. On the last day they passed a French inspired chateau at Golspie and Scotland got a big 'Yes' from them as a touring destination.
The Club meets every Thursday at 8.30 p.m. at the Rugby Club, Park Street, except for the first Thursday of the month where the venue is Beartown Tap. New members are always welcome.
The club's annual dinner and prize presentation will be on Dec 6th at Astbury Golf Club. Tickets are available now.
Press Report 4th November 2014
The traditional competitive cycling season has come to an end but the autumn season does not mean competition is over, as the new season means hill climbs and cyclo cross. Both types of event are usually shorter in distance but have their own challenges; they are usually very intense and too tough for many riders. However Congleton Cycling Club have seen their members represent the club in both types of event.
The National Hill Climb took place at Stocksbridge near Sheffield, the most prestigious event of the hill climb season, whose previous winners include Olympian Chris Boardman. The punishing climb of 1200 metres saw Dan Evans as winner, with Congleton's hill climb specialist Nick Decker just over 1 minute behind.
On Thursday Oct 30th the club held its Annual General Meeting to elect the club committee, set its subscriptions for 2014, and to receive reports on 2014 from its executive officers. Twenty two members attended the meeting. Club Chairman Bob Norton thanked all of the committee members for their contributions during the year, in particular Andy Farr who stood down as acting press secretary.
The meeting heard that the club membership had risen to 126 (105 in 2013), with a significant rise in its female membership from 20 to 31. There have been increases in all areas of the clubs activities from racing to leisure rides. Bob summarised by saying "2014 was a year of continued growth in all aspects of the club, continuing the trend of the last few years. Activity, particularly racing activity, has increased significantly. "Finances have increased, along with membership, and we are now in the process of setting out a new club plan for the short to mid – term future".
Just prior to the AGM Stephen Kane gave attendees feedback on a recent survey of members views which will aid this process.
The officers elected for 2014 were:
Chairman Bob Norton
Vice Chairman Rob Waghorn
Secretary and Club Runs Secretary Denise Hurst
Membership Secretary Sue Blake
Treasurer Dean Roberts
Racing Secretary Nick Decker
Welfare Officers Georgina Norton & Dean Roberts
Social Secretary Georgina Norton
Press Secretary Rob Dale
Clothing Rep. Wayne Powell
Mountain Bike Rep Vacant
Under 18 Rep Tristan Roberts
Web Master David McVitie
British Cycling Delegate Wayne Powell
Cycling Time Trial Delegate Kelvin Milward
Non-Executive Member Tony Eliott
The clubs President Tony Willis, and Vice Presidents, Mr S Sebire, Mrs K Biddulph,
Mr R Little, Mr and Mrs B Wakefield, Mrs G McCargo and Mr B Fox, were all re-elected.
Press Report 18th November 2014
Not content with becoming the club hill climb champion, Ben Norbury (pictured) rode the hill climb organised by Leek Cycling Club, up the gruelling Gun Hill, which climbs out of Meerbrook. The climb is one of the area's most feared climbs and is often used by the Tour of Britain, and a strong headwind made the climb even more challenging. Ben won the event to cap off a fine season, beating Andy Magnier of Velosure Giordana Pro Cycling by 9 seconds and local rider Rob Howson by 16 seconds. Congleton rider Mark Allen also rode and finished in 12th place.
The club runs have been well supported during the mild autumn weather with many members enjoying the good company and beautiful countryside around the Congleton area. Club Runs have visited Audlem, Cotebrook and Wildboarclough recently with the latter ride providing over 4000ft of climbing. This climbing was rewarded by homemade Ice Cream at the local café, and an easier route back home. The club runs are weekly social rides which take place on Saturdays and Sundays. The club organize runs of varying distances and speeds; they are a great way to keep fit and the best way to start cycling, indeed they have been well attended by many new members.