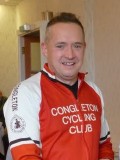 01/07/2011 – Tragic News
Dear CCC Member and Friends of CCC
It is with great sadness that I have to tell you that Karl Austin was killed in a time-trial accident just after 8 o'clock last night. He was riding in a South Pennine Club '10' on the A50 at Etwall, when he was struck from behind by an HGV. Mercifully, the police said that he would have known nothing about it.
At this time, our thoughts must be with Linda, Katie and Simon and, of course, Joyce and Keith. I am sure that we will all want to do whatever we can to help them through this time of great sorrow. That is all that I can tell you at this time.
Bob.
(Bob Norton – Chairman)
08/07/2011 – Funeral Arrangements
Karl Austin's Funeral will be on Thursday July 14 at 2 p.m. The service, which will be a civil ceremony, will take place at Bradwell Crematorium, Chatterley Close, Newcastle-under-Lyme, ST5 8LE. Linda would like as many clubs as possible to attend in their club colours. Parking for bikes and cars is available at or near the Crematorium.
This will be followed by a celebration of Karl's life at Allostock Village Hall, Chapel Lane, Allostock, Knutsford, Cheshire, WA16 9LN. This is a 1 hour bike ride from the crematorium and is located just off the A50, about 2 miles north of Holmes Chapel. The gathering (with refreshments) will commence around 3.30 p.m. and will finish at 6 p.m. Parking at the V.H. will be open from noon. See Route Map.
Linda has asked for no flowers, but rather donations to Wheels for All which provides adapted cycling equipment and cycling activity programs for people with disability and differing needs. This is the same charity to which donations went following Graham McCargo's funeral 4 years ago. You can make a donation at www.justgiving.com/Karl-Austin.
Linda and family and Joyce and Keith are very appreciative of all your cards and messages of support and condolence.
Condolences
The Club has received the following messages of condolence: