Press Report 21st January 2016
Late December saw CCC taking to the boards again at The National Cycling Centre in Manchester. Open 7 days a week and the busiest in the world so it was brilliant to have it to ourselves for 2 hours. There was a mixture of abilities and experience but through Charlie's excellent planning and support everyone soon got up to speed as the confidence developed. No crashes or incidence's just lots of speed and fun was had by all. Appreciation and thanks to Polly & Lee for organising.
December the 28th saw the Macclesfield Wheelers Supercross. Amongst the hundreds of riders in the Cross Country races, Congleton was represented by Mike Jones (finished 49th) in the veterans race and by Will Booth (finished 36th) and Charlie Evans (finished 28th) in the senior race.
The Club's New Years Day walk this year was around Tittesworth Reservoir at Meerbrook. The weather was kind and allowed 23 people including members, family and friends to enjoy the social ramble, after which the coffee and cake in the visitor centre.
As its been well reported in the north west, the weather during the last 4 weeks as been pretty horrible, more rain than normal and we've also had high winds, despite that we've maintained the Saturday and Sunday rides, and had some good turn outs. The weather certainly hasn't damped spiritus and the normal humour and banter abounds.
Press Report 3rd March 2016
Club Member Roy Hayhurst famous for arranging unusual and great fun rides suggested members get mountain bikes out for a welcome change, and so a day out on Mountain Bikes in the Peak District was born. Starting from Trentabank Car Park, the route was a circuit on tracks through Wildboarclough, Three Shires Head, Gradbach, Danebridge and Wincle. There were 4 stream crossings. The deepest involved wading through 2 feet of water. The "roadies" found it tough going and a planned 27 miles was cut to 19, which still took 4 hours. Thanks to Roy and Lee Wood for organising what was a really good fun ride.
After December deluge we hoped the new year would be better, well it probably has been on balance, but for the weekend of the 16th & 17th January ice and then heavy wind and rain stopped play, a rarity for CCC but normal service soon resumed the following weekend..
Despite the poor weather face club members arrived at the Manchester and District Time Trial Association annual awards luncheon in Middlewich by bike. Rather damp but in high spirits we joined forces with other Club members to make a boisterous group of 13. The prizewinners list had 21 mentions of CCC riders. After a three course lunch (with seconds if you could fit it in) the prizewinners were awarded with their trophies. (from left) Sue Blake, Wayne Powell Edgar Reynolds Denise Hurst all stepped up to noisy applause. Very well done indeed.
The first reliability ride of 2016 took place in late January, a stunning turnout of 83 riders.
There were a number of possible rides which were accompanied with a route card, 26 miles, 49 miles and differing speed choices. Riders were let off in phases re the volume of riders, with the furthest distance and fastest group first.
The weather was surprisingly warm, lots of muddy faces returned to the Rugby club and smiles told us it had been fun ride with something for all.
The clubs second reliability ride took place early February
The second event was 65miles and again of different speeds, riders were blessed with fabulous but chilly weather and many reported enjoying the ride, some adventurous riders claimed they got a good work out from picking one of the the fast paced groups and pushing on as hard as they could.
The third reliability trial, took place mid February which was a ride of 100 miles. Thirty five riders took the circular route around south Cheshire and North Shropshire. The wet forecast thankfully didn't materialise but the wind certainly did, the route out was into the strong head wind but naturally, and ideally as legs become tired, the tail wind helped all riders return.
Many riders were out for up to 8 hours, deciding they didn't want that the Tandem pairing of Mark Tilstone and Sue Blake (photographed above in the 65 mile event) made it back in the least time, a great ride well done to them.
It was another successful event in no small part to the volunteers at the Rugby Club base and those providing refreshments en route, a number of riders commented on the quality of the support (and cake!) many thanks to them.
Club members Steve and Ann Jackson gave us a fabulous evening when they took us through their intriguing stories from their epic from riding back to Congleton from Istanbul.
The stories were both fascinating and captivating, covering the well planned social ride back from Istanbul taking 3 months and covering 3500km. Steve took members through some great stories, interesting facts and some wonderful accounts of the warm hospitality especially the Turkish people
Press Report 21st April 2016
March saw the annual Hilly 33 mile reliability ride with around 1400 meters of climbing which tested the legs of the 14 starters with about a dozen stiff climbs on a route taking in Cloudside, Rushton Spencer, Danebridge, Wincle, Sutton, Macclesfield Forest, Wildboarclough and Bosley Wood Treatment. There were a few punctures and some slight variations of route, but all got round safely. First back were Steve Hulme with guest rider David Bayes in an impressive 2 hours and 11 minutes. The photos shows riders setting off.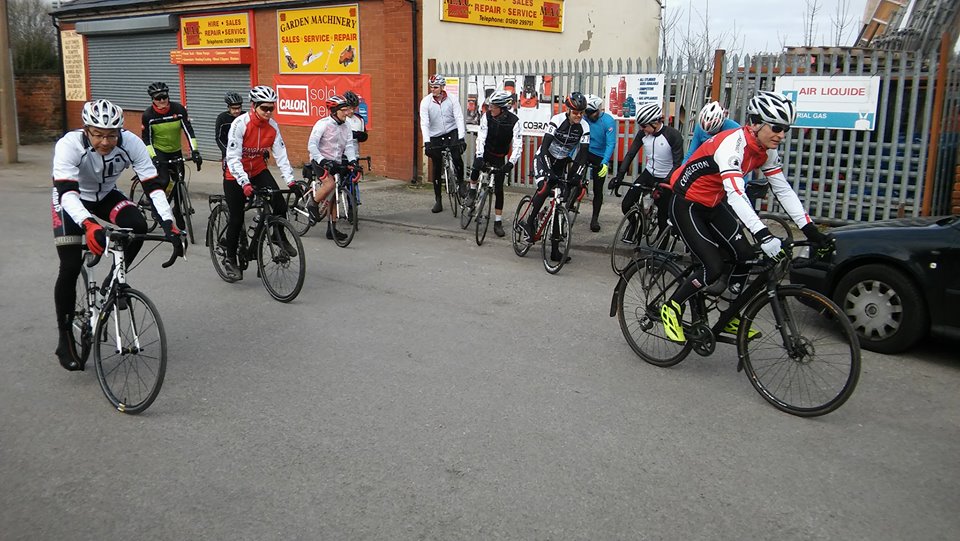 On the same day club members took part in Crewe Clarion Wheelers, Hilly 17 Open Time Trial Ben Norbury rode well to take 3rd place in the in 0:37:59. Rob Waghorn continuing his comeback to racing, rode to a 1:04:12. In the 2 up event Wayne Powell and Paul Dentith finished 5th pictured below in 0:44:30. Jamie Willetts, riding for Team JMC was 20th in the solo event with 0:43:35.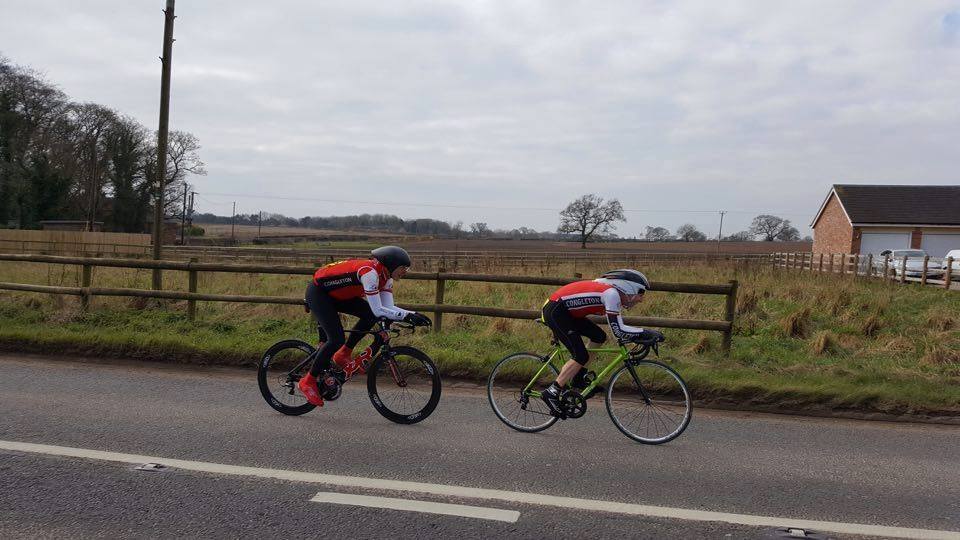 Wayne Powell, Paul Dentith
Four club members took part on Good Friday in the Buxton Mountain Time Trial, it is a circuit of 11 miles starting and finishing in Longnor which is completed three times by the Men and twice by the Veterans, Women, Paracyclists and Juniors. There are 390 metres of climbing per lap which, along with the variable weather, makes this one of the hardest time trial events in the country, which attrated national riders, including cycling celebrity Dame Sarah Storey. Well done to Ben Norbury 1:32:25 Charlie Evans 1:42:41 3 laps, Mike Jones 1:09:24 Rob Waghorn 1:56:06 2 laps.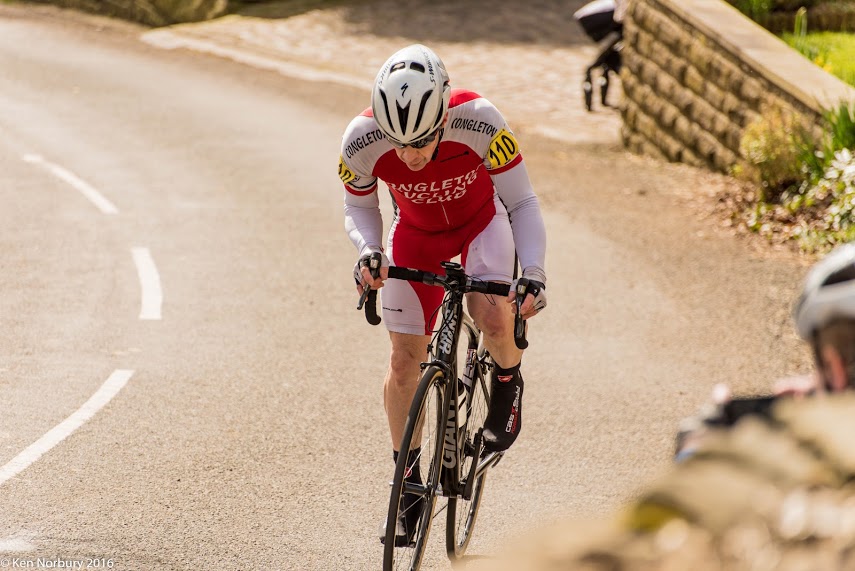 Mike Jones
The five who took part in Easter Sunday's club run to Dearnford Lake Nr. Whitchurch, certainly earned their Easter eggs. It was a tough ride in a strong wind, which made it a hard ride to the cafe but a much easier one coming home. It was a circular route of 72 miles going out via Church Minshull, Wrenbury, Marton and Whitchurch and coming back via Audlem, Weston and Haslington.
The photo shows the group at Dearnford Lake in sunshine, although they did get wet later on.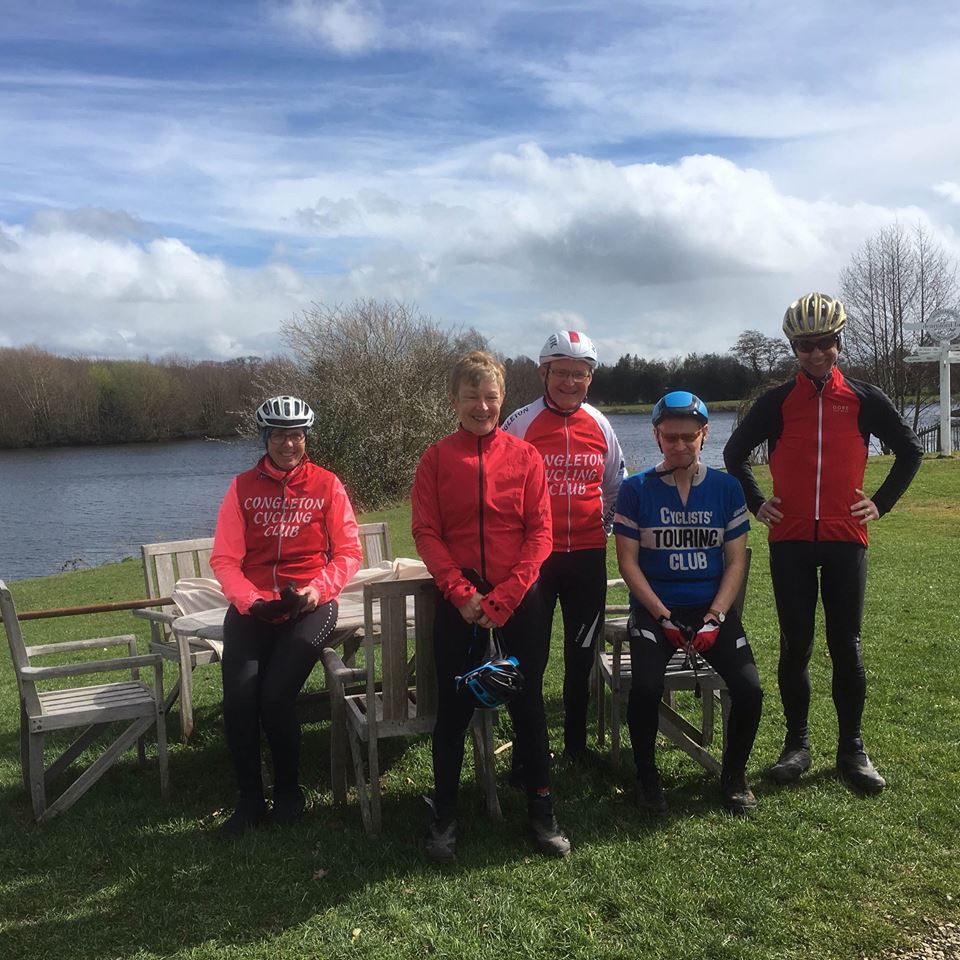 Denise Hurst, Jill Jervis, Bob Norton, Mark Dixon, John Jervis
7 club members took part in the Withington Wheelers 25m TT on the 2nd april. Despite the early rain and windy conditions there were some great times. Ben Norbury 0.56.01, Will Booth 1:01:3, Paul Dentith 1:02:32, Wayne Powell 1:03:59, Stephen Sladin 1:04:30, Kelvin Milward 1:04:39, Edgar Reynolds 1:09:18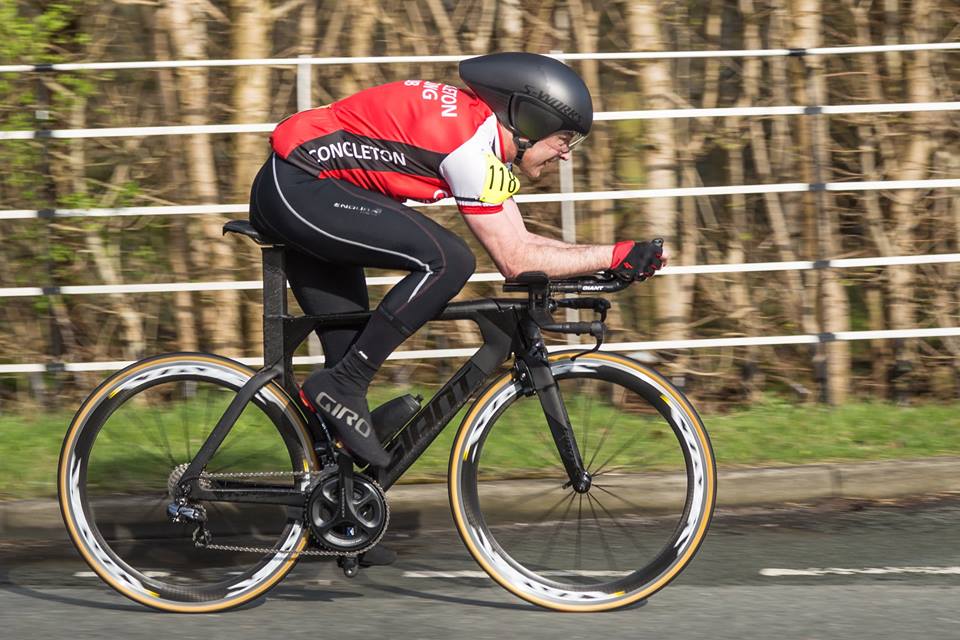 Stephen Sladin
AP
Press Report – 9th June 2016
May started on a sunday with unsurprisingly a sunday ride!, numbers were down as the club had organised a weekend away in Yorkshire, unfortunately the weather wasnt kind to the visiting rider Mark and the 3 club members as it barely stopped raining for the full ride, the destination was The Ice Cream Farm at Tattenhall.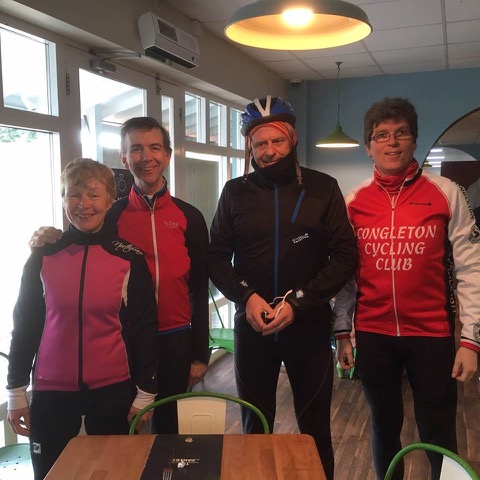 Jill, John, Mark & Rowland
The Yorkshire weekend was a great success as well as some beautiful scenery to ride in for the 16 members that took part, it was organised to coincide with the Tour de Yorkshire. The Tour de Yorkshire is organised by the Tour de France organisers, and is fast becoming one of world's top three day races. There were several World Tour Teams and many of the world's top 100 cyclists competing along with all of the best British teams.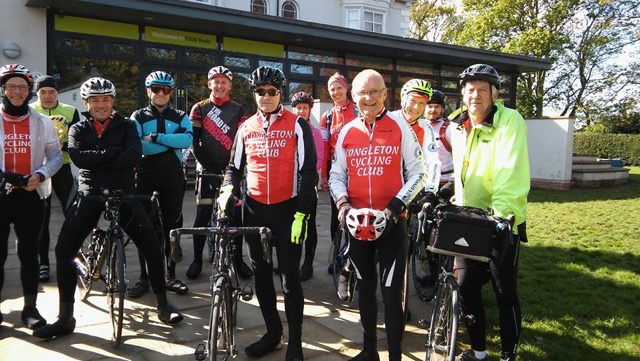 May saw the ramping up of the racing season with many members taking part in Time Trials external to the club, in addition to our hosted events which on the 3rd May was on the Chelford J2/1 course it was a 'fast' night with several riders reporting PB's, taking the honours for the fastest on the evening was Ben Norbury in a PB of 21:24 second and third of the Congleton riders was David Farrington 23:23 (PB) and Rob Dale 23:34. Top lady was Sue Blake in 28:20 from Polly Wilding 28:56 (PB) and Denise Hurst 29:31.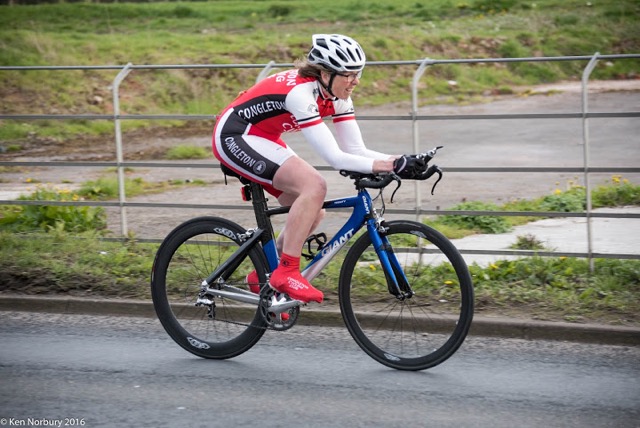 Denise Hurst
The Gawsworth JC/5 coursed hosed the 10 mile time trial on the 10th May, the weather was very windy and heavy rain had been forecast which affected the amount of riders, having the smallest entry for years. Ben Norbury on super form took the honours with another PB of 21:21. Stephen jackson was second with 24:17 and third placed Congleton rider was Kelvin Milward with 25:50.
Best of the Congleton ladies was Polly Wilding in 29:09 whilst Lesley Norbury came in with 32:01 having stopped in the first mile and then completed the ride with broken cleat on her shoe!
Saturday social ride saw a new destination on the 14th may to Cudmore Lakes, Ten riders set off including three guests, Tim Clifford, Andy Wolstenholme and Richard Tadman whom we hope will become new members. We found Greg Spencer at the cafe when we arrived.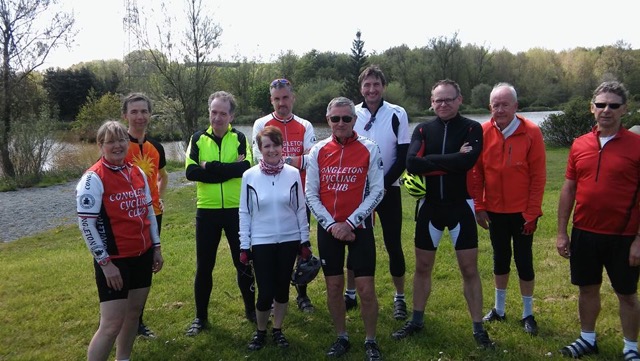 The Holmes Chapel Road JC/27 course was host for the 10 mile time trial on the 17th May, early riders off remained dry but the later riders were hit with heavy rain and strong side wind, the first 4 places were taken by visitors, best Congleton rider was David Farrington in a PB 22:56, followed by Pete Tatton in 23:48 and Paul Dentith in 24:18. Fastest Congleton lady was Denise Hurst with 29:49 from Lesley Norbury 30:01.
Ben Norbury edged a little closer to breaking the 21 minute barrier with another PB 21:14 in Gawsworth's JC/5 10 mile time trail on 24th May edging out the returning Steve Hulme 21:57, third of the Congleton riders was Charlie Evans in 22:59.
Best lady was junior Aleisha Mellor (Lyme RC/Congleton CC) in 28:35 from Denise Hurst 29:41, and Lesley Norbury 30:34. Rob Waghorn has been riding a retuning year, and since the season started he's been improving week in week out so was delighted to achieve a PB of 30:43.
The last sunday ride of the month was a cooker being the warmest day of the year, six riders headed out on a hilly ride to Jacksons Garden Centre, Bagnall in Staffordshire taking in some quiet and beautiful villages.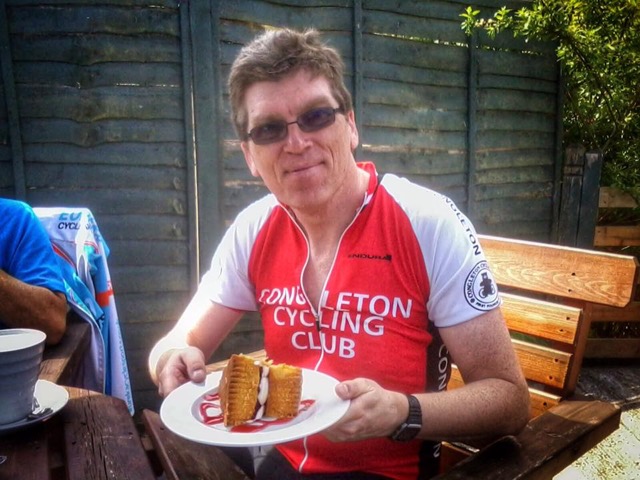 Rowland enjoying a light bite!
The final time trial of the month was on the 31st May, and was switched to the Holmes Chapel JC/27 course due to a partial road clash with another club, great organisation skills ensured it was carried out smoothly with great support and help from the volunteers. There was a strong head wind to the turn and Holmes Chapel which slowed riders down, Ben Norbury recorded the fastest time of 21:41, just a day after recording a first ever 100 mile time of 4:01:50 in the Anfield 100. Next fastest Congleton riders were David Farrington 23:28 and Adam Spittle 24:25. Congleton best lady was Sue Blake 28:04 followed by Denise Hurst with 28:51 and Lesley Norbury 29:56. Lesley had recorded a maiden 50 mile time of 2:40:05 in the Warrington RC event at the weekend.
Press Report 7th July 2016
The 4th of June saw the Stretford Wheelers CC 25mile TT on J2/9 fastest of congleton riders in a superb time was Mike Jones in 59:14, other riders were Dave Farrington 1:00:10, Steve Sladin 1:02:46, Kelvin Milward 1:02:53, Duncan Poole 1:06:01.
On the same day the saturday social headed to the Wizard Tea Rooms on Alderley Edge, and at Readsmere. There were twelve riders including guest Charlie Frodsham, who said he had often seen us at the Unicorn meeting point, and decided he'd join in.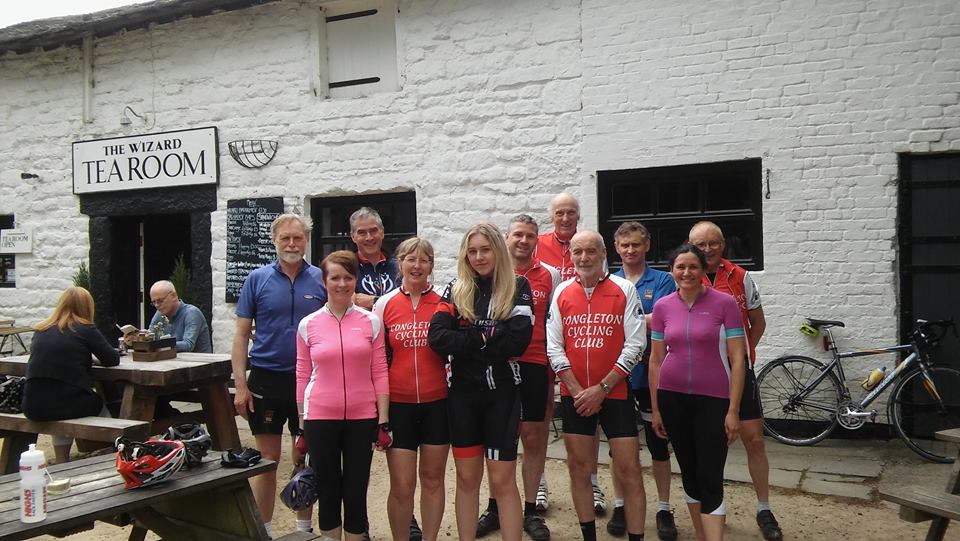 The 11th saw the Janus 25mile TT on J2/9, unfortunately the weather was horrendous, heavy constant rain meant about a quarter of the file were none starters, and of the starters many didn't finish, the bravest were, Steve Sladin 1:01:11, Paul Dentith 1:02:09, Denise Hurst 1:12:14, Brian MacRury in his 1st 25mile Time Trial achieved a very respectable 01:12:32 and Dave Hurst rode to PB 01:24:52 respect to all.
The Sunday club ride on the 12th June saw seven riders set off to Stoneyford Cottage Gardens near Northwich. It started raining by the time the riders got to Twemlow and despite optimistic remarks the rain got heavier and continued until Northwick. The riders received a warm welcome from the Nursery, asked if we could turn allowing them to close the doors and turn the heathers on to steam dry!. A good day out, despite the weather.
The Club 10 TT on tuesday 14th on the JC/27 Holmes Chapel Road course, the threatened rain held off, the fastest time was Ben Norbury 21:27 from Mark Lovatt (Planet X) 23:08 on a road bike and Rich Bowditch (Lyme R.C,0 23:13. The next fastest Congleton Riders were David Farrington 23:18 and Pete Tatton 23:50. Splitting them was Lyme R.C. junior Alex Coates with a PB 23:47. Fastest Lady was Sue Blake in 27:52 from Denise Hurst 29:12 and Lesley Norbury 29:50. Philip Gleave (Unattached) made a very promising start to his TT career, recording 24:41 in his first ever TT on his road bike.
The superb news was announced on the 16th that club member Megan Giglia had been selected to ride in the Olympics at Rio which has been her goal for some time, very well done and all wish her well.
The Club 10 TT on tuesday 21st was run in warm calm conditions on the JC5 Gawsworth course. The first 15 riders all bettered 25.m.p.h., with many PB's and SB's recorded.Ben Norbury got down a brilliant time of 20:43 (PB) to win from Steve Hulme 21:47 and Mark Lovatt (Planet X) 21:52. Mark was testing a prototype TT bike soon to be available from Planet X. The next Congleton rider was Mike Jones also in a new PB of 22:27. The ladies were led by Sue Blake with 27:41 from Denise Hurst 27:54 and Lesley Norbury 28:50 (PB). Top junior was Alex Coates in 23:59 from Aaron Mansell (both Lyme RC) in 26:50.
Ben Norbury on route to a PB and sub 21minute ride. (Pic courtesy Ken Norbury)
Saturday 25th saw the East lancs road club 25mile TT on J2/9, in good conditions our riders were, Kelvin Millward 1:02:42, Steve Sladin 1:03:09, Rob Waghorn 1:15:16, Dave Hurst 1:28:44.
The last Club time trial was leg 2 of the Karl Austin memorial, inter club challenge with Macclesfield wheelers, the first leg was abandoned shortly after the start re road works, Congleton hosted leg 2 on the Chelford 25mile TT JC/24 course on Tuesday 28th. The conditions for very wet with lots of spray, however congratulations were in order as Congleton were successful over Macclesfield based on the aggregate time of their best 6 riders, by 6 mins and 35 seconds. We fielded 7 riders vs their 4, but their times were made up to 6 riders by counting 2 of our 6th counter times. Individually Ben Norbury made light of the poor conditions to record a PB in 54:42, following on from a superb second place in the Manchester Wheelers Hilly TT on Sunday J8/25. In 2nd place last night was Mike Stretch 58:02 and 3rd was Simon Holden (both Macc Whs) Our other counters were Stephen Sladin 1:02:18, Phillip Gleave 1:05:53, Sue Blake 1:12:05, Denise Hurst 1:13:55 and Lesley Norbury 1:16:01, Macclesfields were Paul Fenton 1:03:16 and Ben Rathbone 1:16:02. Phillip Gleave was riding maiden 25 and it was not without incident, e was stopped by traffic and had to dismount when his chain came off.