Report 6th January 2013
Congleton Cycling Club's Chain of Events
Up-Coming Event:
Social Ride on Saturday, 19th January at 10 a.m.
Meet outside Unicorn P.H. on Holmes Chapel Road for a 15 mile ride to a favourite café for a drink / eat / chat then return on different lanes – at the pace of the slowest rider. All cyclists welcome.
Reliability Trials, 49 mile or 29 mile on Sunday, 20th January
at 09.15 for 09.30 in 12,5 and 15 mph groups. Meet at Congleton Rugby Club, Park Street / Mountbatten Way
Recent Activities:
Club Runs Saturday Dec 15th and Sunday Dec 16th.
The club's monthly short club runs tend to be popular and on Saturday 8 people enjoyed a leisurely amble through lanes for refreshments at Radway Green. Starting from the Unicorn at West Heath Bob and Georgian Norton, Davids McVitie and Hurst, Bev Hambleton, Pete Nelson, Bob Banner and Bill Boynton enjoyed 27 miles in fine weather.
Sunday again dawned bright and mild. Surprisingly only 3 riders started a ride to Grappenhall. Others must have had a premonition, because despite the seemingly kind weather, the group of Pete Smith, Stephen Kane and Bob Norton found a patch of black ice on a small descent at Bate Mill near Jodrell Bank. Pete and Stephen crashed, with Stephen coming off worst. After a week in hospital he is now recovering from 2 fractured vertebrae and a fractured pelvis. The news is good in that there is no permanent damage, but he is expected to be off his bike for a while.
Sunday December 16th – Club's annual dinner and prize presentation at Astbury Golf Club
Club members, families and friends gathered to enjoy a fine four course dinner and see the club trophies and silverware awarded to the winners for 2012.
Club chairman Bob Norton welcomed the guests including representatives from the North Shropshire Wheelers, Seamons C.C, Leek C.C. and Macclesfield Wheelers. The Chief Guests were Barry Broadbent and his escort for the evening Ann Bradford. Barry entertained the diners with tales from his years as an international commissaire and board member, both of the UCI (world governing body) and of British Cycling, before presenting the silverware. 26 Awards (Trophies, Plaques, Certificates) were presented to 19 Members, of which, Pete Smith received the most.
During the evening there was a raffle with lots of cycling goodies kindly donated by cyclestore.co.uk , and time out was taken, to vote in the BBC Sports Personality of the Year completion, duly won by Bradley (now Sir Bradley) Wiggins.
Stephen Kane should have been present, but was injured in a club run accident when he and Pete Smith took a tumble on black ice near Jodrell Bank earlier in the day. Stephen was in hospital during the awards but managed to escape to home, just in time for Christmas with his Family.
Club Run Sunday Dec 23rd to High Legh Garden Centre – 55 miles
For a pre-Christmas spin 5 riders visited High Legh Garden Centre, without doing any shopping. Pete Nelson, Wayne Powell, Bob and Georgina Norton were joined by visitor David Booth from Maidenhead C.C. for the ride, which went through the Cheshire Lanes by way of Goostrey, Knutsford, and Great Budworth to High Legh. The return was through Tatton Park (no deer were spotted), Over Peover and Lower Withington for a distance of 55 mile. Amazingly, the weather was dry, following the heavy rain of the previous few days.
Club Run Sunday Dec 30th to Delamere Station Café – 53 miles
The last club run of 2012 was to Delamere. Six riders left Congleton in unseasonably mild weather. They were Sue Blake, Pete Smith and Peter Nelson, Ed Wright and Bob and Georgian Norton. The group only got as far as Cranage before a broken spoke in Ed's rear wheel required a bit of nifty work with a spoke key from Pete Smith to get him mobile again. The onward trip went via Lach Denis, Davenham, Hartford and Norley to Delamere Station cafe for lunch. To make the ride a circular one the return was through Cotebrook, Little Budworth, Whitegate Way, Winsford, Occlestone Green and Brereton. The wheel broke another spoke near Middlewich, and again it was trued up enough to get home (Ed needs a new wheel), for a ride distance of 53 miles.
Tuesday, 1st January – New Year's Day Walk around Rushton / Rudyard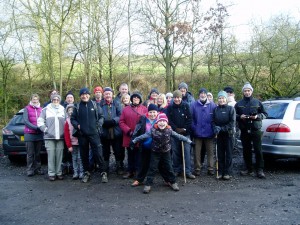 Bob Norton, Chairman and photographer, reports: "It has become a tradition for Congleton C.C. to do a walk on New Year's Day. This year 25 walkers including one dog, Bertie a black Labrador, completed a circuit of Rudyard Lake. We walked in an anticlockwise direction starting from the Rushton Spencer end of the lake. Blessed with good weather with a good deal of sunshine, fine views over the lake were enjoyed. At one narrowing of the path a number of mountain bikers were temporarily held up by the group, leading to an odd situation of cyclists being delayed by a pedestrian cycling club! The walk of about 5 miles was followed by lunch in the Knott Inn at Rushton Spencer which is run by a relative of club member Bob Banner. The walkers shown in the photograph are (from the left: Katie Mulroy, Kelvin Milward (obscured), Joan Hewines, Bertie (obscured), Glynn Hewines, Hollie Mulroy, Bob Norton, Dave Mulroy, Les lancaster, Wayne Powell, Lorraine Powell, Jean Lester, Rosie Norton (obscured), Matt Norton (at back), Joshua Norton, Eddy Mulroy at front), Georgina Norton, Angie Norton, Doug Taylor, John Broadbent, David Hurst, Ruth Broadbent (obscured), Angela Taylor, Denise Hurst, Bob Banner."
Club Run on Sunday, 6th January to Lavender Barn / Red House, Dunham Massey
Eleven riders, five new people and six members made the most of the almost spring like weather. We made our way out of town via Giantswood Lane heading for Goostrey. From here we went through Over Peover to Knutsford and into Tatton Park. The park was very busy with walkers and cyclists. In fact we remarked that we had not seen so many cyclists out in early January before. From there we made our way past Bucklow Hill to Broomedge (Lymm) and on to the Trans Pennine Trail. The trail was somewhat muddy, so we exited back on to the road after a couple of miles to reach our refreshment stop at Red House Farm near Dunham Massey. The intended cafe was the Lavender Barn, but with a group of 11, Red House was less crowded. The return to Congleton was via Hale, Mobberley, Marthall, Lower Withington and Newsbank, mostly on rather muddy lanes.
The participants were: Georgina and Bob Norton, Sue Blake, Peter Nelson, Roy Hayhurst, David Hurst and welcome Guests, Rowland Bainbridge, Gill Armstrong, Paula Kennerley, Paul Turner and Steve Pullen. All said that they enjoyed the 54 mile ride.
Report – 4th February 2013
Congleton Cycling Club's Chain of Events
Up-Coming Events:
65-mile Reliability Ride on Sunday 10th February
Meet at Rugby Club from 09:00 for 09:30 Start. For Rules,Route and Entry fees – see website.
Social Ride on Saturday, 16th February at 10 a.m.
Meet outside Unicorn P.H. on Holmes Chapel Road for a 15 mile ride to a favourite café for a drink / eat / chat then return on different lanes – at the pace of the slowest rider. All cyclists welcome.
Recent Activities:
Cold Club Ride on 13th Jan to Dones Green – 47 miles
Five riders participated, on a very cold but bright day. They kept to the main roads through Holmes Chapel, Cranage and Lach Denis. Bob Norton, Jim Cook, Wayne Powell, Dean and Tristan Roberts, then chanced the more minor roads into Northwich and on through Marbury Country Park to Comberbach and Dones Green for a cafe stop and a warm up. The temperature by now had risen from zero to about 2 degrees for the return trip through Antrobus, Great Budworth, Plumley and Goostrey. The ride was short at 47 miles but long enough in the cold.
Bowling Evening on Thursday, 24th January at Macclesfield
Our latest social event saw 23 at the ten pin bowling in Macclesfield, using 5 lanes. Everyone had a great time (easier than cycling in this weather). We bowled two games each and an aggregate score was kept. There was a bag of Skittles (sweets) for the biggest total on each lane and a plastic trophy for the overall winner.
The lane winners were Tony Elliot, Pam Dean, Edgar Reynolds, Stephen Jackson and Glyn Hewines. The overall winner was Edgar Reynolds with an aggregate of 269 pins. Perhaps we will have to have a proper trophy next year.
Sunday, 27th January – Club Ride to MDDTA Lunch & Prize Presentation, Middlewich
Georgina and Bob Norton and Peter Nelson formed the Clubrun and enjoyed ice-free lanes and even some sunshine as they worked up an appetite for the usual excellent meal. They were joined by motorised Members, Denise and David Hurst, Lynn and Edgar Reynolds and Peter Hayhurst.
Denise Hurst (still off the road bike since her accident last August) received well deserved applause when she was presented with the Edith Massey Trophy for Lady Champion in the 12-hr event.
Everyone was looking forward to the racing season (and improved weather).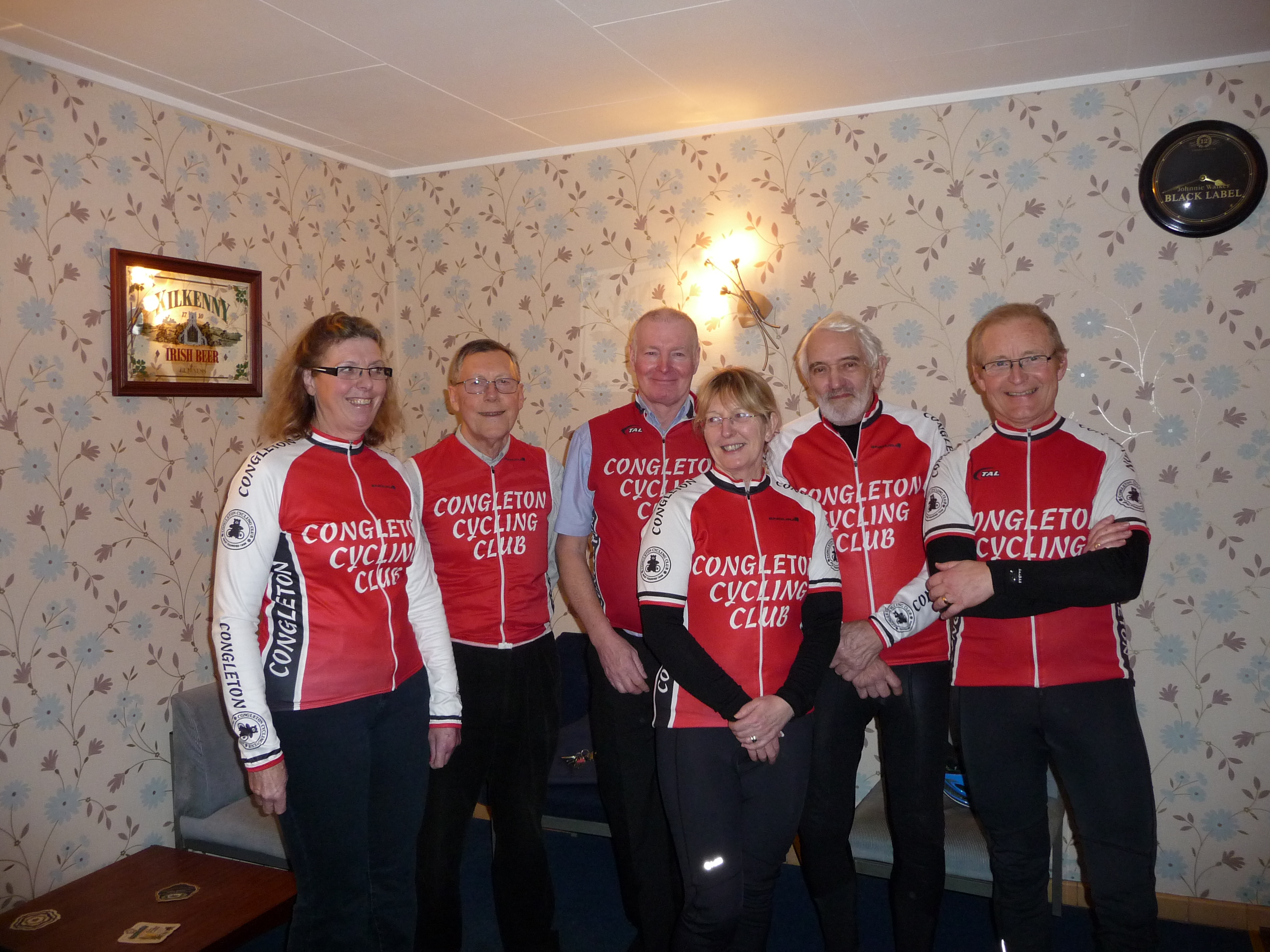 Sunday, 3rd February – Reliability Rides of 29 & 50 miles
Sixteen Members and six Guests started these rides but 2 had to abandon due to cold and wet conditions when repairing punctures – with 3 other riders also suffering same defects. In spite of the many potholes, ruts, mud and gravel, there were no accidents – so all riders must have taken great care! When enjoying tea and biscuits at the Rugby Club, the riders were very satisfied with their performances and are looking forward to the 65-miler this coming Sunday (10th).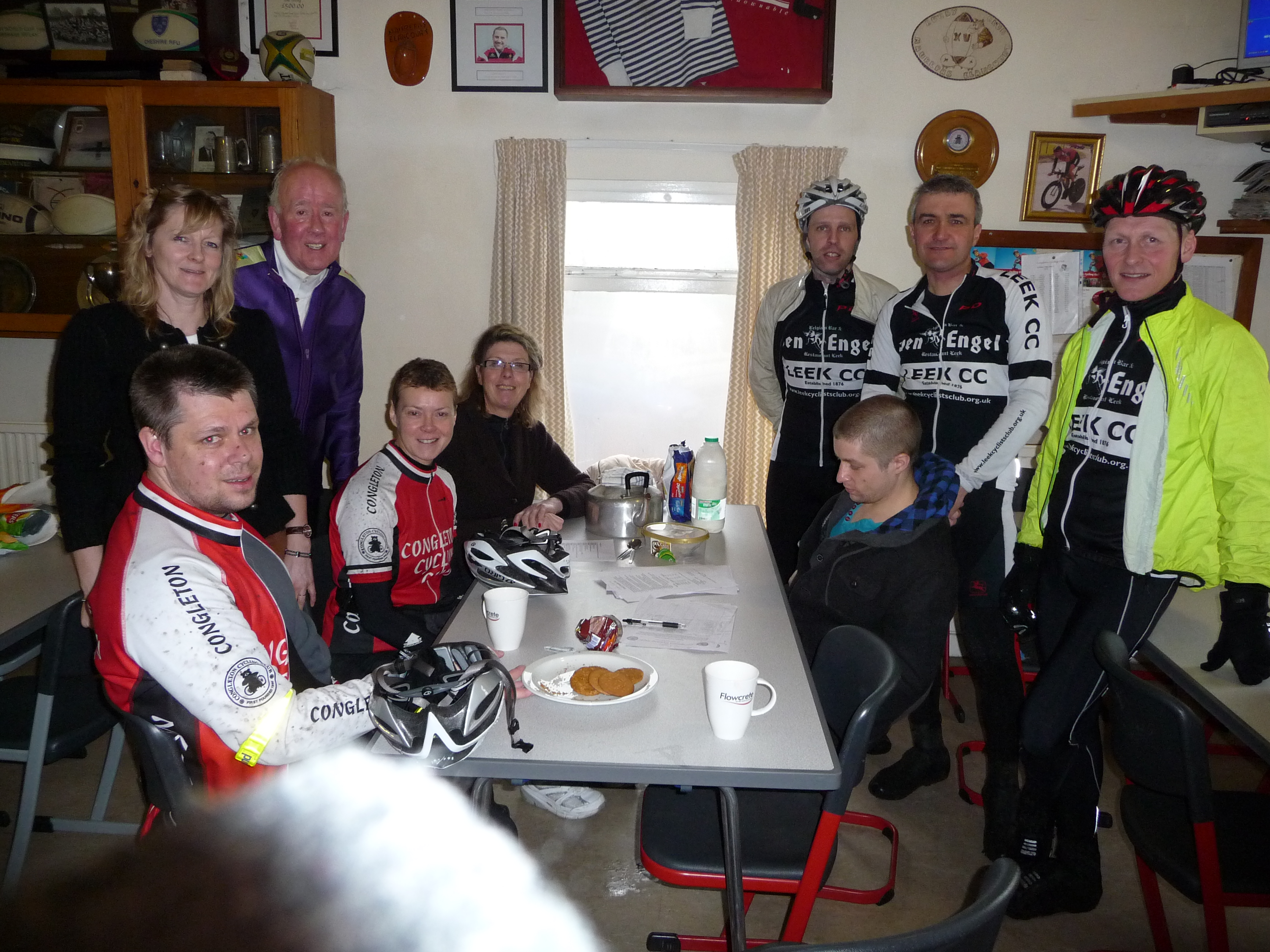 Report – 25th February 2013
Congleton Cycling Club's Chain of Events
65-mile Reliability Ride on Sunday 10th February
The club's 65 mile pre-season reliability trial took place with Riders opting for either 12.5 miles an hour or 15 mph average speed. The morning was cold and wet. None-the-less 12 riders signed on, 9 club members and 4 visitors. The route took the riders out through Church Minshull, past Oulton Park and on through Utkinton to turn North at Tarvin. There, a cold head wind met the riders for the slightly longer return journey through Delamere Forest, Acton Bridge, Great Budworth and Knutsford. All starters returned within the specified time although a variety of route deviations were followed by many on the return journey. The rain never stopped all day and many were victims of punctures in the poor conditions. Club members taking part were Wayne Powell, Stephen Jackson, Mark Tilstone, Andy Malbon, Paul Kennington, Mike Jones, Sue Blake and Georgina and Bob Norton.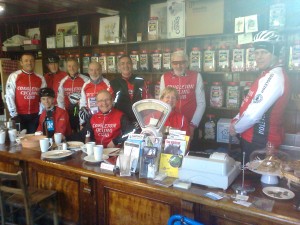 Social Ride on Saturday, 16th February and Clubrun on Sunday, 17th February
What a great weekend for riding, still on the cool side but at least dry and bright. The weekend of Feb 16/17 saw two club runs in bright sunshine, in stark contrast to recent weekends. There was a good turnout for both rides with nine riders on Saturday and ten on Sunday, with four even doing both days.
On Saturday the monthly "Social Ride" went to Goostrey Home and Garden for a refreshment stop. We welcomed two riders new to our club rides, Amanda Turner, a new teenage member and Mark Allen also came out for the first time. The others were "old hands". Georgina Norton led the group by way of Brereton Heath, Brereton Green, Cledford and Middlewich to the cafe stop, and then back via Goostrey, Jodrell Bank, Lower Withington and Newsbank for a ride of 29 miles. Other riders were Bob Norton, Paul and Alistair Kennington, Les Lancaster, Paul Turner and Bill Boynton.
On Sunday we had a club run again after two weekends of Reliability Trials. Another new teenage rider, Sam French, joined us for this ride to the Priest House café in Audlem. This is a favorite destination with the club although was our first visit in 2013. The riders were Bob and Georgina Norton, Ed Wright, Petes Smith and Nelson, Jim Cooke, Bill Boynton, Dave Hurst, Paul Kennington, and Sam French. We headed out of town on the Newcastle Road and then via Rode Heath, and Alsager to Audley. Here Paul's chain broke which required a swift bit of chain riveting before proceeding over Shraley Bank to Betley, then through Wrinehill, Bridgemere and Hankelow to Audlem, where we filled the front half of the cafe. The return route was though Wrenbury, Hough, Weston and Barthomley, Alsager, Malkins Bank and Smallwood for a round trip of 50 miles.
I would like to include a quote from one first timer with the club this weekend. "Just emailing to say what a fantastic day I had today – can't feel my legs now! It was a privilege to cycle with such nice, welcoming people and I look forward to the next ride" Great feedback!
100-mile Reliability Ride and Club Run on Sunday 24th February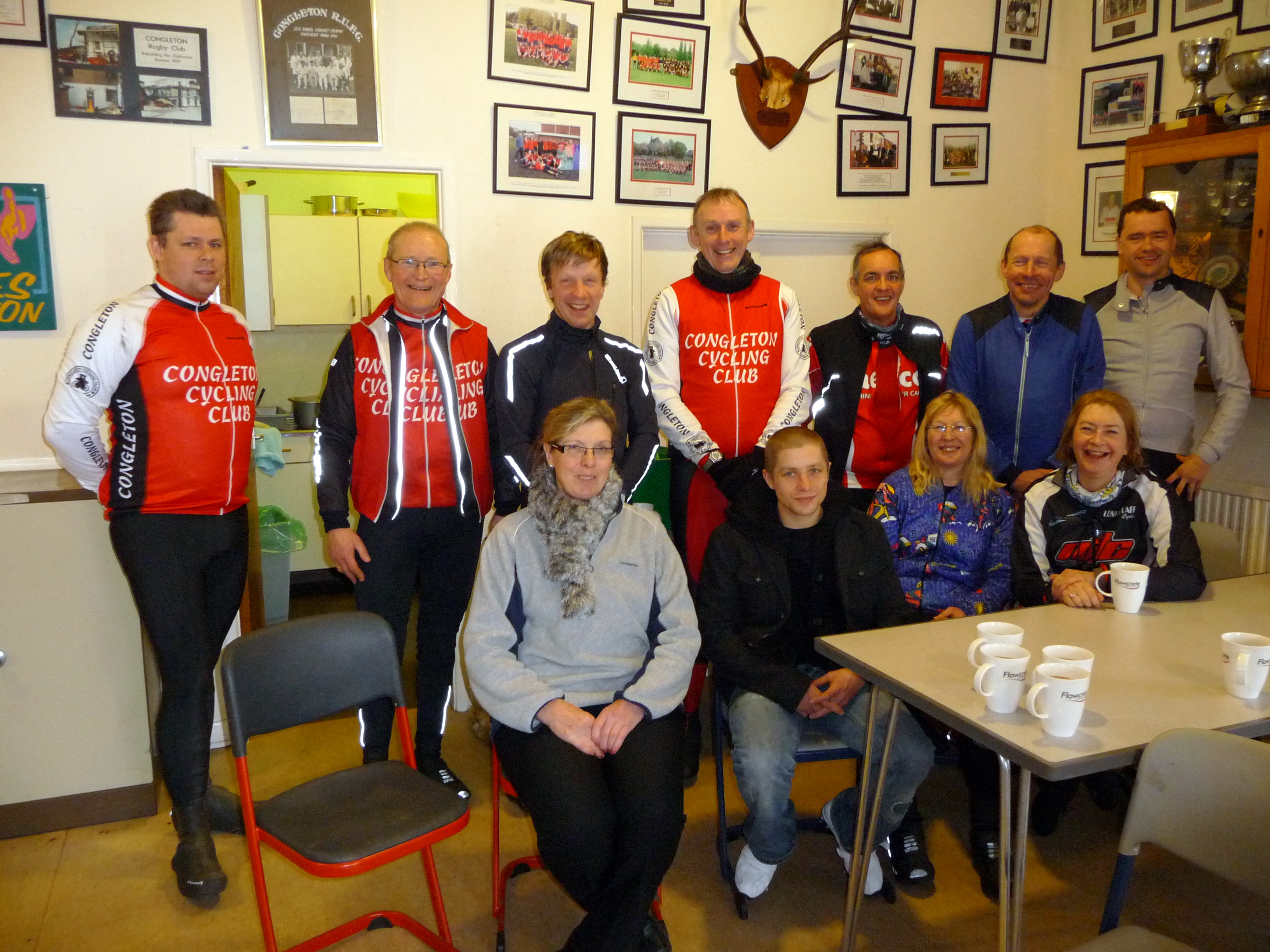 (Empty chair: waiting for Sue Blake who had gone AWOL on 0,6-mile ride!)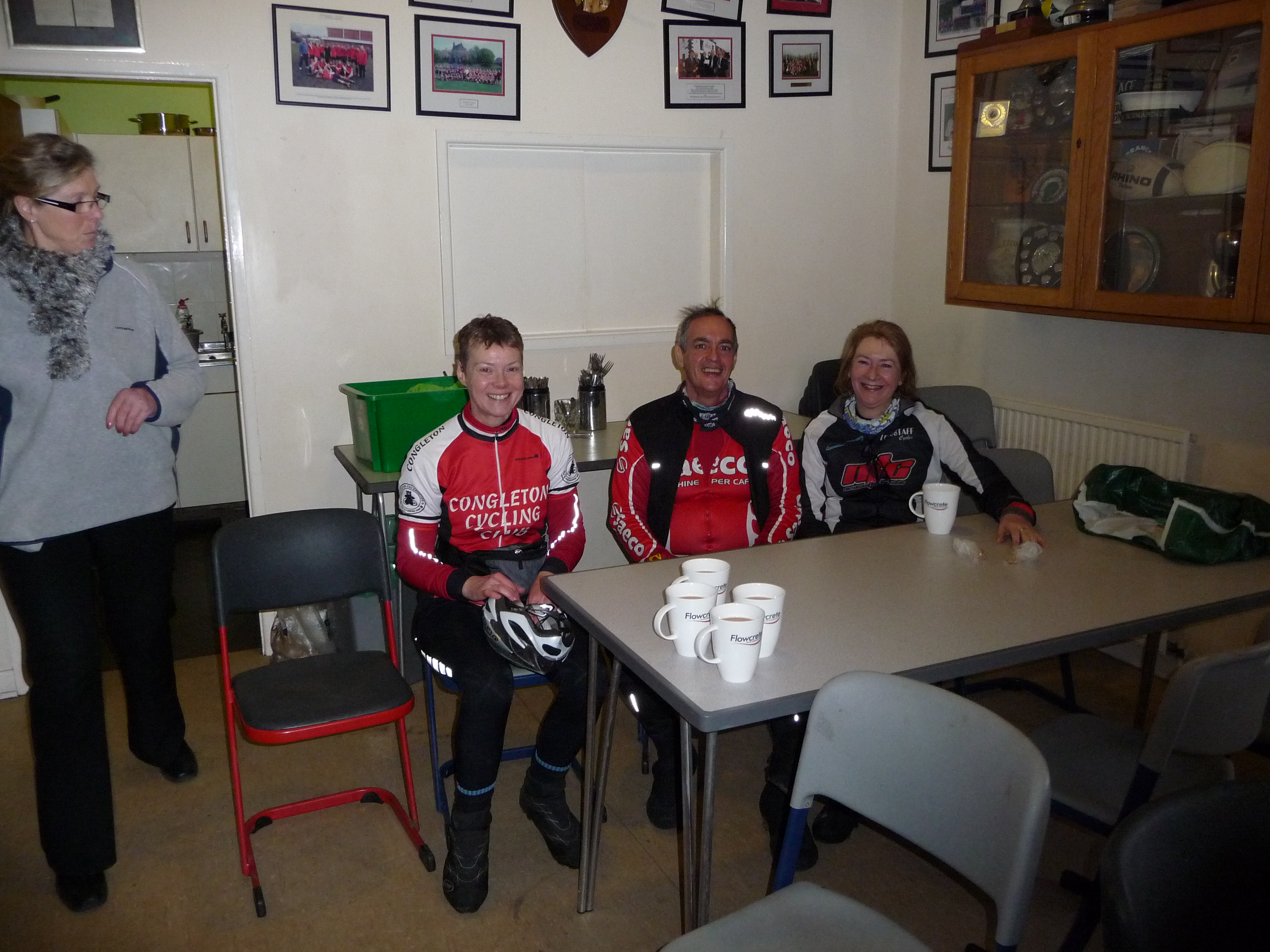 Our Racing Secretary and Event Organiser, Nick Decker was pleased that 17 riders braved the cold but dry and calm conditions and that 15 survived (Andy Malbon and Stephen Jackson classified as DNF), without incidents and returned to the Rugby Club in high spirits due to completing the 100 miles within the allotted time of 8.5 hours. Georgina & Bob Norton, Sue Blake, Richard & Tom Cowan, Mike Jones, Paul Kennington, Wayne Powell, Paul Turner, Ed Wright, plus five Guests, including Karen Dennet and four strong men from Leek C.C. rode via Betley, Madeley and Meir to the first "Tea Stop" at Eccleshall which was "manned" by Denise & David Hurst from their Camper Van. They continued through Hodnet and Wem to the obligatory lunch stop at the Raven Café, Press Heath and then continued via the narrow lanes to Chorley and Nantwich, where "The Hursts" hosted another Tea Stop, prior to the final leg via Church Minshull, Middlewich and Brereton Heath. At the Rugby Club, "The Hursts" again provided the warm drinks and buns and their efforts were greatly appreciated by all the riders.
Only 2 riders formed the Club Run but Tristan Roberts and Sam French are a "bit special" in that they are both 15 years old. However, they rode up the Cat & Fiddle, stopped for a warm drink at the café and returned safely through the lanes.
View our "refreshed" website: www.congletoncyclingclub.org.uk.
The Club meets every Thursday at 8.30 p.m. at the Rugby Club, Park Street, except for the first Thursday of the month where the venue is Beartown Tap. Anyone who would like to swap ideas and stories on all cycling topics is welcome to attend.
Report – 17th March 2013
Congleton Cycling Club's Chain of Events
Clubrun to Beeston Café on Sunday, 3rd March
Ten riders rode to Beeston Lock Cafe, including teenagers Sam French and Mark Allen and new member Steve Kirkham. The others were Georgina Norton, Sue Blake, David Hurst, Peter Nelson, Ed Wright, David McVitie and Jim Cook. The River Weaver is a barrier to the west in Cheshire, with not too many crossing points. On this day the group crossed at Davenham on the way out to go through Whitegate and Little Budworth and returned via Bunbury and Wettenhall to cross back over the Weaver at Church Minshull. The return trip was delayed by a puncture on Sams bike which was soon fixed by Jim Cook, who fitted a new inner tube in no time. The group arrived back in Congleton to complete a ride of about 60 miles.
British Cycling Go-Ride Conference at Velodrome on Saturday, 9th March
Our Club made further significant progress to achieving British Cycling's go-ride accreditation as five Members participated in various workshops, throughout the day: Pete Smith did a further Coaches Training, Georgina Norton did her "Further Safeguarding" as part of the Welfare Officer Training, Tristan Roberts did his New Young Volunteer Training and Bob Norton and Peter Hayhurst did their Go-Ride Volunteer Training. These were in-depth sessions conducted by professionals who not only gave excellent presentations but included plenty of discussion time, including inter-action with other participants and quizzes at various stages and then were sent home with much reference material on a USB Memory.
M&DTTA 10-mile Time Trial on Chelford course on Saturday, 9th March
Four Members rode this event, their first of the new season. Pete Tatton, 25:36; Mike Jones, 27:46; Angelo DiAngelis, 33:03 and David Hurst, 39:07 did not enjoy the cool, damp conditions. The winner of the Open Event was Tony Greenhalgh of Team Wheelbase, with 22:25.
Hilly Clubrun (due to postponed Reliability ride), on Sunday, 10th March
Our Hilly Reliability trial was postponed until March 24th, due to freezing conditions and snow. Even so a few hard nuts tried it. Pete Smith, Mike Jones, Stephen Jackson, Andy Malbon and Chris Dale, made it as far as the Hanging Gate, where they turned back after encountering several inches of snow. Wayne Powell and Bob Norton did the short route over to Rushton Spencer and back through Bosley Wood Treatment. Phil Gayes and Rich Coghill of the Leek C.C. made it round. They are hard in Leek!
Stephen Jackson reports: "A crisp day with biting easterly wind was always going to be a challenge in the hills around Macclesfield Forest and so it was; out of Congleton, up Blackie Bank towards Rushton, via Danebridge and Wildboarclough , via Macclesfield Forest and then return to Congleton was the intended route. Everything was going fine until we climbed up from Wildboarclough before descending to the Hanging Gate pub above Sutton, and then the snow drifts on the road made cycling impossible. Cycling shoes are not snow shoes and having literally trekked through a few hundred yards of snow drift, pushing our bikes, with the bike computers reading -3 Celsius, we made the decision to head out of the hills into Sutton and via a quick café stop, back into Congleton. Andy Malbon, Pete Smith, Mike Jones and myself made it round and Mike claimed never to have cycled in the snow before on road racing tyres, so it is always good to push the envelope so to speak…"
Social Ride on Saturday, 16th March and Clubrun on Sunday, 17th March
This, being the third weekend of the month saw two club runs. On Saturday there was the monthly social ride, which this month went to Wheelock Farm via Rode Heath, Alsager, Barthomley and Haslington. Only three riders set off on what promised to be a showery day but was in fact dry. They were Georgina Norton, Bob Banner and Mark Allen. They were met before the cafe stop by 10 year old Hollie Mulroy with her dad Dave. This was Hollies first meeting with a club run. She had recently completed her Bikeability training, which gave her the competence to ride on the road. Hollie also rode the first few miles of the return journey with the group and did very well. The return to Congleton was completed passing Sandbach Flashes to Cledford and then through Brereton Heath for a round trip of 27 miles.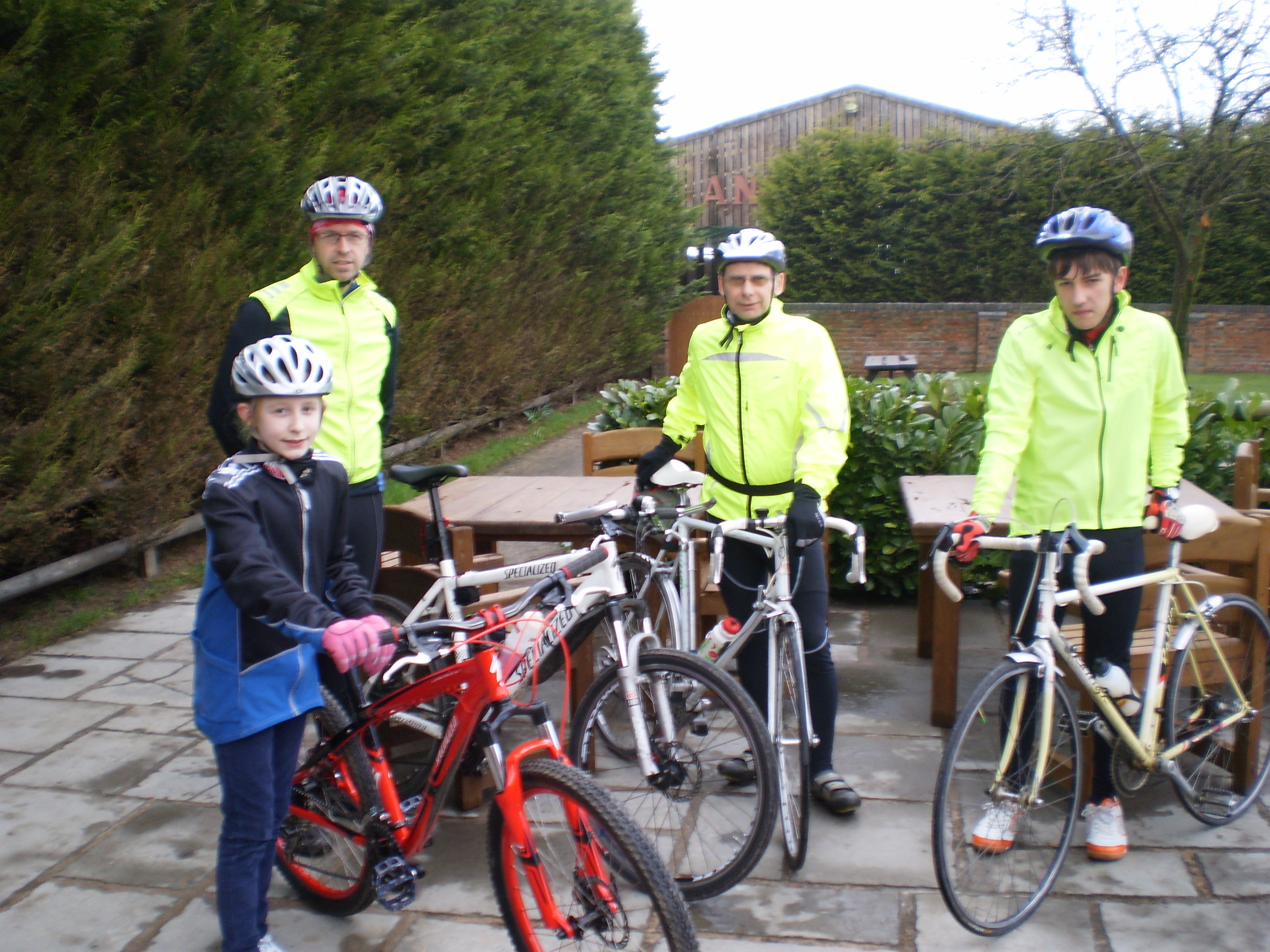 Sunday dawned with yet another dusting of snow. Five members were undaunted. Stephen Kane made a welcome return after his bad accident in December, and rode part way with Rob Waghorn, Jim Cook, Sam French and Bob Norton. The group, riding briskly to combat the early cold, worked their way through to Chelford in the lanes past Newsbank and Lower Withington. There were then some hills to help keep warm, starting with the climb up Artist's Lane to the Wizard at Alderley Edge, before descending to Prestbury. Another loop, took the riders to Adlington and then more narrow lanes skirting Poynton and Higher Poynton, brought them to a well-earned refreshment stop in the Coffee Tavern at Pott Shrigley. After lunch, there was a bit more climbing, and then a long down hill into Bollington rested the legs, ready for more uphill between Prestbury and Broken Cross, from where the route back went through Gawsworth and North Rode. The ride distance was 47 miles. This contained about 2300 feet of ascent. It's a sobering thought that the clubs hilly reliability trial scheduled for next Sunday does about twice this figure in only 33 miles!
M&DTTA 10-mile Time Trial on Chelford course on Saturday, 16th March
Georgina Norton was our sole supporter, having continued after the Social ride. In good conditions, four Members rode this event, the first of the new season for two Members. Pete Tatton, improved to 25:19; Jamie Willetts, 25:48, David Hurst improved to 35:55 and Peter Nelson posted 39:17. The winner of the Open Event was Mark Turnbull, Leigh Premier, with 21:49. The event was run on an emergency course (actually the Cranage / Toft circuit) because of road works near Jodrell Bank.
Leek CC, Derbyshire Reliability Ride, 52 miles, on Sunday 17th March
Two Members, Kelvin Milward and Duncan Poole completed the Leek Hilly Reliability. Not that newsworthy except that the furthest they have ridden for a while is about 30 miles not the 52, very hilly miles and in very low temperatures as well! From Leek, the route climbed over to Onecote, then Grindon and Alstonefield, Alsop, Longridge, Grangemill, Youlgreave, Monyash, Hartington, Crowdecote, Longnor, up to Morridge (Mermaid) and down to Leek. Very scenic but very tough – especially at this time of year!
Report – 8th April 2013
Congleton Cycling Club's Chain of Events
Darley Moor Circuit Race on 9th March and Cannock Chase MTB on 17th March
Charlie Evans reports: On the 9th March, James Bailey and I went to Darley moor to compete in the circuit road race there. It was my return to road racing after approx 4 -5 years and James first ever road race. Both of us were in the mix, featuring in a number of attacks and breaks, however the race finished in a bunch sprint, with both of us coming home safe. Race was 34 miles covered at 25 mph avg. James competed in his second ever road race the following day at the Tameside Circuit, Manchester. He finished 12th and Pete Tatton 5th.
On Sunday 17th, James and I were again competing, this time in our opening off-road race of the year, Midlands XC Series Round 1 at Cannock Chase. Conditions were very muddy, on the largely single-track based course. I finished 4th in the Masters category completing 5 laps in 1hr 39. The masters race was won by our Macclesfield-based training partner Dan Wells, Cube Bikes in 1hr 34. Shad Sadat, from Cyclestore.co.uk finished a strong 11th place in the same category. James, competing in the Expert category finished in 11th place, with the event won by Lee Gratton, from Run and Ride.
Clubrun (replacing Hilly Reliability) on Sunday, 24th March
The clubs hilly reliability trial may have been cancelled because of the weather, but the weekly Sunday club run was not. The morning's weather forecast gave a maximum of 2 degrees which would feel more like -4 degrees with wind chill. The five riders who were out today could confirm that as correct. The group consisting of Pete Smith, Stephen Kane, Bill Boynton, Tristan Roberts and Bob Norton set off from the Rugby club bound for Summertrees near Kelsall. There was a strong following wind, which made for a good pace. They rode out through Church Minshull and headed west towards Bunbury, before turning north to pass through Eaton and Cotebrook. At Cotebrook the temptation of a log burning stove and hot food and drink proved too much and the Shire Horse Centre was accepted as the destination for the day. Leaving there, and turning towards home brought a strong and very cold head wind. None the less a good pace was maintained on a route passing through, Little Budworth, Whitegate, Winsford to rejoin the outward route at Wimboldsley. The round trip totalled 58 miles.
British Cycling (BC) "Go Ride" / "Club Accreditation" Progress Meeting on Monday, 25th March
Eleven Club Members who are already active in this project contributed to the discussion which resulted in short and longer term plans being laid down. Bob Norton, our Chairman, summarised the recent BC Conference and Workshops and asked for input from the other four attendees. Our lead BC Coach, Charlie Evans, gave his experience from other Go Ride clubs and suggested steps and targets and will also supply relevant information from BC. The Club's initial objective is to integrate the ten new, younger, Members, under 18-years by learning about their interests and objectives. Bob Norton will liaise with our Club Youth Representative, Tristan Roberts, in arranging a Club Evening especially for the "under 18's", to be held on Thursday, 11th April, prior to the usual Club Evening.
M&DTTA 10-mile TT on Chelford Course, Saturday, 30th March
Three Members made this event the start of their competitive season. The bright sky and the dry conditions partially offset the effects of the cold wind and the low temperature, so warm clothing was the order of the day (except for some hardy youngsters). Our Members were satisfied with their times: Kelvin Milward, 26:56; Duncan Poole, 28:58 and Peter Hayhurst, 36:27. The winner was Mark Turnbull, Leigh Premier, with 22:25.
Clubrun on Easter Sunday, 31st March, to Red House Farm, Dunham Massey – 53 / 57 miles
Cycling past churches on Sunday morning prompted some to feel that they should have joined the congregations. However, on a gloriously bright, but still very cold day, nine riders comprised the Sunday club run. They were Stephen Kane, Steve Kirkham, Sam French, Paul Turner, Sheldon Starkey, Pete Nelson, Bob and Georgina Norton, and Rob Waghorn. They left town by way of Back Lane, and Radnor Bank towards Swettenham. Here a friendly runner, heading the other way, warned them of ice across the road in the dip. Safely negotiated, the group continued together through Goostrey, Lower Peover and Plumley to Knutsford. Here Georgina Norton and Pete Nelson broke away from the main group and headed to Dones Green. The others continued through Tatton Park, Rostherne, Bucklow Hill and Broomedge, to join the Trans Pennine Trail for a couple of miles, before a cafe stop at Red House Farm near Dunham Massey. Suitably fortified, they soon discovered that the wind, which had been a light tail wind leaving Congleton was now a strong head wind. This made the return trip quite tough, but there was some shelter through Hale although the wind was troublesome towards Mobberley and on through Chelford, Siddington, Newsbank and Hulme Walfield. The ride distance was 53 miles. It was noted that Georgina Norton and Pete Nelson (soon to be 80) completed 57 miles, so actually ended up riding furthest!
Sunday, 7th April – Activities
Finally; slightly warmer temperatures and less wind-chill, made this weekend's riding more enjoyable!
Clubruns
Georgina Norton, David Hurst and Peter Nelson rode via Goostrey, Davenham and Vale Royal to the Fire Station Café at Tarporley (a very pleasant village) and after the usual nourishment and chat, returned via Church Minshull and Middlewich, for a total of 50 miles.
150-mile Reliability Ride – Ludlow and Return
Stephen Jackson, Bob Norton, Wayne Powell, Pete Smith and Rob Waghorn took on the challenge of our longest Reliability Ride, ably supported by Avril Waghorn and Denise Hurst with their mobile tea / coffee – and special cordial – breaks. The first leg is the same as that of the 100-mile Reliability, i.e. to Eccleshall but then the route continues South, via Shifnal and Much Wenlock to the well-earned lunch stop in Ludlow – lovely roast turkey lunch, followed by home-made apple pie and custard….mmmn! The return route was via Bridgnorth, Gnosall, Stone, Cellarhead (a long, uphill section) and Biddulph – for a total of 155 miles and almost 1000m of ascent – in 13.5 hours (elapsed time).
Now, the riders just have to recover in time for our first evening Club Time Trial of 2013, on Tuesday, which just happens to be the Hilly 9-miler over Bridestones to Rushton and back, over Wood Treatment.
Report – 19th April 2013
Congleton Cycling Club's Chain of Events
Week of 8th to 12th April
VTTA 10-mile TT on Tuesday 9th April, on Chelford Course
Our Members were involved: Bob Norton was the Organiser of this event, Georgina Norton communicated the times from the Timekeeper (and also collected the Event Signs) and Peter Hayhurst assisted with display of results. Two Members rode in chilly and windy conditions: David Hurst, 38:10 and Peter Nelson, 40:47. The winner was Jerry Cross (Manchester Wheelers) with 21:40, which yielded a VTTA Standard (Handicap) Time of +5:05.
Club Hilly 9-mile TT on Tuesday 9th April on Bridestones / Timbersbrook Course
Despite the cold evening, 27 riders turned up for the first Club time trial of the year round the Mossley/Bridestones/Rushton Spencer/Wood Treatment/Timbersbrook hilly circuit. Fastest was Alex McNicol (VC Moulin) in a time of 29:19, second was Mark Lovatt (Planet X) in 29:34, and third was new Club member Charlie Evans in 30:06.
Alex McNicol (G) 29:19, Mark Lovatt (G) 29:34, Charlie Evans 30:06, Rob Howson (G) 30:52, Nick Decker 31:32, Phil Gayes (G) 32:19, Anthony Allen (G) 32:33, Pete Tatton 32:52, William Neill (G) 32:52, Pete Smith 32:57, Mike Jones 33:23, Ben Norbury (G) 33:48, Barry Riley (G) 34:26, Brendan McLaughlin 34:32, Stephen Jackson 35:04, Robert Kerr (G) 35:36, Mike Line 36:52, Paul Turner 37:29, Wayne Powell 37:49, Sam French 38:58, Ed Wright 41:28, Tony Elliott 42:20, Sue Blake 46:13, David Hurst 51:23, Paul Dentith (G) DNF, Dave Clark (G) DNF, Andy Malbon DNS.
Officials & Helpers: Georgina & Bob Norton, Avril & Rob Waghorn, Jill Elliott, Denise Hurst, Steve Hulme, Kelvin Milward and Peter Nelson.
Club-Night for New Junior Members & Their Families on Thursday 11th April
Our Head Coach – Charlie Evans' report (edited):
"Thanks to you all (existing Members) for making last night a success. I certainly believe we met our objectives of helping the young riders to start to get to know each other, to see that there are other riders their own age in the club to ride with and that CCC is here to support them and help them develope as bike riders. I really appreciated everyone's enthusiasm and support last night. I know Bob (Norton) and I have discussed this, but I genuinely came out of the Go-ride meeting a few weeks ago with the understanding that the expectation was on me to get the evening up and running. I (am) glad that wasn't the case, as last night was a success due to everyone's collective efforts. I really appreciate the way Pete (Smith), James (Bailey), Mike (Jones) and Bob (Norton) dropped into the setting-up and picking up on what must have not been the clearest of direction from myself. It is this collective enthusiasm that will ensure the club succeeds in achieving its aims of developing both the youth and the junior side, as well as the club as a whole. The efforts of Georgina (Norton), Peter H (Hayhurst) and co upstairs made a massive boost to the evening too. Really great effort by all!
A good club atmosphere is what got me into club cycling as a junior, and it was seeing this at CCC last autumn that confirmed my decision to join the club. I hope that the young riders that attended last night feel the same."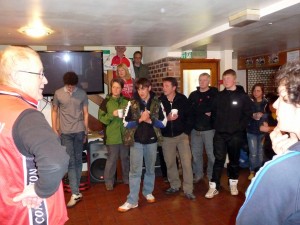 Weekend of 13th / 14th April
Macclesfield Wheelers 25-mile TT on Chelford Course
Due to roadworks near Chelford, an Emergency course, based on Byley / Cranage / Toft was used. In slightly warmer but still windy conditions, our Team of 3 felt that participation was well-worthwhile (even as training): Mike Jones, 01:06:20; Kelvin Milward, 01:06:39, Peter Hayhurst, 01:26:30. The winner was Andy Tennant (Madison Genesis PCT) with 53:42. Steve Jackson and his Macc Wheelers Team are to be congratulated on re-configuring the event at such short notice.
Club AUDAX Rides to Ironbridge (200K) and Hawkestone (130K)
Rob Waghorn, aided by wife, Avril and Denise Hurst, organised these events, as usual and reports: "There were a total of 6 CCC riders. Sue Blake, Richard Cowan and Pete Smith rode the Hawkstone 133K along with 21 others. Steve Kirkham, Bob Norton and Rob Waghorn rode the Ironbridge 207K along with 22 others. There was a very strong wind against all the riders for most of the outward leg of both routes but it was generally helpful to them on the way back. Both runs went via Market Drayton before splitting off to go to their furthest points of Hawkstone and Ironbridge, and on the return they both passed through Prees Heath. Everyone seemed to have enjoyed themselves, despite the wind, as it was at least warm, even though there were a couple of short showers during the day."
Midlands XC at Birchall, Chesterfield on 14th April
Charlie Evans reports: "James Bailey, Alex McNicol and myself were all competing at Round 2 of the Midlands XC yesterday. Conditions were dry, relatively mild but very windy, meaning the main climb was extra tough due to the screaming headwind on the exposed ascent. Into the trees, we negotiated some natural single-track with plenty of roots and turns to keep us focused, or catch us out if you weren't! James finished 12th in the Expert race, Whilst Alex and myself fought it out in a sprint finish for 7th place in the Masters race, with me just pipping Alex. Training partner Dan Wells won this round too, making it two in a row."
Darley Moor Circuit Race on 14th April
New Member, Mark Allen, reports: "Just to say that this race was my first ride on the new bike, but I adapted well by blocking off the gears (due to restricted ratios). I found it hard on the ascent into the strong headwind (and need a smaller ratio). This meant that I finished 41st out of 42, but at least i didn't finish last! It doesn't matter though, as I had a great time and I'm on the look-out for any other circuit races on in the next few weeks."
Club 10-mile TT on Holmes Chapel Circuit on Tuesday 16th April
At last, real Spring weather greeted the 30 riders on this, the first of the 10- / 25-mile time trial series which continues on a weekly schedule, through to August.
Jim Stringer (G) 24:14, John Swinnerton (G) 24:46, Alex Braybrooke (G) 24:52, Wayne Powell 25:01, Phil Gayes (G) 25:27, Nick Decker 25:35, Pete Tatton 25:49, Stephen Jackson 26:11, Kelvin Milward 26:31, Ben Norbury (G) 26:36, Warren Jackson (G) 26:49, Andy Malbon 26:55, Duncan Poole 27:36, Mike Line 27:46, Stephen Maxfield (G) 27:51, Dan Brown (G) 28:12, Ed Wright 28:49, Sheldon Starkey 28:50, Tony Elliott 29:16, Paul Turner 29:49, Nick Wood 30:02, Sam French 31:02, Joe Langford 31:40, Mark Allen 32:58, Sue Blake 34:12, Peter Hayhurst 34:30, Beth Eardley 34:58, David Hurst 35:52, Andrew Doorbar (G) DNF(P).
Officials & Helpers: Georgina & Bob Norton, Avril & Rob Waghorn, Jill Elliott, Denise Hurst, Roy Hayhurst, Mike Jones and David McVitie.
Report – 26th April 2013
Congleton Cycling Club's Chain of Events
Week of 20th to 27th April
Saturday / Sunday, 20th / 21st April
Club Social Ride to Jodrell Bank
The day was bright and reasonably warm. This may explain the huge turnout for the monthly Social Ride. There were 20 riders waiting to start from the Unicorn at West heath, to go on a 32 mile ride with a stop at Jodrell Bank. The participants were Bob and Georgina Norton, David McVitie, Joseph Langford, Oliver Davenport, Mark Allen, Rob and Avril Waghorn, Bill Boynton, Les Lancaster, Jim Cook, Rowland Bainbridge, Peter Nelson, Paul and Alistair Kennington, Bob Banner, Heather Joseph and Rosie Pearce and Stephanie Cooke. Ages ranged from 12 to 80 years old. For safety, the group was split into two with the instruction to keep a 200 yard gap between them to help passing traffic. The route followed was via Brereton Heath, Cledford, Middlewich (back streets) and then on down Croxton Lane, and through Byley and Goostrey before a refreshment stop at Jodrell ban Visitor Centre where itb was possible to sit outside in the sunshine. (Photo). Returning to West Heath, the group followed lanes through Lower Withington and Newsbank, with a climb of Radnor Bank as the sting in the tail.
M&DTTA 25-mile TT Championship on Chelford Course
Another record? Five CCC Members in same event and two Prize Winners! Pete Smith was our clear leader with a P.B. of 1:01:06 but our next three were within 15 secs of each other: Mike Jones, 1:03:07; Wayne Powell, 1:03:14 and Kelvin Milward, 1:03:22! Four Members to cover a 3-man Team is ideal! Peter Hayhurst managed to improve a little, to 1:25:41 – due to the better conditions compared to the previous week. The winner was Simon Bridge (Manchester Wheelers) with 53:22 but the top Handicap positions were taken by Wayne Powell (42:42) and Mike Jones (43:12).L to R: Peter Hayhurst, Mike Jones, Kelvin Milward, Wayne Powell, Pete Smith
AUDAX 310K, The Plains, from Poynton to Newport and back
Rob Waghorn reports: "The start was at 23:00 on Saturday in Poynton and the weather was quite cold during the night and through to Sunday lunchtime when showers of rain started and carried on to the finish late afternoon. With a slight navigational error I did 314K and was pleased with it as an event.
The outward ride was through Wem, Ford and Montgomery to Newtown. The route was the same both ways from just above Wem but on the return back through Prees and the lanes past Crewe, skirting Congleton via Radnor Bank and across to Birtles Lane near Monks Heath before joining the original route at Mottram and back to Poynton. I got back at 16:25, with no doze stops, well within time limit by over 3 hours. There were 5 stops. On the way down: Whitchurch, Dinky's Dinner near Ford and Newtown before returning to Dinky's, Radway Green Garden Centre Café and the finish. There were approx 40 riders and I had some company most of the time."
Sunday Clubrun to Tittesworth via Roaches (Hulme End)
The runs list destination for the day was Tittesworth Reservoir Visitor Centre, a short but hilly ride. This time there were 8 riders who left the Rugby Club and headed up through Buglawton. These were Sue Blake, Pete Smith, Steve Kirkham, Sam French, Stephen Kane, John Broadbent, Jim Cook and Bob Norton, these last two out for a second day of the weekend. We were all hoping that Pete's legs might still be recovering from his PB ride of 1:01:06 in Saturdays M&DTTA 25 Championships, but no such luck! Guided by Bob Norton the route took the group to Sutton by way of Fools Nook, to start the more serious climbing up to Cluelow Cross. Bobs bike suffered an inconvenient failure in Sutton. The rear gear cable snapped, forcing him down to just three gears on the front changer, and ensured a hard ride. Continuing through Algreave to Gradbach and then turning up towards Royal Cottage, before turning again to go over Hulme End and down past the Roaches to Tittesworth. Here we met Bill Boynton who had ridden out to meet us. The Peak district scenery was magnificent, as ever.
Suitably refreshed, the vote was to go over Gunn Hill. It used to be on a local road race circuit, around which it is said that Potteries legend Les West never lost a race. Most recently it was on the route of the 2012 Tour of Britain race. From the top a swift descent brought us down to Rushton Spencer, to be faced with a final climb up the Bridestones and back around Cloud End, to finish with a mere 34 miles, but having climbed over 3500 feet.Clubrun to Meerbrook via Roaches
Club 10-mile Time Trial on Gawsworth Course on Tuesday, 23rd April
Another double record – 40 riders, of which 25 were Club Members! The results – Winner and Club Members: James Tucker (G) 20:46, Pete Smith 23:16, Pete Tatton 23:54, Wayne Powell 23:57, Charlie Evans 24:02, Nick Decker 24:07, Jamie Willetts 24:08, Mike Jones 24:13, Kelvin Milward 24:54, James Bailey 25:04, Paul Dentith 25:43, Duncan Poole 26:04, Paul Turner 26:27, Mike Line 26:28, Ed Wright 26:34, Tony Elliott 27:38, Tom Cowan 28:30, Sam French 28:52, Joe Langford 29:25, John Broadbent 30:38, Mark Allen 30:46, Sue Blake 31:30, Beth Eardley 32:03, Peter Hayhurst 33:04, David Hurst 33:14, Peter Nelson 39:18.
Thanks to all Officials / Marshals / Helpers: Sign on/Refreshments, Georgina Norton; Signing/Timekeeper Rob Waghorn; Sign on Timekeeper Bob Norton; Pusher-off Richard Cowan; Marshals: David McVitie, Roy Hayhurst, Denise Hurst, Phil Gayes (Leek CC); Timekeeper assistant at finish, Rob Langford.
Club Quiz Night, Thursday 25th April
Roy Hayhurst, Quiz Master, was complimented by the 20 Members and Guests, on his hard work and excellent visual (Powerpoint) presentation of a wide variety of questions on Cycling and Non-Cycling topics, plus the presentation of the answers, which included impressive video clips. Isn't it amazing what can be achieved via the Internet!? Georgina and Bob Norton were also thanked for their home-made and very tasty refreshments and Peter Hayhurst was pleased that much of his old (but useful) cycling accessories were given a new home.
Report – 3rd May 2013
Congleton Cycling Club's Chain of Events
Saturday / Sunday, 27th / 28th April
British Cycling Coaching Course for Pete Smith
Pete Smith reports: "Just finished my Level 2 Coaching Course down in Leighton Buzzard. We had sleet, hail and rain to contend with, in almost freezing temperatures! I had to do the group warm up and deliver a cornering lesson today. Now, have to complete an online written exam and plan and carry out 6 coaching sessions and then I should be qualified…"
Glossop Kinder Velo 25-mile TT on Chelford Course
Wayne Powell recorded 1:03:24 which was similar to that of previous week and David Hurst enjoyed his 1:34:42 on such a windy day. The winner was Simon Bridge (Manchester Wheelers) with an improved 52:45.
Clubrun to Delamere Visitor Centre – 60 miles
Rob Waghorn reports: "I was on the clubrun along with Jim Cook, Pete Smith, Stephen Kane, Sam French and Bill Boynton. We went out via Goostrey and Northwich to Delamere Cafe at the Visitor Centre and came back via Cotebrook and Sandbach. The weather was kind with no rain but quite a lot of wind which was helpful on the return. One special thing happened on the return when we were overtaken at speed by Andy Wilkinson with another rider tucked in behind. I called out to him and he waved in recognition."
Club 10-mile TT on Gawsworth Course on Tuesday, 2nd May
Another big turn-out with 38 riders, including 24 Members, on another fine evening!
Result (Winner and Club Members): Scott Burns (G), 21:01;Pete Smith, 23:08; Jamie Willetts, 23:40; Charlie Evans, 23:44; Mike Jones, 23:57; Wayne Powell, 24:17; Pete Tatton, 24:23; Kelvin Milward, 24:28; James Bailey, 24:48; Paul Dentith, 25:18; Chris Goodwin, 26:04; Paul Turner, 26:10; Duncan Poole, 26:12; Mike Line, 26:22; Ed Wright, 26:52; Tony Elliott, 27:53; Tom Cowan, 28:16, Sam French, 28:29; Helen Evans, 28:38; Joseph Langford, 29:20; John Broadbent, 29:21; Mark Allen, 29:56; Beth Eardley, 31:00; Sue Blake, 31:04; David Hurst, 32:44.
Officials and Helpers: Sign on and Finish TK, Bob and Georgina Norton, Start TK Rob and Avril Waghorn, Marshals – David McVitie, Denise Hurst, Jill Elliott, Phil Allen; TK assistant Rob Langford, Pusher off Richard Cowan; Refreshments – Georgina Norton and Avril Waghorn.
Next Social Ride – Saturday, 18th May
Meet at 10 a.m. at Unicorn P.H., Holmes Chapel Road for relaxing ride to local café at pace of slowest rider. Total distance, approx. 30 miles.
Report – 10th May 2013
Congleton Cycling Club's Chain of Events
Weekend of 4th to 6th May
ABC Centreville 10-mile TT on Chelford Course
Our sole representative, Kelvin Milward, recorded 24:48 which yielded a very respectable Veteran's Standard (Handicap) of +2:02. The event winner was Simon Bridge (Manchester Wheelers) with 20:28, plus a large winning margin on Veteran's Standard of +5:41.
Clubrun to Tattenhall – 73 miles
Eleven riders completed the club run on Sunday May 5th on a promising spring day. They were Bob and Georgina Norton, David McVitie, Sue Blake, Mike Line, Pete Smith, Rob Waghorn, Stephen Kane, Steve Kirkham, Rowland Bainbridge and Chris Guest. The group started as one but at Church Minshull, it split into two groups, still with the same destination of Tattenhall. Both groups travelled on via Barbridge, Cholmondley, Bickerton, Harthill to Tattenhall. After checking out the Ice Cream Farm cafe which was found to be packed with Bank Holiday day trippers we opted for "Old Ma's" Tea Room nearby, which was much quieter. After a leisurely lunch we all set off towards Beeston Castle and on through Bunbury, Alpraham, Wettenhall, and back through Church Minshull and Brererton Heath again. The ride distance was about 73 miles (a bit more for the faster group who took a slightly longer route to the cafe).
Buxton C.C. Mountain TT on Longnor-Flash-Royal Cottage Circuit – 22 miles (3 laps)
On a very warm day in the hills, our Sole representative, Nick Decker, recorded 01:44:34. The winner was Tejvan Pettinger (Sri Chinmoy Cycling Team) with 1:23:20.
7th May – Club 10-mile TT on Chelford Course
Fine evening for first race this year on the Chelford course attracted 38 riders. Winner was Steve Burke (Macclesfield Wh) with a time of 21:57, second and fastest Congleton rider was Steve Hulme with 22:35. Fastest of the juniors this week was Joe Langford with 29:45.
The Result (Winner / CCC Members): Steve Burke (G) 21:57, Steve Hulme 22:35, Pete Smith 22:53, Pete Tatton 23:47, Stephen Jackson 24:05, Wayne Powell 24:10, Mike Jones 24:36, Kelvin Milward 25:01, Ben Norbury 25:27, Paul Dentith 25:29, Mike Line 25:57, Duncan Poole 26:15, Paul Turner 26:23, Ed Wright 26:58, John Ratcliffe 27:58, Tony Elliott 28:13, Joe Langford, 29:45, David McVitie 30:12, Mark Allen 30:47, Sue Blake 30:56, Beth Eardley 32:02, David Hurst 33:12.
Officials and Helpers: Georgina & Bob Norton, Jill Elliott(G), Denise Hurst, Avril & Rob Waghorn, Richard Cowan, Roy Hayhurst, Jamie Willets, Phil Allen (G), Rob Langford(G).
Report – 17th May 2013
Congleton Cycling Club's Chain of Events
Week of 9th to 16th May
Congleton CC's Manchester Velodrome Session:
23 Club members took part recently in a 2 hour session at the Manchester Velodrome. Charlie Evans was our chief coach for the evening and Denise Hurst acted as assistant coach. The riders were split into 2 fairly equal groups. The novice riders were taken through the basics of bike positioning, starting and stopping (easier said than done on a fixed-wheel bike!), and safely riding on the banking. By the end of the session all were riding confidently on the blue line. The more experienced riders concentrated on improving their group riding and bike handling skills. Some speed exercises were also given that proved more strenuous but still much enjoyed. All riders thoroughly the evening, with many asking the organiser Tony Elliott when the next one would be!
Photo Caption: Left-to-right: Stephen Kane, Paul Kennington, Alistair Kennington, Tristan Roberts, Dean Roberts, Denise Hurst (Assistant Coach), Charlie Evans (Chief Coach), Edgar Reynolds, Mike Line, Tony Elliott (Organiser), Wayne Powell, David Hurst, Joe Langford, Beth Eardley, Stephen Jackson, Bob Norton, Rowland Bainbridge, Mark Allen.
Abergele Clubrun (car assisted) – 60 miles
Bob Norton reports: "The weather forecast for Saturday was strong winds and heavy downpours. Starting in Abergele on the North Wales coast, four riders set off in light rain heading for lunch in Betws-y-Coed. They were Georgina and Bob Norton, Joe Langford and Richard Cowan. Turning right at Llanfair Talhaiarn and heading up the Elwy valley it was still raining but the wind was only a light headwind, so good progress was made through Llangernyw to the head of the valley where we turned off the main road and headed down into the Conwy Valley, before climbing back up to Nebo. By now the rain had stopped. From Nebo, more lanes took us down onto the A5 and into Betws in another rather heavy burst of rain. We were a bit wet when we got to the railway station café (in a railway carriage), for beans on toast. Fortunately that was the last wetting of the day. After lunch we went onward down the Conwy Valley through Dolgarrog to Conwy and then onward to Llandudno into a very strong headwind. It was difficult to keep from being blown around, so we decided against going around the Orme, settling for coffee and cake instead. From Llandudno, the way back to Abergele was through Rhos-on-Sea and along the North Wales Coastal Path, with a howling tailwind. The ride was 60 miles with about 4000 ft of climbing."
Dimmingsdale Clubrun, Ramblers' Retreat – 55 miles
Stephen Kane and Paul Kennington report: "An additional Club run was run on Sunday that went to Alton (of Tower fame). Three Steves – Kirkham, Smith and Kane and Paul Kennington rode out with the promise that there was only one main hill and after that it would be rolling. Unfortunately for all, it had more ups and downs than the neigbouring roller coasters and after a very tiring 1000m of climbing we made it to the Ramblers' Retreat for a welcome café break. The return leg started with a Strava segment called 'Huntley Dirt Track' – probably more suited to cyclocross – described as 'a rough dirt track which is ONLY passable by 4WD vehicles'. The heavens opened and with the sat nav promising even more lactic burn, the group decided to adopt a more direct route home missing the joys of Brown Edge and Biddulph Moor. The total ride was 55 miles in length."
Rhos-on-Sea CC, Brenig Road Race – 65 miles
Charlie Evans reports: "On Sunday, James Bailey and I went over to North Wales for the Brenig Road Race, promoted by Rhos-on-Sea CC. This was a 65 mile road race, consisting of a hilly 37 mile loop up from Denbigh to Brenig Reservoir, down to Cerrig-y-drudion and across to Ruthin, before returning to Denbigh for 3 laps of a shorter finishing loop. The selection was made on the road to Ruthin, with both James and me pulling hard to make it into the front group. James, in his first season of road racing and his first race on the open road stayed with the group until the last lap, and I finished in the main field. 80 riders started there was a high rate of attrition. I finished at the back of the bunch in 32nd place, with pace of the lead group pulling back a race long break in the finish. James Bailey finished in a chasing group in 48th place in his first open-circuit road race, claiming the award for 3rd place 4th cat rider. The 65 miles were covered in 2hrs 46 mins. The winner was Lee Baldwin of Buxton C.C."
New Forest Excursion AUDAX – 200K from Lymington
Rob Waghorn reports: "Last Sunday I rode the New Forest Excursion 200K which criss-crossed the New Forest from Lymington. It was a very scenic ride through many New Forest tourist towns with lots of animals wandering around freely. Unfortunately the weather could have been kinder, a stiff wind was present all day and at times it made life very challenging while riding directly into it for over 2 miles across open moorland. Also in the afternoon the skies opened and some showers did their best to dampen all the riders' feelings. However, despite the weather it was a good day out and I met up with some Audax friends too.
Club 10-mile TT on Gawsworth course
On a wet and cold evening, 27 riders competed in the club's 10 mile TT on the Macclesfield road. There were 19 Congleton CC members and 8 visitors, including 5 from Leek CC who were using the event as their club 10 mile championship. The fastest rider was our own Pete Smith in 23.21.
Results: Pete Smith, 23:21; Pete Tatton, 24:24; Wayne Powell 24:42; Stephen Jackson, 25:10; Mike Jones, 25:52; Ben Norbury, 26:09; Mike Line, 26:22; Duncan Poole, 26:28; Paul Dentith, 26:37; Paul Turner, 26:53; Ed Wright, 26:55; Chris Goodwin, 27:15; Tony Elliott, 28:12; Joseph Langford, 29:32; Helen Evans, 29:59; Sam French, 30:40; Mark Allen, 31:29; Beth Eardley, 32:49; David Hurst, 34:42.
Helpers were: Course Safety signs Rob Waghorn/Avril Waghorn; Signing on Bob Norton/ Roy Hayhurst; Start Timekeeper Rob Waghorn; Pusher Off Kelvin Milward; Marshals at Grove Denise Hurst/Peter Hayhurst; Marshal at finish Rob Langford (non member); Finish Timekeeper Bob Norton/Roy Hayhurst; Finish Scribe Phil Allen (non member); Refreshments Avril Waghorn/Rob Waghorn.
Report – 31st May 2013
Congleton Cycling Club's Chain of Events
Week of 25th to 31st May
Sunday Clubrun to Tilly's Café, Bunbury – 55-miles
Denise Hurst organises our Clubruns but this was the first that she was able to ride since last August! Her welcome return was a very enjoyable success as she was rewarded with excellent summer-like conditions and the company of 13 riders: Georgina Norton, Sue Blake, Stephanie Cooke, David Hurst, Steve Kirkham, Bill Boynton, Andy Farr, Stephen Kane, Peter Nelson, Ed Wright, David McVitie, Mike Line and Sam French. They rode via Brereton, Cledford, Church Minshull, and Calverly to the popular café, Tilly's at Bunbury. Fortunately, Denise had the foresight to book tables in advance. The return route was via Beeston, Tarporley, Eaton and then Church Minshull and the outward route.
Tuesday Club 10-mile TT on Gawsworth Circuit
A remarkable 11 members and 6 guests turned out in unseasonably cool and wet weather for the 10 mile Gawsworth event. Fastest was guest Will Thomas with 22:31. Pete Tatton took maximum points as fastest member. Fastest club junior was, once again, Sam French.
Other times of Members plus Guests (G): Keith Dutton (G) 23:30; Pete Tatton 23:59; Kelvin Milward 25:08; James Bailey 25:15; Ben Norbury 26:01; Paul Turner 26:05; Duncan Poole 26:31; Ivan Paul (G) 26:47; Rob Watson (G) 27:09; Ed Wright 27:16; Theo Jeffrey (G ) 28:52; Sam French 29:23; Joe Langford 29:45; Mark Allen 30:15; David Hurst 35:23; Michael Cox (G) 35:26 (Extended course).
Timekeeper: Rob Waghorn, Signing on: Rob and Avril Waghorn, Pusher off: David McVitie, Marshals: Peter Hayhurst, Denise Hurst, Avril Waghorn and Georgina Norton, Refreshments: Avril Waghorn and Georgina Norton.
Report – 7th June 2013
Congleton Cycling Club's Long Chain of Events
Week of 1st to 7th June
Saturday:
Dukinfield CC 25-mile TT on Chelford Circuit
Three Members rode this event in mild but blustery conditions: Pete Tatton, 1:03:24; Stephen Jackson, 1:04:57; Peter Hayhurst, 1:28:38. The winner was Andy Wilkinson (Port Sunlight Wheelers) with 52:49.
Four Rivers 216K Audax, from/to Wem
Rob Waghorn reports: "We crossed over the hills to Lake Vyrnwy via Montford Bridge, Minsterley, Montgomery and Dolanog. We then went over Bwlch y Groes to the side of Lake Bala before returning back to Wem via Llangedwyn, West Felton, Wykey, Marton and Loppington. The course included over 3,000 metres of climbing and luckily the weather was dry but still quite cool overall."
Sunday:
AUDAX Rides – Cheshire Hills & Plains, 210K; Just The Plains, 117k; Just The Hills, 110K
Rob Waghorn organises these events on an annual basis. The 3 Audax events were run with a total of 14 starters in each of The Hills & Plains (210K) and Just The Hills (110K), and a further 19 starters in Just The Plains (117K). The day was dry and quite warm with all the riders safely completing the courses and all enjoying their rides.
Clubrun to Longnor – 51-miles
Resisting the allure of the CCC Hills & Plains Audax events, three members set off on the scheduled Club Run to Longnor to 'enjoy' some hilly terrain. Veterans David McVitie and Bill Boynton were prompted to greater efforts as young Mike Line made the inclines seem easy (another youthful dancer on the pedals!). Out to Longnor with a slight tailwind in places took only 1h 30m despite the lumpy route via Park Lane, up Blacky Bank and over Bridestones to Rushton, across the A523 and over Gun Hill to Meerbrook. Then across the A53 to Thorncliffe where the lesser of two evils is to turn R then L for the steep 20% ascent to Morridge. Wonderful sunny vistas of Jodrell Bank, Cheshire Plain and surrounding hills repaid the climb. Going north to the Mermaid then right towards Warslow we encountered a large Land Rover convoy which also turned towards Longnor where we enjoyed a long downhill section at 35 mph showing them all that pedal power can beat 4WD. Uphill to Longnor, we celebrated with a coffee break in the craft centre. Re-invigorated by cappuccino and bravado, we created a more challenging return route. Firstly, down to Crowdecote with views across the Manifold valley, then up the winding eastern slope with its 20% kick on a LH bend. Then left to Earl Sterndale, then up a long quiet lane that rises inexorably past Buxton Speedway at High Edge, to Dalehead on the A53. A strong headwind on the descent into Buxton was refreshing after the hard slog and soon we passed the Opera House and swung left up the aptly named Long Hill. After 3 miles a lane took us left on a steep descent to the Goyt Valley dam where the left turn took us past many walkers and picnickers on the steady rise from the narrow wooded Goyt to the open moor of the Cat & Fiddle. Bill took the view that too many bikers of the other variety were using the famous A537, so the trio plunged down to the Stanley Arms, up to Standing Stones, and then negotiated the descent through Macc Forest to Langley and Sutton. From Fools Nook on the A523 and the A54 a good tempo was maintained to reach the clubhouse after 51 miles and nearly 6,000 feet of climbing. Enough for the veterans but young Lines took off to Rudyard from Bosley to add another climb or two. The route can be viewed publicly – see http://www.bikeroutetoaster.com/Course.aspx?course=555275.
OR (shorter version if you prefer)
Resisting the allure of the CCC Hills & Plains Audax events, veterans David McVitie and Bill Boynton and young Mike Line set off on the scheduled Club Run to Longnor. Out to Longnor with a slight tailwind in places took only 1h 30m despite the lumpy route via Rushton, Gun Hill, Meerbrook, Thorncliffe and Morridge. Wonderful sunny vistas of Jodrell Bank, Cheshire Plain and surrounding hills repaid the climb. At Longnor, we celebrated with a coffee break in the craft centre. The trio followed more challenging return route via Crowdecote, Earl Sterndale and Dalehead to the A53 followed by descent to Buxton Opera House, left up Long Hill and after 3 miles a descent to the Goyt Valley dam. After the steady rise from the narrow wooded Goyt to the open moor of the Cat & Fiddle, they returned through Macc Forest to Langley, Sutton, and Bosley to reach the clubhouse after 51 miles and nearly 6,000 feet of climbing.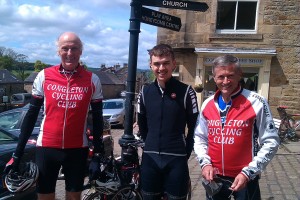 Nantwich Triathlon
Sue Blake took part in the Nantwich Triathlon. Georgina Norton and Pete Nelson rode over to give her a cheer. As you can see from her e-mail she did extremely well: "Thanks to you both for coming out to see me today. I'm feeling pleased with my efforts now I've got the results. 25th lady overall out of 182 and 3rd in my age group out of 13. Happy with that! I have an open water tri next Sunday at Marbury Park so looking forward to that now. My official time was 1h 24:27."
Gran Fondo Santini, Bormio – 150K
Charlie Evans reports: "I went out to Bormio, in the Italian Alps and did the Gran Fondo Santini, on 2nd June, which took on the climbs of the Mortirolo and the Stelvio. Riding the 150 km route, I climbed to an altitude of 1800 m over the steep Mortirolo Pass and 2700m on the 20km long Stelvio Pass, which both feature regularly in the Tour of Italy. Conditions were spring like at lower altitude, but walls of snow escorted us to the finish over the final kilometres of the Stelvio. Ride time was 6hrs 45 minutes, with the final 20 km ascent taking approximately 1 hr 40 mins. Around 1000 riders participated in the event, which was sponsored generously by Santini Cycling Clothing. Event organisation was impeccable, with fantastic support from the Police and volunteers, especially regarding road closures and providing cyclists in the event with right of way over traffic.
Karl Austin Inter-Club 25-mile TT on Chelford / Knutsford / Cranage Circuit
Fantastic times were achieved and many P.B.'s were broken with a field of 44 riders in this Macclesfield Wheelers promotion. Fastest overall was Steve Burke, Macclesfield Wheelers, with 55:44. The times of our Club Members were: Pete Smith, 58:59; Pete Tatton, 1:00:45; Jamie Willetts, 1:01:56; Wayne Powell, 1:02:33; Mike Jones, 1:02:34: Kelvin Milward, 1:03:08; Steve Jackson, 1:03:42; Ben Norbury, 1:05:23; Mike Line, 1:07:14; Nick Decker, 1:10:09; Andy Farr, 1:15:55; Paul Turner, 1:17:02; Sue Blake, 1:18:07; Sam French, 1:18:10; John Broadbent, 1:18:54; Dave Hurst, 1:24:36; Joe Langford, 1:24:43.
CTC Tour – Atlantic to the Med (Bordeaux to Montpellier) – 8 days
Sheldon Starkey reports: "I went with Bob Norton (CTC Leader and CCC Club Chairman). On one dark winter's evening, I got chatting to Bob at a Congleton Cycling Club do about touring and he briefly mentioned that he was running a tour from the Atlantic to the Med in May so after not much thought, I jumped at the chance and signed up. Fast forward some months later and section in the itinerary regarding weather stated 'That the weather should feel like a good British summer'. How right he was I must add!
May the 24th dawns wet and cold as I meet Bob and Frank (mate of Bobs and assistant leader) at 8:15am in a greasy spoon cafe just off junction 28 of the M1. Travelling on the bike bus is much like the pain and suffering us cyclists sometimes endure. Pain for your derrière (sitting down for such long time) and the suffering you go through for the hours travelled. But at least Jason's (Courier on the Bike Bus) Car-ban-ara, wine and such like keep you fed throughout the journey. After too many pick-ups to list, a ferry crossing and a drive we arrive in dull, damp Bordeaux for a ride over to Archacon. The group consists of an eclectic mix of 16 riders from ages ranging from 43 to 76 (including one Australian and two Kiwis) thus resulting in a bit-of-faff getting the bikes sorted and riders fed at some hotel. But at least my rear was happy to be off the bike bus and on something much more comfortable.
The weather was pretty good for the first few days as we rode from the Dune du Pylat through beautiful pine forests on cycle paths that put our British roads we love to shame. Day 5 from Saint Jory through to Day 7 to La Salvetat the weather deteriorated to dire conditions that us British are so used too. 7 degrees and the winter kit came out and the sunscreen stayed firmly in the bottom of my panniers. Bob was right about it being a good British summer. Hey ho…a bad day's cycling beats a good day in the office! Day 8 from Lamalou Les Bains to Aniane and Day 9 from Aniane to Montpellier, the weather gods were on our side and the sun shone as we chipped along through beautiful French villages and near perfect roads. Razor sharp tan lines are now back in for 6 months I thought as the sun cream finally came out.
My Garmin registered some 457 miles covered since leaving Bordeaux and as the Bike Bus picked us up from Montpellier for the return journey back home, I can easily say the trip was truly immense, great company, great bunch of riders, great food, great country, great leader but not so great weather. I will definitely be booking another CTC tour soon!"
Reminder – Next Social Ride is on Saturday, 15th June
Meet at unicorn P.H., Holmes Chapel Road at 10 a.m. for 15 mile ride to local café and 15 mile return loop (at pace of slowest rider).
Report – 14th June 2013
Congleton Cycling Club's Chain of Events
Week of 7th to 14th June
Saturday:
VTTA 50-mile TT on Chelford Circuit
Club Members were heavily involved, with 5 riding and 10 helping in this event, organised by Peter Hayhurst. We were blessed with optimum weather and safe riding. Helpers were: Kath Biddulph and her Catering Team, Georgina Norton, Denise Hurst, Mary Renshaw, Bob Norton, Peter Nelson, Roger Little, Rob Waghorn and David McVitie. Our riders, in order of performance were: Pete Smith, 1:59:46 (PB); Stephen Jackson, 2:09:56; Kelvin Milward, 2:11:01; Wayne Powell, 2:14:02; Dave Hurst, 2:59:34 (PB). The Club won 2nd Team Award (on VTTA Standard / Handicap) – Smith, Powell, Hurst. The winner on Actual Time was Charles Taylor (South Pennine CC) with 2:45:54 – a 2.5 minute improvement over his last year's win.
National MTB Marathon Champs – Selkirk
Jamie Willetts reports: "Hot and sunny conditions presented themselves for this year's marathon champs, based out of the border town of Selkirk. A rider friendly 12.30 start meant a fairly relaxed morning of final bike prep and ensuring good hydration – this was going to be essential for the following 75km of racing. Starting off with a class field of british expert and elite MTB riders the pace was going to be high. A neutralised 5km from Selkirk town centre to the start of the first climb, allowed for a good warm up followed by a very enjoyable mix of massive climbs, forest tracks, single-track, moorland and trail centre, there was something to please everyone. The elite riders disappeared rapidly into the distance and I kept pushing to hold onto a group but eventually got dropped and settled into my own pace. Having missed the first feed station I was out of fluids by the time I got to the second feed station. I hoped I had got enough liquids back into myself but blew on a 10km climb. Needless to say it hurt! My legs came back and eventually crossed the finishing line a long way down on the winner. Finishing 62nd it wasn't the result that I was hoping for, but the course was well worth the ride.
Sunday:
Clubrun to Priest's House Café, Audlem –
Another enjoyable ride in summer weather for 12 Members and Guests: Georgina & Bob Norton, Denise Hurst, Sam French, Stephen Kane, Joe Langford, Mike Line, David McVitie, Wayne Powell, Rob Waghorn where the extended Williams Family of Trevor, Damian & Andrew made a welcome appearance. They rode via Alsager, Betley, Barr Hill, Norton-in-Hales to the pre-booked table in Audlem and returned via Wybunbury, Hough, Barthomley, Alsager and Brownlow.
Marbury Park Triathlon, Comberbach.
Sue Blake reports: "I took part in another triathlon again at the weekend. This one included an open water swim in Budworth Mere, my first OW tri. I finished 9th lady of 20 ladies, in a time of 1:32:28 for a 750m lake swim/20k bike/5k run."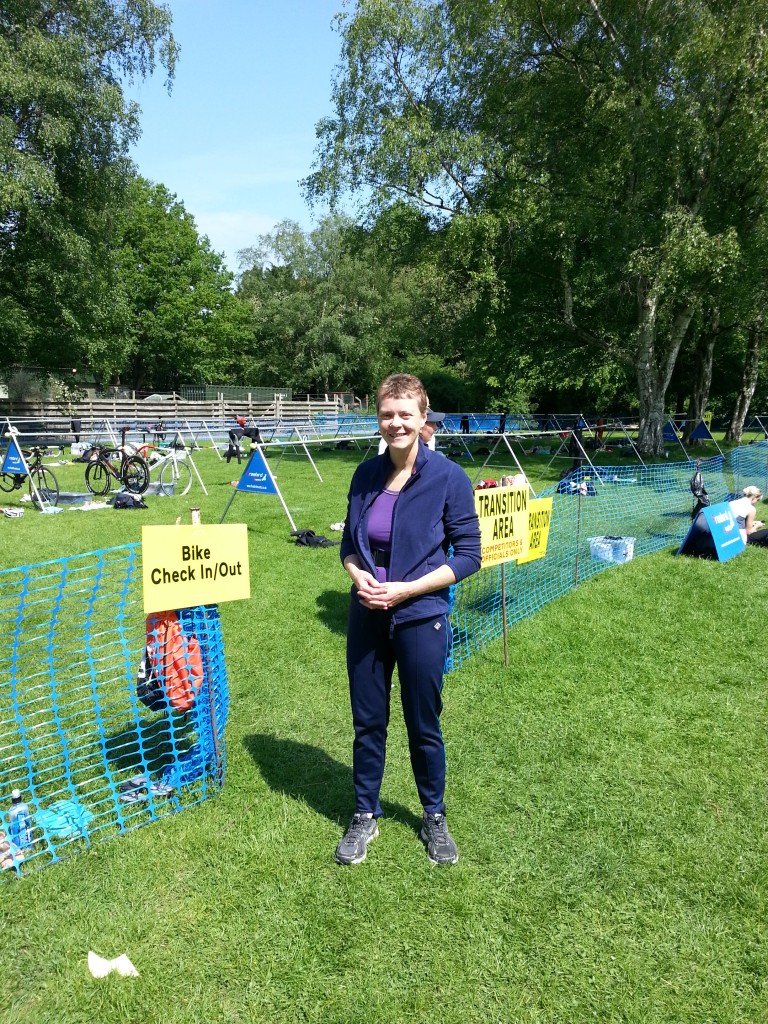 Tuesday:
Club 10-mile TT on Gawsworth Course
This week's club 10 was on the Gawsworth course (JC5). The evening was bright with a southerly breeze, which helped on the way back from the Congleton turn. Thirty seven riders faced the timekeeper with the fastest being Scott Burns of the Manchester Wheelers Club in 20:46. Many riders returned either personal bests or seasons or course best times in the good conditions. Steve Hulme was quickest Congleton rider in 22:06 but was hard pressed by Pete Smith who improved his PB to 22:10. The third home finisher in the 10 was Pete Tatton in 23:25 closely followed by Wayne Powell 23:31 and Charlie Evans in 23:39.
Fastest and Club Riders: Scott Burns (Manchester Wheelers), 20:46; Steve Hulme, 22:06; Pete Smith, 22:10; Pete Tatton,23:25; Wayne Powell, 23:31; Charlie Evans, 23:39; Kelvin Milward, 23:59; Nick Decker, 24:16; Richard Coghill, 24:19; Ben Norbury, 24:22; Paul Turner, 24:38; Mike Line, 25:03; Duncan Poole, 26:01; Andy Farr, 26:09; Stephen Kane, 26:11; Bill Boynton, 26:35; John Ratcliffe, 27:49; Sam French, 27:53; Helen Evans, 27:56; Mark Allen, 28:53; Sue Blake, 29:31; David Hurst, 32:51.
Member Helpers: Bob & Georgina Norton, Denise Hurst, Gordon Dale, David McVitie, Peter Hayhurst. Other helpers were Leslie Norbury, who marshalled the final corner; Phil Gayes, who was pusher off, Phil Allen who was start timekeeper and Amanda Turner who was finish timekeepers assistant – all Guests.
Report – 29th June 2013
Congleton Cycling Club's Chain of Events
Weeks of 14th to 28th June
Saturday:
Club Social Ride to Minshulls – 30 miles
On a fine Saturday on which the forecast rain never appeared 10 riders enjoyed a leisurely social 30 mile ride with a stop at Minshulls Garden Centre near Leighton Hospital. The route went via Hassall Green, Winterley and Sydney and returned through Wimboldsley, Middlewich and Brereton Heath. The riders were Georgina and Bob Norton, Paul and Amanda Turner, Stephanie Cooke, Bev Hambleton, Paul and Alastair Kennington, and Heather and Joseph Pearce. Bob did not stop at the cafe, but continued to Congleton Leisure centre where he (and later Georgina) helped Cheshire East Coaches with their Carers Week Disability Cycling session.
Janus 25-mile TT on Chelford Course
Two Members rode in blustery but warm conditions: Peter Hayhurst, 1:23:05; Dave Hurst, 1:26:50 for 3rd on Handicap. The winner was Daniel Maironis, Withington Wheelers with 54.27.
Tuesday – Club 10-mile TT on Gawsworth course
Another good evening for a fast 10 mile ride. Thirty two riders participated, of whom 21 were Congleton Club members. The fastest club rider was once again Pete Smith in 22:34, with Wayne Powell 23:20 just beating Pete Tatton and Mike Jones who both recorded 23:22 to second place. Mark Allen was the fastest junior with a PB time of 27:27 ahead of Sam French and Joe Langford, both doing PB's as well. The fastest time set was 21:58 by Steve Burke of Macclesfield Wheelers.
Members Results: Pete Smith, 22:34; Alex McNicol, 22:36; Wayne Powell, 23:20; Mike Jones, 23:22; Pete Tatton, 23:22; Nick Decker. 23:31; Stephen Jackson, 23:55; Kelvin Milward, 23:56; Ben Norbury, 23:56; Paul Dentith, 24:18; Paul Turner, 24:46; Duncan Poole, 25:41; John Ratcliffe, 26:24; Bill Boynton, 26:31; Mark Allen, 27:27; Sam French, 27:41; John Broadbent, 28:18; Joe Langford, 28:23; Sue Blake, 29:06; David Hurst, 32:22.
Saturday – VTTA 30-mile TT on Chelford Course
Three Members rode this event in warm and dry but windy conditions. Peter Smith recorded 1:12:42 for 10th place (his first ride at this distance); Kelvin Milward produced a sound 1:17:06 and Duncan Poole struggled to 1:26:45. The fastest on actual time was John Payne (Leigh Premier) with 1:09:01 and winner on VTTA Standard was Mike Cotgreave (Westmead Team 88) with +15:44. Denise Hurst, Mary Renshaw were Marshals and Peter Hayhurst projected the results.
Tuesday – inter club 25 mile TT replaced by 13.3 mile course
The second leg of our inter club 25 mile TT with Macclesfield Wheelers took place yesterday, on a mild but overcast evening. The 25 had to be abandoned because of road works in Chelford. the event was switched to a 13.3 mile course from Monks Heath to Congleton and back. Macclesfield Wheelers were carrying lead of 14:42 from the first leg and once again came out on top, but this time the margin was only 3:59.
Individually the top two positions went to Macclesfield Wheelers with Adam Bailey recording 29:37 and Steve Burke 30:09. Pete Smith was our first counter in 31:30 for fourth place. The aggregate times for each clubs best 6 riders were Macclesfield Wheelers 3:11:51 with Congleton C.C 3:15:50.
There was an excellent turn out of both riders and event volunteers. There were 38 competitors, 20 Congleton, 10 Macclesfield and 8 visitors.The club must thank 13 volunteers who helped the event run smoothly and safely.
Report – 15th July 2013
Congleton Cycling Club's Chain of Events
Weeks of 28th June to 14th July
Saturday – M&DTTA 50-mile TT on Chelford Course
Mike Jones, 2:08:01; Pete Tatton, 2:08:52; Kelvin Milward, 2:09:44. Winner was Charlie Taylor, South Pennine CC, with 1:47:43.
Tuesday – Club 10-mile TT on Chelford Course
This week's club 10 on the J2/1 was a very wet one. The rain started soon after the first rider. The fastest time was set by sixteen year old Joe Evans, a visitor from Hargrove Cycles R.T. with 21:33. Joe is the current GHS schoolboy 10 mile champion. Once again Pete Smith took maximum points in the club competition with 23:38 to move level with Wayne Powell 24:43 in the season long series. Pete Tatton was 2nd club rider on the night with 24:25 and is now a close 3rd on points. Fastest of the club teenagers this week was Mark Allen who beat Joe Langford by a single second.
The poor conditions made for slippery roads and two riders slid off, with Ben Norbury coming down at Booths Hall roundabout and Paul Turner falling on the return through Chelford Island. Both got up to finish. Ben was on a new bike. Hope it's OK!
Saturday – Short Clubrun – to Plantation Garden Centre, Lower Peover
From this month the club has added an extra Saturday Short Club Run ride each month. In addition to the regular ride on the third Saturday of each month there will now be a ride on the first Saturday of the month. The inaugural first Saturday ride attracted 5 riders out on a fine summer's day for a 30 mile circuit with a refreshment stop at the Plantation at Lower Peover. The riders were Bob and Georgina Norton, Sue Collins, Bev Hambleton and Mark Allen they followed a route through Brereton Heath and on to Middlewich by way of Cledford Bridge before going though Allostock to Lower Peover. the return was by way of Goostrey and Swettenham.
Saturday – M&DTTA 100-mile TT on Emergency Course
Five Members rode this annual event: Mike Jones, Wayne Powell, Pete Smith, Pete Tatton and Jamie Willetts and seven Members assisted: Georgina & Bob Norton, Denise Hurst, Roy Hayhurst, Peter Nelson and Peter Hayhurst (Event Organiser). All our Members performed well, with the exception of Pete Smith who punctured before 50 miles. Unfortunately, at the time of writing, there is no official result due to a last-minute Emergency Course being used. This was caused by having to avoid temporary traffic lights at Jodrell Bank, due to predicted heavy traffic heading for a concert.
Sunday – Clubrun in Trough of Bowland – 63 miles
On Sunday 7th of July the scheduled club run started at Chipping in Lancashire and travelled via Slaidburn over Catlow Fell and Tatham Fell to High Bentham and on the Ingleton for lunch, where we were joined by Phil Allen. It was an absolutely glorious day with temperatures in the mid 20's. The riders were Mark Allen, Bill Boynton, Stephen Kane and Bob Norton. After lunch a slightly flatter stretch took the group west though Wray before turning south at Quernmore to climb over to the Trough of Bowland. There were magnificent views over Morecombe Bay. We had a brief stop at the top of the pass on the way out of the Trough to pay homage to Bill Bradley, winner of the Tour of Britain in 1959 and 60, who has a memorial stone there. We arrived back in Chipping via Dunsop Bridge after a strenuous but enjoyable day of about 63 miles with about 5500 feet of vertical ascent. The photographs show the group on Tatham fell with a vista of North Yorkshires 3 peaks Ingleborough, Penygent and Whernside as a back drop.
Sunday – Alternative Clubrun to Blaze Farm – 45 miles
Jim Cook led this "Alternative" and was joined by Sue Collins, John Braodbent, Roy Hayhurst (training for Mont Ventoux!) and David McVitie. They rode an undulating (i.e. very hilly!) route via Bosley, Prestbury, Bollington, Old Brickwrks, Lamaload, Crag Hall, Wilboarclough to enjoy a welcome rest and recovery, in the sunshine, before returning via Macc Forest, Langley, Fools Nook and Gawsworth.
Tuesday – Club 10-mile TT on Gawsworth Course
This week,s club 10 on Tuesday took place in very warm and somewhat airless conditions. Thirty nine riders took the start, twenty three from the club and sixteen visitors. Fastest time was 22:29 done by Ed Moss visiting from Beacon R.C.C. Ed was a club member back in the 80's. He beat our own Pete Smith by 10 seconds into second place. Next club finishers were Pete Tatton 23:18 and Wayne Powell 23:22, continuing their battle in the season long Bob Job Point competition, which Pete Smith now leads.
Amongst the juniors, Tristan Roberts riding only his second 10 of the season improved to 28:28 beating Joe Langford by 3 seconds with Mark Allen 29:21 and Harry Akers Smith riding for the first time this year fourth. For full details (including list of Officials / Helpers) see website.
Saturday – NOVA 25-mile TT on Chelford Course
On another real Summer day (mustn't complain!), three Members rode this event. Kelvin Milward was our fastest, in 1:02:28; Duncan Poole, 1:09:23 and Peter Hayhurst, 1:20:55. The winner was Darren Maironis, Withington Whs, 54.12, beating Scott Burns, Manchester Wheelers, by 1 second!
Sunday – Clubrun to Tattenhall Ice Cream Farm – 73 / 70 miles
This day marked the launch of a second Sunday Club Run. For the rest of the summer at least there will now be two groups each Sunday, with the B group continuing at the traditional pace, and the new A group a couple of miles per hour faster. Both rides will make the same cafe stop with the A group perhaps doing an extra detour on the way. Last Sunday's ride destination, in fantastic cycling weather, was the Ice Cream Farm at Tattenhall, who have always welcomed cyclists with a 10% reduction on food and drink for those arriving by bike. Eight riders met at 09:30 outside the Rugby Club, with the A/B split being three and five. Bill Boynton, Joe Langford and Sue Blake formed the A ride and made their way to Tattenhall though Goostrey, Lach Denis, Whitegate, Little Budworth, Tarporley and Huxley. The B riders were Bob and Georgina Norton, Jim Cook, Tristan Roberts, and David McVitie. They took a more southerly route through Church Minshull, Cholmondeston, Bar Bridge, Cholmondley, Bickerton and Harthill. Both groups arrived within minutes of each other, with respectively 42 and 39 miles clocked up, so the plan worked well. Suitably refreshed, both groups returned by the same route, past Beeston Castle to Bunbury, Wettenhall, Church Minshull, and back through Brereton Heath for a total ride distance of 70 miles (or 73).
There were two other members at the cafe. Sue Collins and Mark Tilstone had made their own way there. Mark is just back from the French Alps having completed his 13th successive Etape du Tour which is a ride of a mountainous stage of the year's Tour de France race. This year was the 125 km Annecy- Annecy Semnoz stage to be raced on the final Saturday of the race July 20th). It included six categorised climbs and totalling 3500 metres of vertical ascent. Cheshire is thankfully flatter!
Report – 23rd August 2013
Congleton Cycling Club's Chain of Events
Weeks of 3rd to 20th August
3rd – Clubrun to Radway Green Nursery
Saturday club run went to Radway Green in lovely sunshine. Although there had been some showers we missed them. We went out via Brereton Heath, Cledford Bridge, Winterley and Oakhanger; returning through Hassell Green and Smallwood. There were 12 out: Georgina Norton, Bob Banner, Stephanie Cooke, Bev Hambleton, Wayne Powell, Paul and Amanda Turner, Paul and Alistair Kennington, Peter Nelson, Harry Akers-Smith and Marcus Rohrmann.
Withington Wheelers 10-mile TT on Chelford Course
Three Members rode in breezy but dry conditions: Kelvin Milward recorded 23:54; Duncan Poole, 26:31 and Peter Hayhurst, 31:16. Darren Maironis (Withington Wheelers) and David Crawley (Fibrax Wrexham) tied for first place with 20:31.
6th – Record entry in Club 10-mile TT on Gawsworth course.
Fine weather and the approaching end of TT season brought a club record entry of 50 riders in this weeks 10 on the JC5 course on the Macclesfield/Congleton Road. There was also a record entry of 34 from of our own club members. Times were fast with many seasons' bests and personal bests recorded on a near perfect still and warm evening. The fastest rider was Jack Green of VC St Raphael with 20:48. The top three Congleton riders were Pete Smith (22:39) Ben Norbury (22:44) and Pete Tatton (22:57).
One of the visitors was Colin Lynch (Macclesfield Wheelers) who recorded 22:59. Colin is a Paralympian and a reigning World Paracycling Champion in the Time Trial. He used our event as final training before heading to Canada, where he defends his title later this month.
Fastest of six juniors was Tristan Roberts in 27:16 with fastest lady Christine Higgs (Macclesfield Wheelers), 25:14, beating our own Sue Blake 29:25.
10th / 11th August
Altrincham Ravens 25-mile TT on Pennys Lane / King Street Course
On a pleasant afternoon, three Members rode this event which had been postponed due to bad weather in March. Pete Smith and Wayne Powell each recorded P.B.'s with 58:53 and 1:03:02 and Peter Hayhurst improved his 2013 time to 1:16:46. The winner was Simon Bridge (Manchester Wheelers) with 52:44.
Midlands XC MTB series at Eastridge Forest
Charlie Evans competed in the final round of the Midlands XC MTB series at Eastridge Forest, near Shrewsbury and finished 2nd to Nigel Martin (Leisure Lakes) over the 5 laps of the steep woodland course, in 1 hour 27 minutes. Podium photo attached.
Clubrun to Cotebrook – 60 / 58 miles
Number of riders 15 forming two groups. Stephen Kane led the A group and Denise Hurst led the B group. People in the A group were Stephen Kane, Mike Line, Sam French ( who had to contact his father at Cotebrook to take him home as he had a mechanical problem with his bike), Charlie Alston, Andy Farr (who only rode part of the way and then returned home), Sue Collins and Tristan Roberts. They arrived at the cafe half an hour after the B group. People in the B group were Denise and David Hurst, Jim Cook, Bill Boynton, John Broadbent, Sue Blake, Rowland Bainbridge, Peter Smith.
Denise Hurst took her group via Goostrey, Lach dennis, Davenham, Whitegate, Oulton Park into Cotebrook Shire Horse Sanctuary. Lovely weather and lots of chatter. They had a long lunch break at Cotebrook. Peter Smith's wife Susie met us at Cotebrook with their sons and a friend of the boys. Due to the fact that they had to wait for Sam's father to pick him up and due to the fact that the A group had fewer people on the way home we all came back together apart from Sue Collins, Bill Boynton and John broadbent who needed to get back earlier. On the return journey they passed by Oulton Park and then made their way to Warmingham, Church Minshull, Middlewich, Brereton and then back to Congleton.
13th August – Club 10-mile TT on Holmes Chapel Circuit
The last club evening TT on the JC26 circuit course was run in bright but windy conditions. The 10 miles was covered in 23:47 by Nick Decker, for his first win of the season. He was ahead of Pete Tatton 24:32 and Ben Norbury 24:34. Best Junior was once again Tristan Roberts with 28:32 whilst Amanda Turner in her first ever time trial was Best Lady in 32:23. There were 25 club members and 10 visitors competing.
With only the hill climb on Sept 29th and this Saturday's Open 50, left as counting events in the Bob Job Points competition, Pete Tatton now has a 10 point lead over Pete Smith, with long-time leader Wayne Powell in third place. Best Junior is Mark Allen and best Lady is Sue Blake.
17th / 18th August
Congleton CC Open 50-mile TT on Pennys Lane / King Street Circuit
Of the 77 Entries, thirteen Members entered and eleven rode this event in very windy conditions, plus rain for the last hour. Our top 3 riders, Pete Smith with 2:05:23, Nick Decker, 2:07:20 and Kelvin Milward, 2:08:36 also won Fastest Team Prize, beating Leigh Premier by 1 minute 1 second. The fastest rider was Charlie Taylor (South Pennine CC) with 1:49:51, followed closely by Simon Bridge (Manchester Wheelers) with 1:50:07. The event was organised by Peter Hayhurst, who was very grateful for the assistance of 17 Members and 7 Guests. Ken Norbury's photos are visible on our website – via Photos 2013.
Final round of the British MTB Series, Hadleigh Farm, Essex
Charlie Evans competed on the 2012 Olympic MTB CX track at Hadleigh Farm, Essex. This was the final round of the British MTB Series. He finished the 6 lap Masters Category race, over the very physically and technically challenging course in 9th place in a time of 1 hr 40 minutes, which was won by Scotland-based rider Paul Newnham.
Clubrun to Acton Bridge – 60 miles
Twelve Members rode: Denise Hurst, Sue Collins, John Broadbent, Peter Smith, Wayne Powell, Amanda and Paul Turner, Jim Cook, Tristan and Dean Roberts, Mark Allen and Bill Boynton.
Denise Hurst lead the group through Goostrey, Allostock, Lach Dennis, Pickmere, Dones Green and then to Acton Bridge. They enjoyed lunch at a garden centre just by the River Weaver and returned through Great Budworth, via Pickmere and Plumley, then towards the Whipping Stocks at Peover, Bate Mill, Lower Withington and down Giantswood Lane back into Congleton where they all went different ways home. The weather was great in the afternoon with a following wind however they had encountered some rain in the morning.
End-of-Season Celebration at Rising Sun, Gawsworth
To celebrate the end of our Tuesday Evening TT season, 36 Members / Family / Friends gathered at the Rising Sun (our usual meeting / parking place for TT's). We all enjoyed the good food and refreshing drinks and the usual cameraderie – which was enhanced by getting to know newer Members who usually fly by with a quick "Hello". Our Chairman, Bob Norton, shouted a brief summary of our TT season (including our Open 50-mile TT from the previous weekend) which had been a record year in many ways: 600 rides from a total of 47 Members, plus 70 Non-Members, supported by 15 Helpers (Members and Guests) from a total Membership which has now grown rapidly to over 100.
Future Events
For Clubruns (Saturday / Sunday, A/B), Club Time Trials and Reliability Rides– see website. The final events of the year are the Hill Climb on Ganney Bank, the postponed Hilly Reliability and 100-mile Reliabilty Rides and the Horseshoe / Viaduct AUDAX events.
Report – 13th September 2013
Congleton Cycling Club's Chain of Events
Weeks of 20th August to 10th September
31st August
Stretford Wheelers 25-mile TT on Byley Course
Five Members rode this event on the same roads as used for our recent 50-mile TT but in cooler and very windy conditions. Our top three performers all recorded excellent 1hr 1 minute rides, with Ben Norbury slightly faster than Nick Decker, closely followed by Kelvin Milward. Mike Jones posted 01:03 and Peter Hayhurst, 01:19. The clear winner was, as usual, Simon Bridge (Manchester Wheelers) with 53:14.
BDCA 100-mile TT on Uttoxeter Course
Pete Smith was our sole representative. He recorded 4:22:07, a PB! The winner was Charlie Taylor (South Pennine CC) with 3:35:39.
Schwalbe Tyre MTB Marathon in Ruthin
Charlie Evans rounded out his MTB season with the Schwalbe Tyre MTB Marathon in Ruthin, North Wales on Saturday 31st August. The 50 mile route was based around the Clwydian hills, climbing Moel Famau and Moel Arthur and conditions were dry and dusty – rare for North Wales! Due to UK bridleway regulations, such events cannot be run as races, however riders are still timed! He recorded the 12th fastest time of the day, placing him 6th in the Masters age group with a time of 4hrs 29 mins.
1st September
Clubrun to Roaches Tearoom – 45 miles
Fourteen Members enjoyed a windy and tough but pleasant "Autumn" day in the hills. Denise and David Hurst, Dean and Tristan Roberts, John Broadbent, Jim Cook, Sam French, Mike Line, David McVitie and Marcus Rohrmann did the complete ride which started with the first leg of our Hilly Reliability (to be held soon due to cancellation last Spring) – up Blacky Bank, Timbersbrook, Cloudside, Rushton, Swythamley, Bearda, Wincle (where Roy Hayhurst headed for home), Allgreave, Gradbach and around the back of the Roaches to the popular venue – where they met Sue Collins, Stephen Kane and Peter Hayhurst who had ridden a more direct route. After the usual nourishment, they head back along the Roaches and down the steep and twisty lane (in ideal, dry conditions) to Meerbrook where they cheered the riders in the Tour of Britain Sportive – but instead of heading up Gun Hill, the Club rode via Abbey Green (saying Cheerio to John Broadbent who lives in Leek) to Rudyard and then Horton, up to Lask Edge (via either short and steep or longer and not-so-steep climbs), where they again cheered the ToB Sportive riders all the way to Biddulph Park – where our riders went their separate ways – homeward bound. Altogether a very enjoyable day in the Hills!
Half Ironman Triathlon, Whitchurch
Sue Blake reports on her successful Triathlon: "I recently competed in, and completed, my first half ironman distance triathlon in a time of 06:06:32. The event involved a 1.2 mile wetsuit swim in Dearnford Lake, Whitchurch, Shropshire, followed by a 56 mile bike ride and a 13.1 mile run. I had a target to finish in around six and a half hours so I was extremely pleased with my time. And to add to the big grin I was wearing as I crossed the line I found out I'd won my age group. Pete Tatton also competed in the event finishing ahead of me in a time of 05:39:39. I believe Pete has been motivated enough by the event to sign up for a full ironman which is double the above distances. But that's another story I'm sure he'd love to share. You won't hear about me doing an ironman next year though, as I'm focusing my efforts on open water swimming and cycling next year. Next year's challenges involve a swim in Loch Ness called the Monster Swim, and possibly a 12 hour time trial."
7th – 8th September
ABC Centreville 25-mile TT on Chelford Course
Four Members rode this event in dry, mild and breezy conditions. Kelvin Milward was our fastest rider with 01:02:16, followed a long way behind, by Peter Hayhurst, 01:21:32; Denise Hurst, 01:22:36 and Dave Hurst, 01:28:31. The winner, as usual, was Simon Bridge (Manchester Wheelers) with an amazing time of 52:39.
Buxton CC Hill Climb on Long Hill, Whaley Bridge
On a very bright and dry morning but with a strong head wind, our two representatives performed well, with Nick Decker posting 16:32 and Mike Jones, 17:00. The overall winner was Tejvan Pettinger (Chinmoy CT) with 13:13. Vanessa Whitfield, 16.44 was fastest lady and Sean Davenport with 15.39, fastest Junior.
Clubrun to Railway Café, Delamere – 62 miles
Denise Hurst (leader), Stephen Kane, Mike Line, Marcus Rohrmann, Dean & Tristan Roberts, Jo Langford, David McVitie and Jim Cook plus Sue Collins & Mark Tilstone who rode direct. Denise Hurst reports: "The route we took was made up of a variety of flat and hilly terrain and went via Brereton, Middlewich, Church Minshull, Cotebrook, Utkinton, Summertrees, Willington over and down the Yeld and then down one of the rough tracks passing the visitors centre at Delamere to have our lunch stop at the railway station café. Marcus stated that he didn't realise we were into cyclo cross on our club runs and said he might have to bring his mountain bike another time. We had one puncture on route which most of us had a hand in helping out to mend. It was lovely weather all the way. We all had lunch, including some of Mike Line's chips which he had left on his plate. On our way home we travelled back to Cotebrook around to the front of Oulton Park where we turned for Whitegate and crossed the River Weaver riding up another rough track into Davenham and on to Lach Dennis, Allostock, Goostrey, Swettenham, to Congleton."
Raid Pyrenéen Challenge – 18 Cols, 740km in 100 Hours
In September, three Members – Richard Cowan, his son Tom, and Bill Boynton – took on the tough Raid Pyreneen, a challenge to cycle the length of the mountain range over 18 cols from the Atlantic to the Mediterranean in less than 100 hours. In total, they faced a journey of 740 km and ascent of 12,800m. They were in a group of 20 riders with logistics organised by Marmot Tours.
Day 1 – after a dipping of toes in the Atlantic, the group departed at 09.00am and headed up the coast road for a while before passing through the Basque heartland crossing Col De St Ignace (169m) and Col De Pinodieta (176m) to the walled town of St Jean Pied de Port and then the first significant climb over Col D' Osquich (500m). Nearly 170 km completed.
Day 2 – tackled the most feared cols in the Pyrenees. After riding to Laruns, the group went straight up the stunningly beautiful Col D'Aubisque (1709m) then up Col de Soulor (1464m) through rock tunnels, followed by a swoopy descent to Argeles-Gazost. Up the gorge to Luz-St Sauveur, turning left to climb Col De Tourmalet (2115m), made famous by the Tour de France. Conditions were difficult – temperature approaching 35°C, reaching the top, after an uphill ride of 2h 26 min.
Day 3 – the riders faced another hot day and five more cols, starting with the picturesque Col d'Aspin (1489m) and Col de Peyresourde (1569m). Col Des Ares (797m) and Col De Buret (602m) were then despatched, before tackling the 14% inclines of Col de Portet D'Aspet (1069m).
Day 4 – a good night's sleep makes a huge difference and our trio were immediately tackling Col de Port (1249m), a gradual and beautiful climb followed by a great descent to Tarascon. Up the valley to Ax-les-Thermes, the route then turned left up the seemingly endless and brutal Col du Pailheres (2001m). Cloud cover and lower temperature helped the riders to ride over two more awkward cols; Col des Moulis (1099m) and Col du Garavel (1262m). Finally they had to take on Col du Jau (1506m). The reward was a scenic twisting final descent to Prades and the feeling that their odyssey was nearly complete.
Day 5 – the group had to reach the finish before 1 p.m. so there was no room for errors of navigation or mechanical delay. The Congleton riders led a well-organised peloton on the steady descent to the coast at over 20 mph and then tackled the hilly cliff roads through fortified Collioure and other resorts, descending with feelings of euphoria to the beach at the final destination of Cerbere at 12:30. Compared with most other cycling experiences, the pressures and uncertainties of the Raid Challenge had built enormous team spirit and supportiveness.
13th September
World Triathlon Championships in London
John Broadbent was selected for his age group (65-69) for Great Britain at the World Triathlon Championships in London. At this sprint distance, which is a 750 metre swim, 22.5 km bike ride and a 5 km run and he finished 30th (11th Brit.) out of 58 in his Age Category, in 01:29:31. The Age Category winner was Dieter Waller (Germany) in 01:17:18.
Future Events
For Clubruns (Saturday / Sunday, A/B) and the final Bob Job events of the year – the Hill Climb on Ganney Bank, the Hilly Reliability Ride (postponed due to bad Spring weather) and the Horseshoe / Viaduct AUDAX
Report – 27th September 2013
Congleton Cycling Club's Chain of Events
Weeks of 14th to 27th September
CTC Caen to Cannes Cycle Tour – 1400km
Bob and Georgina Norton were away in France for the first half of September. Georgina reports:
"Bob was organiser and leader of the CTC Holidays and Tours Caen to Cannes cycle tour, covering around 1400 kms in sixteen days. This is a classic ride, from the Channel to the Med. Riding mainly on minor rural roads. We passed through the rolling green countryside of Normandy to cross the Loire at Blois with its chateau and then headed through the forested central region into hillier terrain, to pass through the Parc Regionale de Volcans in the Massif Central and on through remote areas of the Auvergne. We rode through the Ardeche Gorge, to cross Provence into the Luberon. We reached the Cote d'Azure at Cannes after passing through the spectacular Verdon Gorge. The tour group of fifteen moved on each day, between 50 and 110 kms, sightseeing from the saddle, with some shorter days, which gave opportunities to explore. There was a lot of climbing along the way, with the altimeter accumulating over 15000 meters of ascent. The Mont Ventoux, legendary in the annals of the Tour de France was also on the itinerary. This was a particularly challenging ride, because six weeks earlier Bob broke his collar bone and fractured two vertebra in his neck in a freak accident in which a piece of road debris jammed in his front wheel. It was not until the day before the tour started, that he was given the medical OK to take his bike. It was with the advice "As long as you take it easy". The advice was heeded, but Bob still rode at least three quarters of the distance, with just the odd ride in the support vehicle. Georgina had no such option, and rode it all before finally returning from Nice by air, whilst Bob helped drive the hire van back to Caen.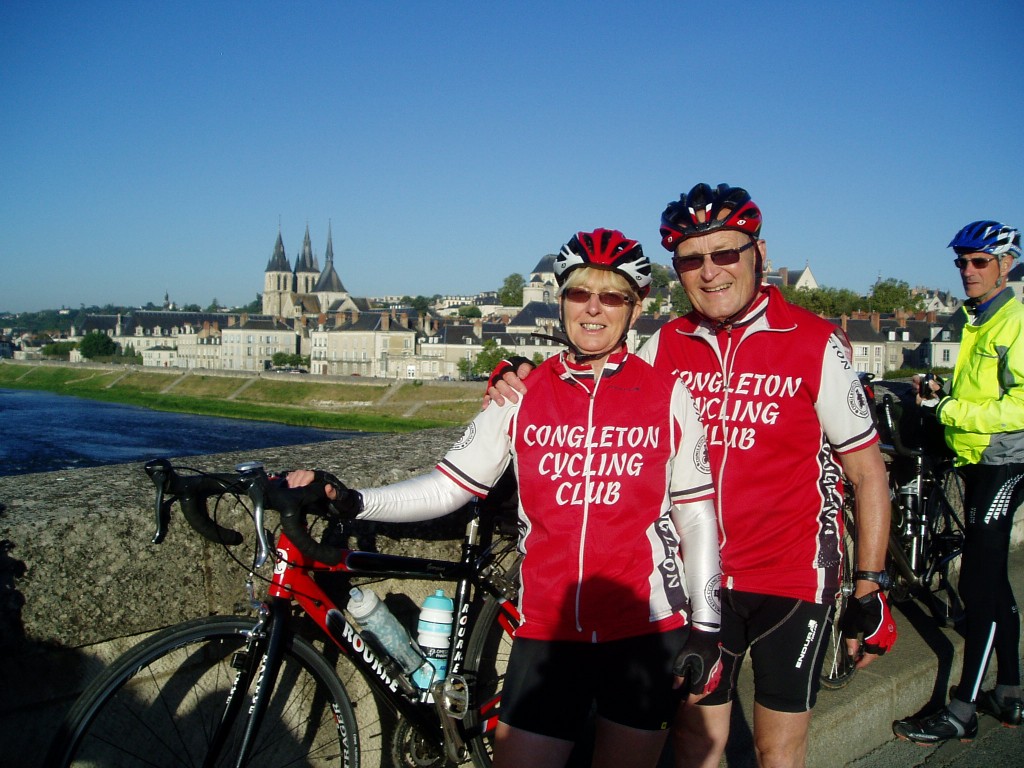 14th Clubrun to Fairways, Sutton – 31 miles
Bob Banner organised this ride, in surprisingly warm, calm and bright conditions, leading Bev Hambleton, Mark Allen, David Grocott, Peter Hayhurst and David McVitie via Brereton Country Park, Davenport / Dane Valley, Swettenham, Newsbank, Marton, Gawsworth, through and around Sutton village, to Fairways Garden Centre where they enjoyed a late breakfast / early lunch and a rest / chat before returning on the same main route – but this time, mostly downhill – until they were faced with Radnor Bank and then went their separate ways. The riders thanked Bob and wished him "All The Best" for his forthcoming heart surgery.
14th Stone Wheelers 25-mile TT on Uttoxeter Course
Our two representatives recorded their best rides of the year: Kelvin Milward – 56:45 and Pete Smith – 57:08. The winner was (as usual) Simon Bridge (Manchester Wheelers) with 49:00.
15th – Clubrun to Old Ma's Café – 76 miles
Jim Cook, who led this ride, was concerned about the forecasted gales and rain but he and the six companions had suitable wet-weather clothing and everyone was happy with the dry but windy conditions. Denise Hurst, Charli Alston, Mike Line, Marcus Rohrmann and Jamie Gibbons (Guest), plus Peter Hayhurst (who turned for home near Nantwich), rode at chatting speed, via Hassall Green, Haslington, Weston, Wybunbury and Peckforton, to old Ma's Café at Gatesheath. They had a lucky escape when a large oak tree crashed into the road only 30 yards ahead – but they managed to stop, just in time, and then formed a chain to hand their bikes over the tree. The return route, mainly wind-assisted, was via Huxley, Bunbury, Calverley, Church Minshull, Warmingham, Smallwood and Astbury where the heavy rain commenced, so they were soaking in no time – but pleased that it had been a dry ride until then.
21st – Clubrun to Jodrell Bank – 30 miles
There were 8 on the Saturday Ride to Jodrell Bank: Bob & Georgina Norton, Mike Line,
Karen Line (Mikes mum), Bob Banner, Dave Grocott, Paul and Alistair Kennington. Mike has been taking his mum out training. It turns out that she is from a cycling family and used to be a member of Hainault R.C. where in her younger days she was club junior BAR and did 24 min 10's and a 1:0 25!
They we lucky with the weather, as it had turned out dry and relatively warm for the time of year, always a bonus for cyclists. The ride out went out through the country lanes to Middlewich before turning to Goostrey and a coffee break at the Pavilion Cafe at Jodrell Bank, a distance of some 20 miles. Bacon sandwiches were the order of the day on our table. The ride back into Congleton was taken at an easy pace and completed a very pleasant 30 mile Saturday morning cycle.
21st – Seamons CC 25 mile TT on Chelford Course
Two Members competed in this final flat Time Trial of the season. Pete Smith recorded 1:00:27 and Nick Decker posted 1:04:14. The winner was, as usual, Simon Bridge (Manchester Wheelers) with 52:43.
22nd – Clubrun to Llamedos Coffee Shop, New Mills – 56 mile
9 members of the club, namely Bill Boynton, John Broadbent, Jim Cook, Sam French, Stephen Kane, Paul Kennington, Joe Langford, Mike Line and Marcus Rohrmann set off, on a beautiful Autumnal morning, for New Mills in the High Peaks. The ride took in the Cheshire Cycleway to Henbury and then on to Adlington, where they joined the cycle pathway to Marple. Once they left the old railway line, they started to hit the hills in earnest with a very steep climb out of Marple Bridge to the ridge behind New Mills. After refreshments in Llamedos Coffee Shop, the hills continued unabated, with further 10%+ climbs out of Disley and on to the rode to Rainow. The group split on the Rainow / Macclesfield road to allow the younger, more enthusiastic members (and Bill) to carry on the original publicised route and to slay further vertiginous ascents. The group that followed the original devised route route climbed over 4600ft whilst the older and perhaps wiser group climbed a mere 3400 ft. Bar the mud on the route to Marple, the route was enjoyed by one and all and should be considered for the Club Run List of regular routes.
22nd – Weaver Valley CC, Cat & Fiddle Hill Climb – 6 miles
Organiser Derek Heine, reports: "It did look like a fast day from the start, and the first few recorded times of the day had already set the bar very high indeed. By rider number 8, Stewart Gregory, coming in with 21:07, I think we all expected some good times. I don't think anyone could have expected to have seen 4 event records being smashed today, with a very impressive win from Tejvan Pettinger knocking 14 seconds off the previous record, the team total time going under the hour by the combined excellent times from the top 3 from Buxton CC, and not one, but four ladies going under the previous record, which had stood since 2008! Peter Greenwood cannot go without a mention, by beating his last year's record as an over 60's Vet (by 3 minutes!!), and setting the bar very high for future years." CCC Members Nick Decker and Ben Norbury were within 1 sec at 22:58, Mike Jones recorded 23:18 and Kelvin Milward, a very impressive 24:58.
Future Events
For Clubruns (Saturday / Sunday, A/B) and the final Bob Job events of the year – the Hill Climb on Ganney Bank, the Hilly Reliability Ride (postponed due to bad Spring weather) and the Horseshoe / Viaduct AUDAX
Report – 24th October 2013
Time Trials
The time trial season is drawing to a close, but not before Kelvin Millward posted the fastest 50 mile time achieved by a club member in 2013. He rode in the recent (Sept 28th) Manchester Wheelers 50 on the Uttoxeter based course. Kelvin said "On the day the weather was fine and dry, with a slight chill but for the time of year excellent, albeit with a strong wind. This was however in the best direction for this course being a tailwind back from the final turn, allowing some respite heading out thanks to the Rocester leg. I was aiming for a sub 2 hour ride was pleasantly surprised to finish in 1:56:50.
Hill Climbs
The hill climb season is now building towards its national championship at the end of October. This season we have several riders participating in this strenuous branch of the sport. Ben Norbury competed in the Leek CC Hill Climb Championship on Gun Hill, Sunday 6th October. Gun Hill near Leek has featured many times in the Tour of Britian and is infamous for bringing a young Mark Cavendish to tears. It was the perfect morning for a hill climb, dry, zero wind, unseasonably warm and with a stunning view rewarding competitors at the top. Ben came in 2nd place with a time of 6:11.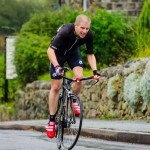 Ben reports that the competitors taking part in the Lyme RC Mow Cop Hill Climb on 13th October were met with a cold and wet morning to attempt the notoriously difficult Station Road J9/14 course. The course is a tough 1400 metres with an average grade of 11.1% reaching 25% at its steepest. All riders were met with cheers of encouragement by enthusiastic supporters and fellow competitors at the course's steepest section, the 1 in 4 "wall" at the top. Congleton Cycling Club had 4 riders competing in a field of 54. Nick Decker made the prizes coming in a fantastic 5th place, with a time of 4:54.5. Our other rider results were, Ben Norbury 5:39.4, Pete Tatton 6:09.9 and Mike Jones 6:12.4. Congratulations to all for their very respectable times contributing to an excellent 3rd place in the fastest team competition. Tejvan Pettinger won the event with an incredible time of 4:22 beating the course record set last year by this year's 2nd placed Matt Clinton.
Nick achieved the same position in the Withington Wheelers climb of Peaslow Hill near Chapel en le Frith, following winning the club hillclimb championship, two weeks earlier.
Blue Peter Challenge
Club Coach Charlie Evans has had an interesting assignment over the summer. Charlie is the Senior Coaching and Education Officer at British Cycling and he has been involved in training Barney Harwood, the BBC Blue Peter presenter to ride in competition with the Tour of Britain riders on the stage which finished in Kendal last month. Barney was to ride directly from the start in Carlisle , a distance of 55 miles, whilst the professionals pedalled 140 miles. The story of this effort was filmed for Blue Peter and is being shown on Thursdays between Oct 3rd and 24th. Charlie is a star of the show. To find out what happens watch Blue Peter or catch up on BBC I Player.
Team Sky – ride like a pro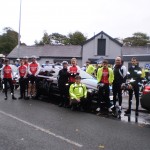 On Sunday Oct 13th eleven club members took part in Royals Jaguar "Ride Like a Pro" event from Wilmslow. On a cool and wet morning about a hundred riders completed a 41 mile circuit, supported by a Team Sky Jaguar XF. The route went through Mobberly, Ashley, Tatton Park, Knutsford, Plumley, Goostrey, Swettenham, Marton Gawswoth, Broken Cross and Alderley Edge finishing back in Wilmslow. Club riders shown posing in front of the Sky team car are (from the left) Bob Norton, Sam French, Dave Mulroy, Wayne Powell, Amanda Turner, Joe Langford, Paul Turner, Mark Allen, Andy Farr, and Mike Line.
Club Runs
Club runs do not stop for the winter. On the weekend of Oct 5/6 the Saturday ride went to the Wizard Tea Room on Alderley edge, via Newsbank, Lower Withington, Bate Mill, Marthall, and Nether Alderley, returning through Broken Cross, and Gawsworth. Three new riders were welcomed. Jonathan and Sharon May and Kevin Talbot joined regulars bob Banner (leader), Georgina and Bob Norton, Bev Hambleton, Peter Nelson
Sundays ride had twelve participants. Denise Hurst led the group on 60 mile round trip with a cafe stop at Red House Farm in Dunham Massey. The riders involved included Jonathan and Sharon May,Bob and Georgina Norton, Tristan Roberts, Jim Cook, Stephen Kane, Mike Line, Roy Hayhurst, Wayne Powell and John Broadbent. The route out went via Goostrey, Plumley, Great Budworth High Legh and Little Bollington, returning through Tatton Park and Knutsford. At Great Budworth , the group stopped briefly to watch a road race organised by the Weaver Valley Cycling Club and on the way back some riders diverted to Allostock where the Johnny Helms Memorial invitation time trial was taking place. This is a team event, where a "cycling celebrity" is paced by a faster rider. The field was peppered with great riders from the past, and was an opportunity for nostalgia.
The Sunday club run for Oct 13th was a wet one, and due to club riders doing other rides, there were only two on it. Sue Blake, who was returning from injury and Georgina Norton, enjoyed an elongated stay in Radway Green garden centre, before returning to Congleton.
Other News
Peter Hayhurst, the clubs press secretary, is unable to write the club reports at the moment. He has suffered a stroke and is currently recovering in hospital. We all wish Peter a speedy recovery. In the meantime Bob Norton club chairman is appealing for a stand in to take on the reporting role.
The Club meets every Thursday at 8.30 p.m. at the Rugby Club, Park Street, except for the first Thursday of the month where the venue is Beartown Tap. Anyone who would like to swap ideas and stories on all cycling topics is welcome to attend.
The AGM is to be held at 20:00 hrs on October 24th in the Rugby Club.
Press Report – 7th November 2013
Despite the weather changing for the worse and the nights drawing in, it's been a busy few weeks for the Club, with lots of club cycling activity and our AGM, plus a tour of Shropshire and representation in national championships.
White Peak Sportive
Stephen Kane and an adopted member of Congleton Cycle Club (Glasgow division) took part in the White Peak Sportive on the 13th October.
Stephen reports, the weather was appalling with high winds and pouring rain. This coupled with his heart rate edging above 200 every time he hit a bump, made for an extra challenging event. Especially as the 'bumps' took in some infamous categorised climbs at Curbar Gap and Crowdecote. In total Stephen and his riding buddy cycled over 84 miles with 9200 ft of climbing.
You might think this would have been a recipe for a miserable day out. Nothing could be further from the truth, Stephen's heart rate eventually righted itself and whilst it was never sunny, it did at least stop raining for small periods of time. So the challenges just added to the sense of achievement. Stephen's post ride comment "I can honestly think of no other pastime that can give such sublime enjoyment, even in extreme conditions. Or maybe the happiness just stemmed from being Scottish and having a perverse liking for rotten weather and being able to moan at my lot."
Hilly Reliability Ride
Despite some pretty awful weather again, we had a good turnout for the hilly reliability ride on 20th October, with a mix of riders tackling a local course that took in climbs around Macclesfield Forest, Wincle and the Cloud in a 32 mile route with nearly 4,000 feet of climbing. This event had been postponed from earlier in the year due to poor weather, but we were not particularly lucky on this occasion either!
Whilst it clearly tested the legs for everyone, it also tested the map reading skills for some, which were found to be sadly lacking – cries of 'you're going the wrong way' were levied at one group of riders, although they did tackle one of the hardest hills twice as a result of their map failings.
Cyclo-cross
The changing seasons means its cyclo-cross time again and a couple of our time trial regulars tried their hand at bunch riding in mud at the weekend!
Mike Jones made his cyclo-cross debut on Saturday 26th October at Otterspool Park, Liverpool. 90 riders competed in a 45 minute veterans race, which was held over multiple laps of the park-based off-road circuit that included short steep banks to climb and descend, as well as 'the spiral of doom' circular maze that once in the middle of changed direction and required the riders to pedal back out! Mike finished a very respectable 51st place.
Pete Tatton also competed in the senior race, finishing 43 out of 55 riders.
Congleton Cycling Club Shropshire Tour
After all the preparation, at long last, what started as a casual thought became reality. It was Friday morning the 25th of October and our group were ready for the club tour to Shropshire. Eleven were going, four junior members Mark Allen, Joseph Langford, Tristan Roberts and Sam French and seven adults Denise and David Hurst, Dean Roberts, Roy Hayhurst, Mary Renshawe, John Cottrell (guest), and Richard Thomas (guest), carrying all their luggage on the back of their bikes. The youngest participant in the group being 15yrs old and the eldest 76yrs old.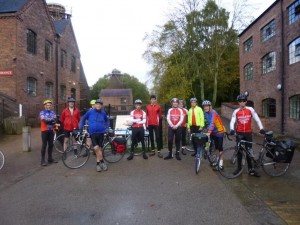 The mileage on the first two days was about 55miles and on the third and final day approximately 65miles. The group cycled approx 180miles over 3 days and climbed approximately 3000metres.
A comment came back to say 'we have had a fantastic time, great company, locations and routes. Couldn't have asked for a better introduction to touring'. Denise already has the next tour in her head…
Club runs
Being the third Saturday of the month (October 19th), 9 riders met at the Unicorn in West Heath for a short club run to Minshulls Garden Centre at Leighton near Crewe. Led by Georgina Norton, the group of Bev Hambleton, Bob Banner, Wayne Powell, Bill Boynton, Karen Bennett (guest), Peter Nelson Stephanie Cooke and Bob Norton, enjoyed a leisurely ride through the lanes in mild autumn conditions. They pedalled through Hassall Green, Winterley, Sydney and Coppenhall to reach the refreshment stop, before returning through Wimboldsley, Cledford Bridge and Brereton Heath for a round trip of 31 miles.
On Sunday, after seeing off the riders in the clubs Hilly Reliability ride, Bob and Georgina Norton were the only riders on the Sunday club run, which went to Dagfields Craft Centre near Wybunbury.
On Sunday Oct 27th, six riders enjoyed a trip to Market Drayton, led by Wayne Powell. Wayne had ridden the route the day before as well, to check out the cafes. Unfortunately all except Morrison's Supermarket are closed on Sundays, so that we where they went. The others in the group were Stephen Kane, Bill Boynton, Karen and Mike Line and Bob Norton. In a blustery headwind, and sometimes wet conditions, the outward route took them through Alsager, Barthomley, Betley, Madeley (and Barr Hill), Woore and Norton in Hales.
At Market Drayton they had hoped to rendezvous with a club group returning from a YHA weekend in Shropshire but after spending over an hour in the cafe, had to leave without them. A mainly tailwind return through Audlem and back onto the outward route at Betley made for a rapid return to Congleton for a round trip distance of 65 miles.
National Hill Climb Championship
Elsewhere Nick Decker travelled to North Yorkshire to compete in the CTT National Hill Climb Championships. On a windy, cold and very wet day in the Arkengarthedale hills, the 2013 British Hill Climb Championships were held on the climb known as the Stang (held on Stang Lane) on the road to Barnard Castle. The 2.3 mile climb, like so many of the roads in the area, ramps up at 18% from the starting area to then drop and flatten a little before a series of drags to the top where it got steeper as the finish line approached.
Nick finished 83rd overall in a very respectable time of 10:02.3, on a hill which probably did not suit him. He could not ride his hill climb special lightweight fixed wheel bike, as the 2.3 mile climb had a variable gradient. Jonathan Poole, a second claim member, also rode. Riding for Ashley Touring Club he finished in 14:46.2. The Champion was Tejvan Pettinger of the Sri Chinmoy Cycling Team in 7:57.7.
Club AGM
On Thursday Oct 24th the club held its Annual General Meeting to elect the club committee, set its subscriptions for 2014, and to receive reports on 2013 from its executive officers. Twenty two members attended the meeting. Club Chairman Bob Norton thanked all of the committee members for their contributions during the year, in particular Tony Elliott who was standing down after fifteen years as the clubs Treasurer and nine as the Membership Secretary. He was embarrassed by a round of applause. The meeting heard that the club membership had risen to 105 (86 in 2012), with a significant rise in its under 18 membership from 6 to 14. There have been increases in all areas of the clubs activities from racing to leisure rides. Bob summarised by saying "2013 was a year of continued growth in all aspects of the club, continuing the trend of the last few years. Activity, particularly racing activity, has increased significantly. Finances have increased, along with membership, and we are now in a very healthy position for the future".
The officers elected for 2014 were:
| | |
| --- | --- |
| Chairman | Bob Norton |
| Vice Chairman | Rob Waghorn |
| SecretaryClub Runs Secretary | Denise HurstDenise Hurst |
| Membership Secretary | Sue Blake |
| Treasurer | Dean Roberts |
| Racing Secretary | Nick Decker |
| Social SecretaryWelfare Officer | Georgina NortonGeorgina Norton & Dean Roberts |
| Acting Press Secretary (for Peter Hayhurst) | Andy Farr |
| Clothing RepBritish Cycling Delegate | Wayne PowellWayne Powell |
| Mountain Bike Rep | Vacant |
| Under 18 Rep | Tristan Roberts |
| Web Master | David McVitie |
| Cycling Time Trial Delegate | Kelvin Milward |
The clubs President Tony Willis, and Vice Presidents, Mr S Sebire, Mrs K Biddulph, Mr R Little, Mr and Mrs B Wakefield, Mrs G McCargo and Mr B Fox, were all re elected. Regretfully two other VP's Mrs Pat Roberts and Mr Bernard Biddulph passed away during 2013.
And finally…
Bob Norton wishes to publish a correction to his report in the Chronicle on Oct 24th. As a teenager, Karen Line was a National Junior Champion at 10 miles, not just her club champion.
The Club meets every Thursday at 8.30 p.m. at the Rugby Club, Park Street, except for the first Thursday of the month where the venue is Beartown Tap. Anyone who would like to swap ideas and stories on all cycling topics is welcome to attend.
Press Report – 21st November 2013
Our weekly club runs have continued despite the weather, as have the Saturday social rides on the first and third Saturday of each month. The club runs program continues throughout the winter months – everyone is welcome, so feel free to join us one weekend – details on the website https://congletoncyclingclub.org.uk/
Club runs & Social Rides
Saturday Nov 2nd, the hard core Saturday 10am social riders were there, Bev, Rob and Stephanie Cooke (ride leader) and Kevin a very new club member. Despite the very gloomy skies and blowing leaves, the group set off North westerly and found Radnor bank muddy and slippy from the heavy rains, but all stayed upright. Winding through Goostrey and Lower Peover, past a tempting early coffee stop at Plantation garden centre, they reached the Penny Farthing Cafe in central Knutsford in good form and not yet wet. Having averaged 21kph on the outbound, all wondered if they had had a tail wind as they had noticed cross winds too. It all became clear as they remounted, after a great cafe stop of toasted teacakes and cookies and hot drinks, into a strong and constant head wind. The group followed some pretty little lanes by mills and streams, raging with water, between Over Peover and Withington Green. By now they had donned waterproofs as heavy squalls hit them, but also saw more than a few blue patches. It was a beautiful autumn day and good temperature for riding. After Catchpenny, Siddington Heath and Newsbank they were ready for Radnor banks' slippy leaves again. Trouble free except for the exertion and the head wind. The average speed had dropped to 19.5 kph by the end of 53km, arriving back at the Unicorn for 1.45pm, luckily not too damp or cold. Kevin had rushed ahead on his own as Stoke were playing at home.
Sunday Nov 10th, Remembrance Sunday. Perhaps that was what kept riders away? As it was only three that were at the Rugby Club on what was a fine though cold morning with a ground frost. Sue Blake accompanied by Bob and Georgina Norton kept away from the lanes for the first hour to avoid icy patches. They rode through Holmes Chapel, Cranage, Lach Denis and Davenham before pausing at Hartford War Memorial to witness their own remembrance ceremony, complete with a pipe band and 2 minute silence. Onward through Whitegate and Little Budworth to Cotebrook and the Shire Horse Centre for refreshments. Here they were joined by Stephen Kane, who had suffered a puncture on the way to the start. The now foursome rode back to Congleton by way of Eaton, Wettenhall, Church Minshull, and Brereton Heath for a round trip of about 55 miles.
Saturday Nov 16th saw nine riders out for the twice monthly 30 mile cafe ride. The weather was kind, fairly still and not too cold, and the autumn colours still magnificent. The riders were Bob Banner, Rob Waghorn, Bev Hambleton, Marcus Rohrmann, Jim Cook, Les Lancaster, Kevin Talbot and Georgina and Bob Norton. The chosen destination was the Snowdrop Cafe at Grasslands Garden Centre near Lower Peover, which was reached by way of Swettenham, Tewmlow, Goostrey, Lach Denis and Plumley. The return trip passed through Over Peover, Bate Mill and Lower Withington.
On Sunday Nov 17th, Jim Cook, Bob and Georgina Norton were out again, this time joined by Sue Blake and John Broadbent. The route out of Congleton was up Canal Road and towards Mow Cop but turning off for Ackers Crossing. This may have been a poor choice, because of hedge trimming operations, and sure enough by the time the group reached Scholar Green they were stopped by a puncture, the first of two that day caused by thorns. Once mobile again the group continued in damp and misty conditions through Alsager to Audley, then over Knowl Bank and through the lanes to Madeley. By this time damp mist had become drizzle, but at least it was mild riding on through Wrinehill, Checkley and Hunterston to a refreshment stop and dry out at Dagfields Craft Centre. On leaving, a more direct route home was agreed, so the route was Wybunbury, Hough, Weston, Barthomley, Radway Green, Hassall Green and Brownlow for a trip distance of about 45 miles.
2014 events and Training Plans
A number of 2014 events are now 'open' for entries, including the local 'Cheshire Cat' sportive, scheduled for the end of March – this makes a great early season goal and focus for winter training. Hopefully the 2014 event will not be cancelled due to snow!
For those of us struggling for a little motivation this winter, British Cycling is publishing a series of training plans to help riders prepare for next season's events – http://www.britishcycling.org.uk/sportivetips. Following a training plan is often a good way of maintaining motivation and fitness levels built up during the summer months.
Unfortunate injuries
Unfortunately, two members of the club have suffered injury in the last few weeks, which will keep them off their bikes for a while. Denise Hurst, who leads many of the Sunday club runs, fell on a wet level crossing in Nantwich a couple of weeks ago and has fractured her pelvis. Stephanie Cooke, who leads some of the Saturday social runs, has fallen whilst walking and fractured her ankle and heel – Stephanie is looking to borrow an exercise bike to help her rehabilitation if anyone can help? Ideally one with good levels of adjustment as her rehabilitation progresses.