Press Report – mid-Jan 2017
Megan Giglia
We start this first report of 2017 with hearty congratulations to Megan Giglia for being awarded an MBE for her exploits at the Olympic games at Rio. The Club is very proud of her achievements and it is a nice way to start the year for the Club.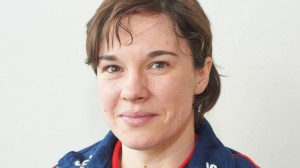 New Year's Day Walk
The Club's traditional start to the year is a walk in the Peak District. This year the walk started in wet cold weather, which was not welcoming, but 14 enjoyed a 6 mile guided walk from Dane Bridge, finishing for lunch in the Ship Inn, where we were joined by 3 others. The guide was Sam Alston, whose local knowledge and ability to read the countryside kept everyone informed. Among numerous facts, we learned about the now ruined Folly Paper Mill on the Dane, and saw what may be the oldest oak in Cheshire, estimated at over 500 years old. The route somewhat muddy and there were a lot of stiles, which were no problem to Finn the "Lurcher" who could do a standing jump over almost anything. Amelie the Labrador however relied on a lift. Thanks to Dawn McGovern for organising and Sam Alston for leading the walk.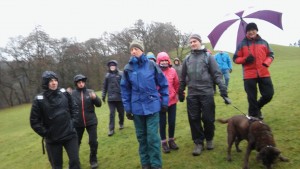 Rides
The first Club ride of the year was on Saturday January 7th when, contrary to the weather forecast 11 riders set off in quite dense and very damp fog. Riding through Astbury and up the steep ascent to Mount Pleasant (at a height of 250m), the views were negligible to non-existent. Descending from there, the group had to stop at the Radway Green level crossing to let a train pass; the rain also decided to stop at this point.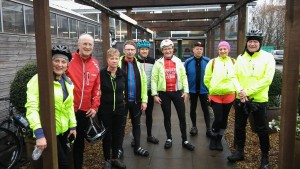 It was clear by the time they arrived at Englesea Brook Chapel car park, where they had a ten minute break to look at the interesting gravestones and recover from the hill climbing exploits. Then it was off up Snape Lane to Weston, up Slaughter Hill and via Haslington to Astbury Garden Centre for a warm and dry sit down, and a cuppa. A final mile to Unicorn completed the short 30mile route.
Next day on the Sunday run, 8 riders set off to the Lavender Barn Café in warm but slightly dull conditions. It soon turned to a fine drizzle, but spirits remained high. On arrival, they found to their relief that the heating was on, so were able to warm up and dry out some clothes. After a good meal and some massive pieces of cake, they set off home in drier weather. A diversion via Tatton Park gave them a good view of the stags, one which appeared surprisingly tame. The sun was shining as the group returned to Congleton.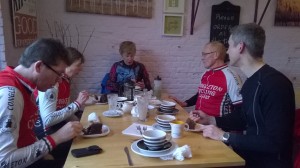 Saturday 14th – Given the heavy early morning rain it was a surprise to see 8 riders on the ride to the Venetian Marina Café, but they only got slightly wet and were not too cold. The roads were wet though, which meant they finished with dirty bikes. Ride was 45 miles on a predominately circular route.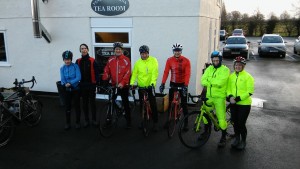 Press Report for 07th May 2017
he Club was in mourning this month with the loss of our dear friend Ken Norbury. Ken was an avid supporter of the Club and would turn out and all weathers to take professional level photographs of riders participating in our Time Trials. His cheerful support by the roadside was always a huge motivator. Our sympathies are with Lesley, Ben, Lucy and Alan. The funeral at Toft's Church near Knutsford job was well supported by Club members paying their respect to Ken and his family.
Picture of Ben Norbury going well in time trials, following his recent injury and family loss.
Time trial Summary for April and 1st week May
6th May
The club had 5 riders in the Dukinfield 50, the first Cheshire 50 mile TT of 2017, yesterday. In cool, overcast conditions with a north easterly wind they were led home by Stephen Sladin in 2 hrs 6 mins and 36 secs, a new PB. Kelvin Milward finished in 2:08:03, Lee Wood 2:13:57, Duncan Poole 2:20:51(PB) and Polly Wilding 2:34:02 (road bike). Lee and Polly were competing in their first ever 50's.
Despite the generally dry weather a couple of the events over the last month have been affected by distinctly northern icy blasts.
2nd May
A stiff and cool north easterly wind hampered riders on the way back from the turn in this week's Evening TT League event on the J2/1 at Chelford.
Ben Norbury made a comeback following a long layoff through a crash injury and family bereavement. He recorded a winning 21:33. It was like he had not been away. In second place was Philip Gleave with 22:55 and third was regular visitor Keith Dutton (Wills Wheels) in 23:06. Third best CCC rider was Steve Sladin with 23:43
The Ladies were led by Sue Blake with 28:27 from Janet Spires Alston 29:20 and Claire Thompson 29:35. The juniors were all guests from other clubs. Tobias Edwards was top with 23:29 from Matthew Braybrooke (Knutsford Tri Club) 24:32 and 13 year old Aaron Mansell (Lyme RC) 27:02.
25th April
The 10 mile TT at Gawsworth in decidedly wintery conditions. It was about 4 degrees with blustery showers.
Jack Schofield 21:30 was a fastest from Philip Gleave 22:45 (PB) and Keith Dutton 23:11 (Wills Wheels). Third club member was Mark Allen with 23:58.
Jack said he had done a 13 mile run earlier in the day! On Sunday he finished second in a Duathlon at Ludlow, breaking the course record for the 30 km bike section sandwiched between a 10 k and a 5 k run.
Best Junior was Tobias Edwards (Huddersfield Star Wheelers) for the second week running. His 23:59 beat Matthew Braybooke (Knutsford Tri club) 24:37 and James Brayford (Lyme RC) 25:18
Riding his first ever TT Jake Dooley (Coventry University) posted an excellent 26:01. Jake's father Mark was one of the clubs fast men 20 years ago!
18th April
The second event in the 2017 Evening TT league had 32 starters on a fine evening. There was a bit of a fright before the event got underway, in that there were mobile roadworks on the course doing pothole repairs. In the event no riders were stopped so there were some excellent times. Jack Schofield was quickest in 21:31, from Jon White (Pro Vision) 22:19 and George Coghlan (Janus RC) 22:33. The next best Congleton riders were Phillip Gleave in 22:55 (a PB by nearly 2 minutes) and David Farrington on the comeback trail after a nasty accident last year with 23:34. The ladies race was won by Claire Thompson in 28:40 from Sue Blake 29:00 and Wendy Mansell (Lyme RC) in her first TT with 31:52. The junior racers were all visitors. Tobias Edwards (Huddersfield Star Wheelers came top in 23:37 from Andrew Burgess (Pro Vision) 23:56 (PB) and Matthew Braybrook (Knutsford Tri Club) 25:51.
There were 3 generations of the Mansell Family (Lyme RC) competing. As well as Wendy there was Mick 25:28, their 13 year old son Aaron 26:51 and grandfather Derek 29:28.
Club Run Events
Weekend of 8th May
Sunday Run
Seven members partook in what was a distinctly hilly ride to Jackson's garden centre at Bagnall. The hills started with a climb up the Cloud, followed by an ascent to Morridge Ridge which, according to Strava, reached 28.5% gradient. Club lead emphasises this percentage as he had the ignominy of wearing out his cleats by walking. A series of further short sharp hills made the sign for the garden centre extremely welcome with a total climb of over 3500 feet before we reached the cafe stop. We decided to take the easy way back and follow the N55 cycle lane from Stoke all the way back to Congleton.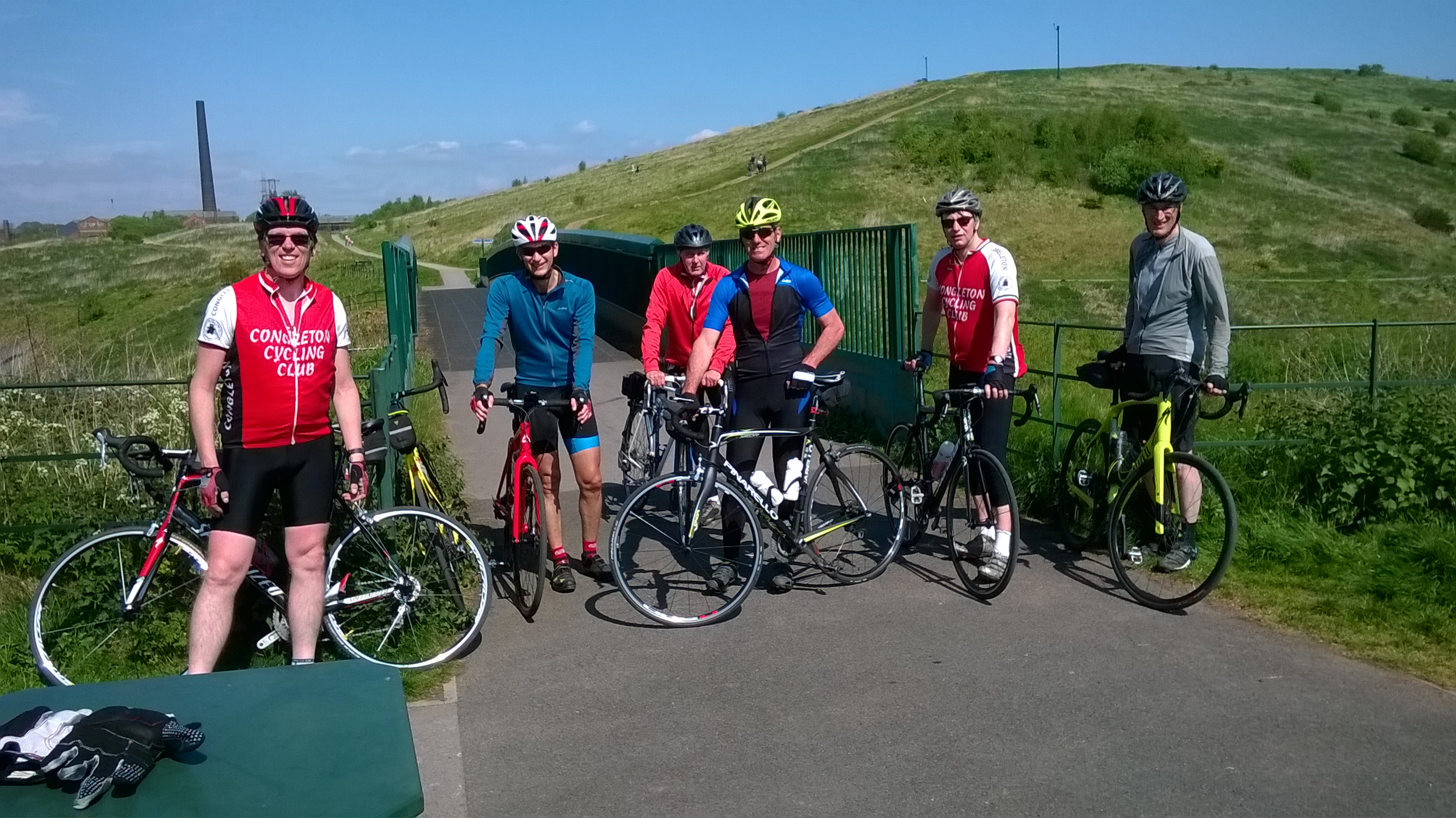 Saturday Run
Thirteen members enjoyed a 37 mile club run yesterday, with a stop after 21 miles at the Riverside Organic Farm, Whatcroft near Davenham, where we had reserved a table. On a warm day you can sit outside but it was not so warm again. Lovely tail wind on the way out. Instead we went via Bradwall and Sandbach instead of Middlewich, because of railway bridge works at Cledford.It was a circular ride returning through Lach Denis and Goostrey. Two are missing from the photo, as they did not stop at the café.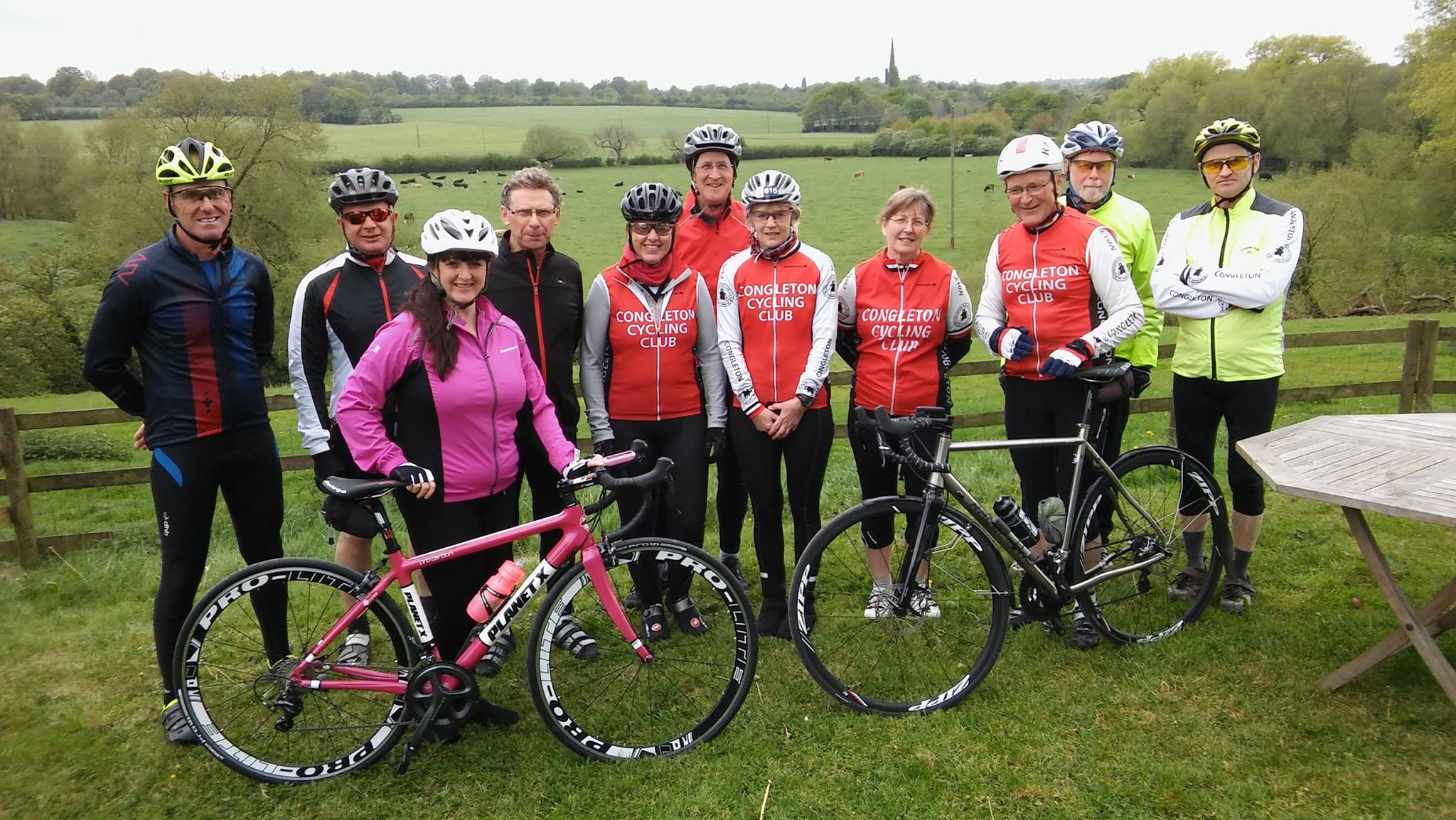 Weekend of April 30th
Sunday Run
Thirteen of us turned up at the rugby club for a trip to Bunbury. Excellent weather, dry and warm, and even better, we set off with a strong tailwind for the first half of the ride. After we stopped at the cafe the group got whisked home due to strong tail wind. Tilly's was pretty busy but we had a reserved table and the drinks and food arrived in remarkably quick time. One got back from the vet so that made twelve and one more joined for the trip home, back to thirteen. Now the same weather was not so excellent because we were heading into a strong headwind. We went slightly further than planned, probably about 104k, because a bridge was closed near Middlewich.
Saturday Run
9 keen riders set off on a hilly ride yesterday, in overcast cool dry weather. Lots of hills, including Bosley Cloud, Langley, Coalpit Lane, Kerridge, under White Nancy, to struggle up, until a final length of canal delivered us to Clarence Mill. Cafe did us proud, but the reservation was essential.
A few more hills out of Prestbury, Birtles and then past Redesmere towards Lower Withington, Swettenham and then home.
Even with a few punctures and gear problems we were back in Congleton around 3pm.
A very ride but enjoyed by all.
Weekend of April 23rd
Saturday
12 riders set off for the Whitegate Way Station Cafe in bright sunshine. There was a bit of a headwind but not enough to dampen our spirits. The cafe was slightly put out by our number and gave us a card with their phone number for future use. Perhaps it was because Jon Horne joined us there, boosting the numbers? It was warm enough to sit outside, though the breeze made it better to sit in the sun than in the shade. We returned along a dry Whitegate Way and, having managed to navigate the Middlewich housing estate without losing anybody, arrived back in Congleton is good style.
Weekend of April 17
Sunday
Thirteen riders set off in sunny but cool weather. The original destination should have been the Radway Green Garden Centre, but they were unable to accommodate us. We decided instead to go to the Astbury Garden Centre, which was on our way back. There was a minor spill in Sandbach, but otherwise it was uneventful. Some riders split off before we reached the Garden Centre or didn't stop, but nine were met by Bob, Jon, Dawn and Richard. After the usual refreshments and photo the group went their separate way. A good day all round.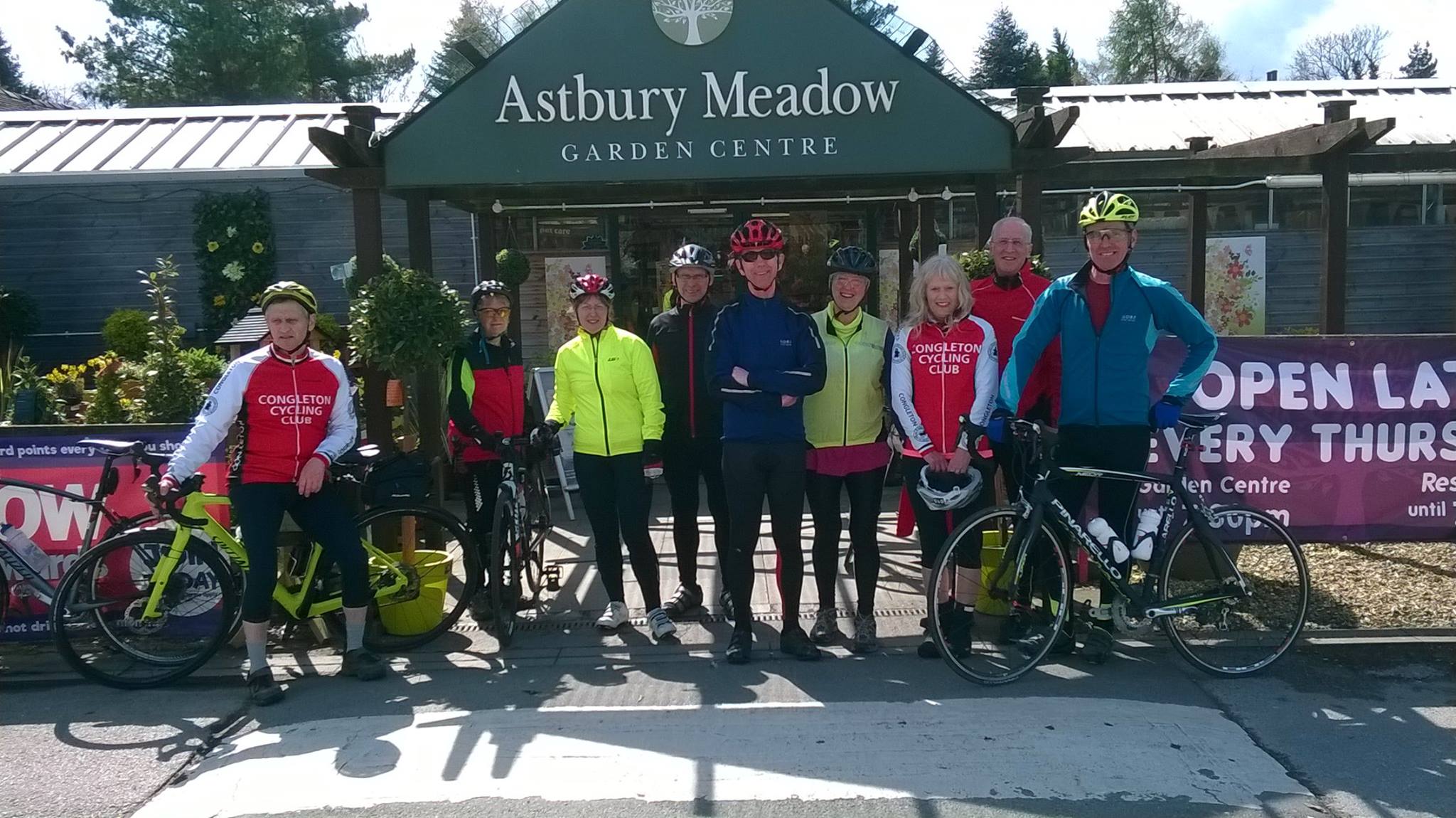 Audax ride
The club had about 60 entries for its Hawkstone (135km) and Ironbridge (207 km) Audax rides on Easter Sunday. There were a lot of non-starters, probably put off by the weather forecast. Thankfully this was proved wrong, with most getting back in the dry. A stiff south westerly wind was behind the riders for the last 40 miles. It was good day out for all.
One Ironbridge rider had ridden from Sheffield to Congleton that morning, setting off at 3 a.m. for the 8 a.m. start. He was planning to ride back again after the event!
No photo's on the rides (unless anyone else has some), but these were taken at the HQ. Thanks to Steve Dawson for organizing and the Georgina and Lesley for doing the very welcome refreshments.
Weekend of April 9th
Sunday
The mercury topped 20 degrees again today which tempted eleven riders to start the Sunday Club Run. Before long though we were down to 9. An unfortunate "coming together" of two riders left one with bad gravel rash and another with a broken seat stay, requiring a rescue.
This, and a niggling head wind meant we were a bit late getting to the Lockside Café at Grindley Brook near Whitchurch, but we did get there via Barbridge, Wrenbury and No Mans Heath.
The headwind turned tail wind on the way home, so the return via Ash, Audlem and Alsager was easier. The ride was 74 miles.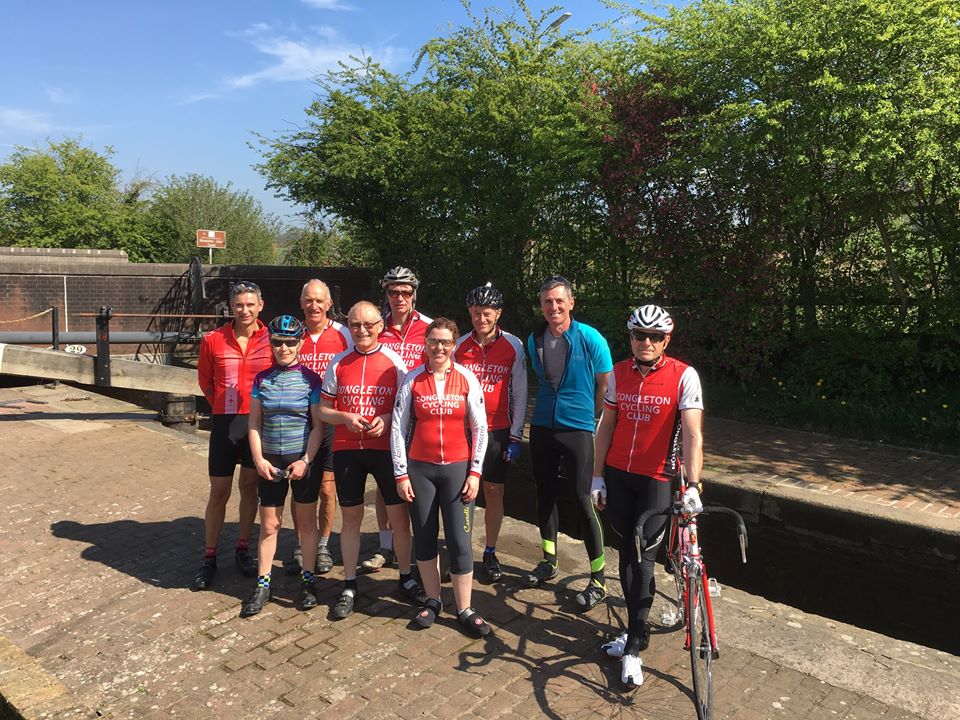 Saturday
What a great day. The Saturday Club Run to Cudmore Fisheries enjoyed some splendid weather. A cool start but up to 20 degree by lunchtime. The ride was 42 miles and 16 riders took part. There were a few climbs between Madeley, and Cudmore via Baldwin's Gate, but no complaints about the route. The return was via Keele and Alsagers Bank to reach the Cheshire Plain again at Audley.
The photos were all take at the Cudmore Fishing Lakes, near Whitmore.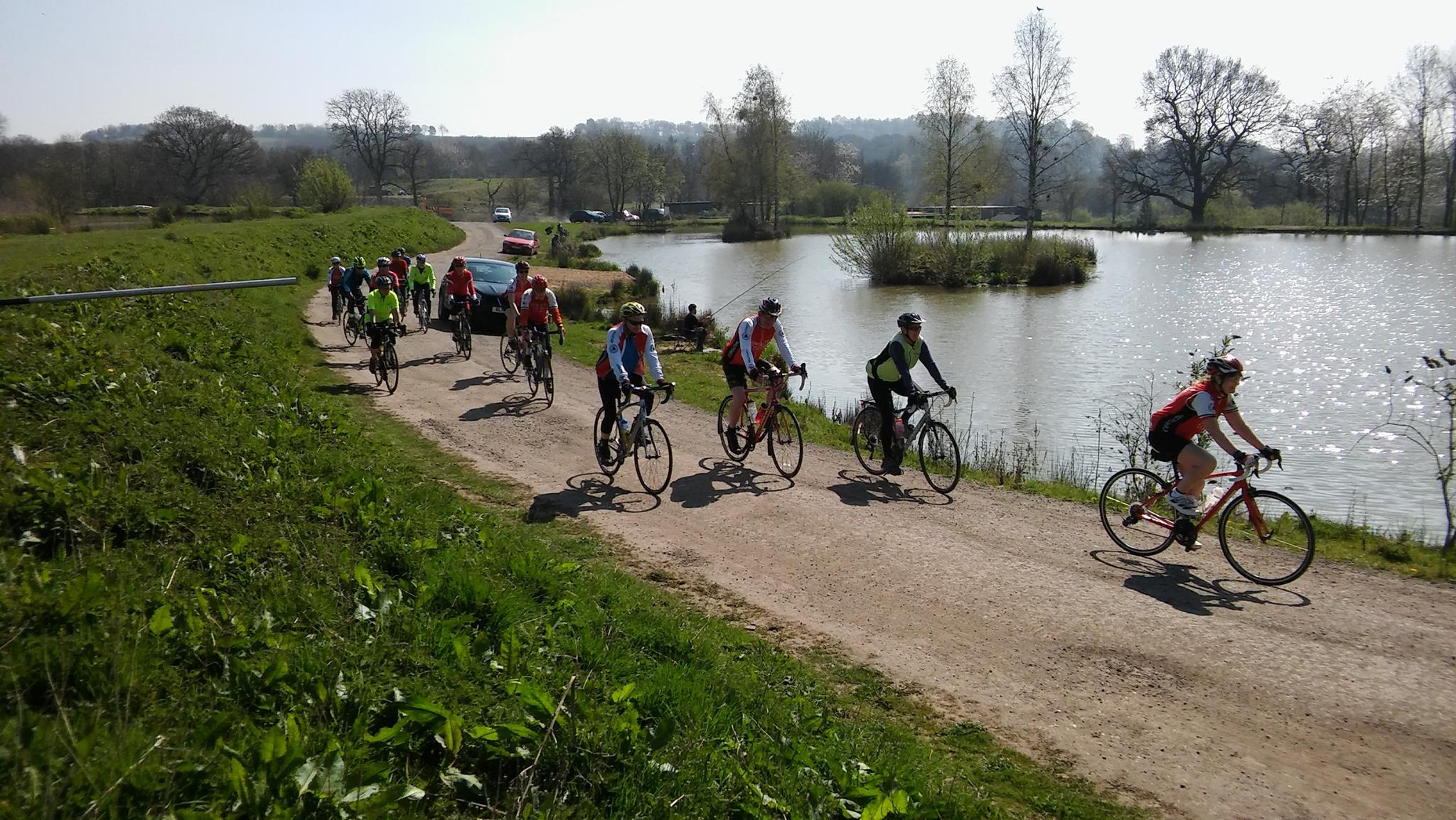 Weekend of April 2nd
Sunday
A grand total of eleven riders set off for Stoneyford Cottage Gardens. We travelled out through Twemlow, Brine Fields, Little Leigh and up to Acton Bridge. From there a few miles along the lanes to the nursery and tea room. Fortunately, we'd warned them of our arrival so they'd reserved a table for us. They were also happy to provide beans on toast and bacon butties for those who wanted them. Hunger satisfied, we set off back home. Despite comments from certain quarters, the leaders did know where they were going, so we soon reached Church Minshull then the usual way back to Congleton.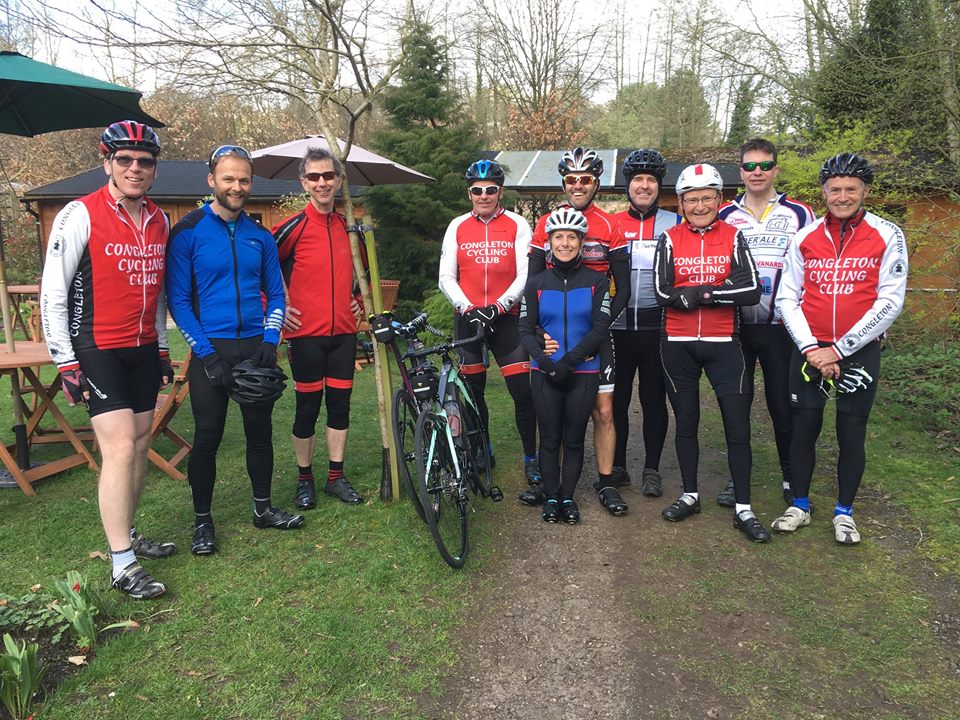 Seven people turned up for the first of the medium length, steady Sunday rides. It was a perfect spring day and the group rode via Rudyard and Cheddleton for the lunch stop at a very busy Tittesworth Reservoir where it was nice to be able to sit outside in the sunshine for the first time this year. Afterwards 2 riders decided to take what they hoped would be an easier route home and the rest returned via Timbersbrook.
Other News
On St George's Day, some of the club helped out at the Congleton Town Council St George's Day Triathlon. The field of about 40 (some in teams) was headed by the Mayor Cllr. David Brown, who did the whole event solo. Other competitors were town councillors, town hall staff and friends. The objective was to promote physical activity in the town.
The club colours were worn by David Hurst in the event, whilst another 15 club volunteers officiated on the bike leg. Megan Giglia, club member and Paralympic Gold medallist from the 2016 Rio Paralympics was on hand the encourage Mayor Brown around the final lap pf the run, and to assist with the awards ceremony.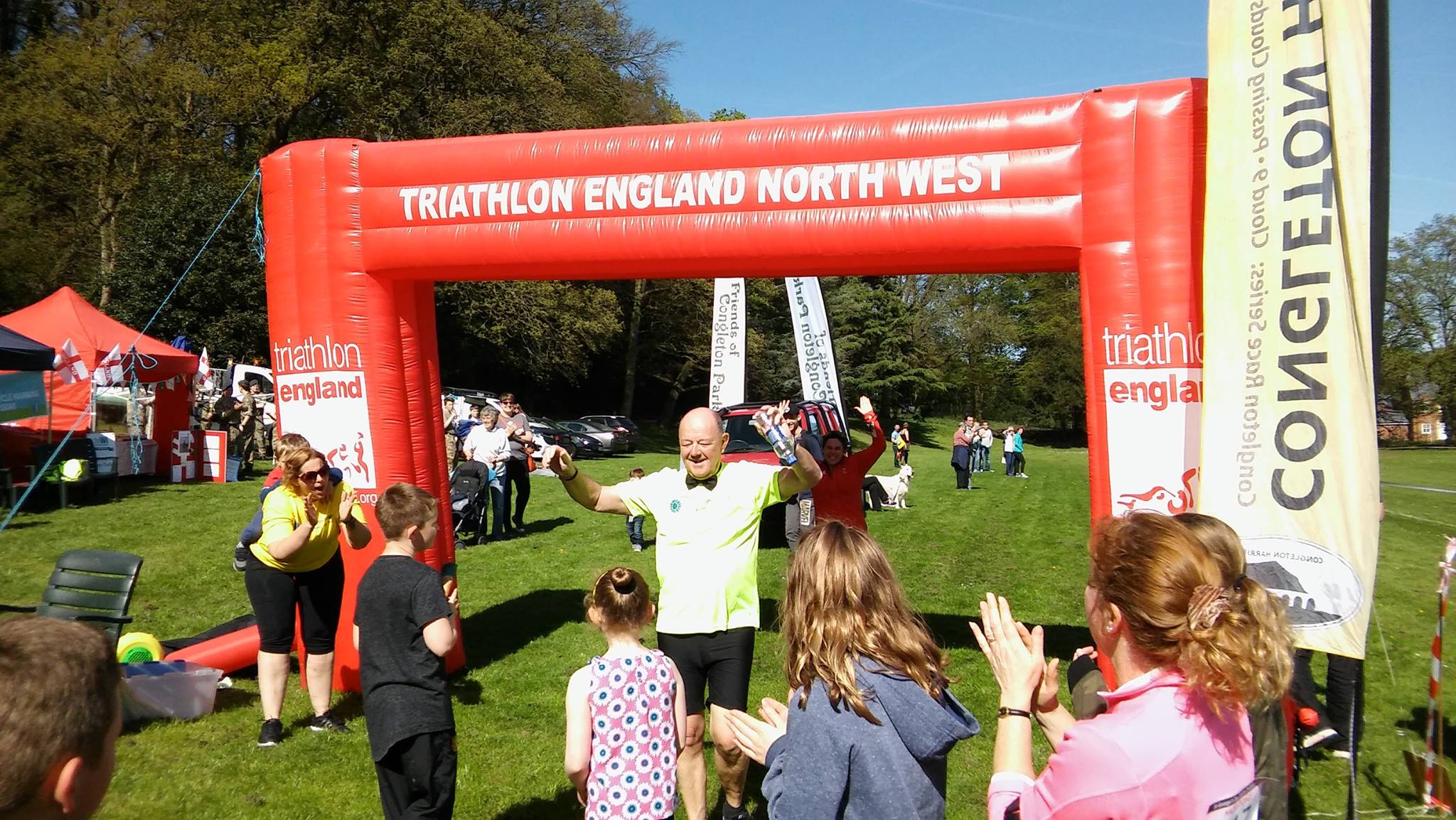 Last week, Stephanie Cooke gave a great presentation last night about her tour of Hebridean Island hopping tour in 2016. This was no 5 star luxury tour; it was wild camping on a budget of £5 per day to raise money for Macmillan Cancer Research and a hospice in Ludlow. Stephanie had lots of interesting stories about characters she met along the way, and lots of stunning photographs. For the statisticians, she visited 20 islands, and hiked to the high points on almost all of them, cycled 650 miles and raised £1500. Thanks Steph, your hard work and endeavour were appreciated.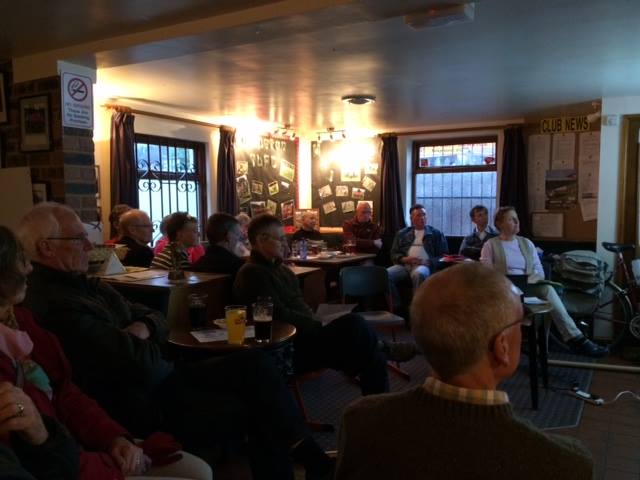 Roy and Stephen are planning a ride round the Cevennes in France in late August. If anyone is interested in joining, contact one of the above. They are following a route made famous by Robert Louis Stevenson's book in his book, Travels with a Donkey.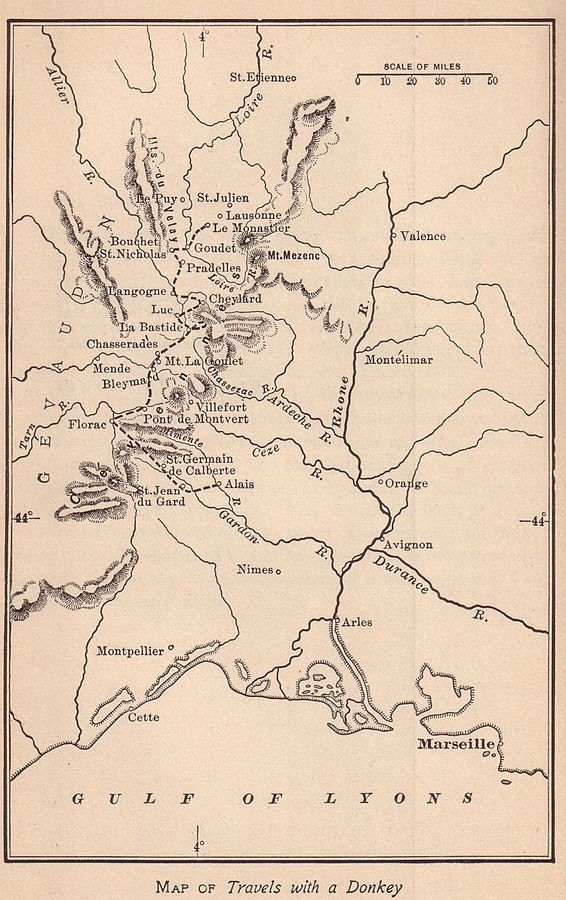 Press Report for June 2017
Week of 5th to 11th June
A great turnout for last night's club 10 mile time trial, on the Holmes Chapel Road. Calm warm conditions helped many to personal or seasons best times.
There were three rides inside 22 minutes, headed by Ben Norbury with 21:07, from Joseph Dobson (Manchester Bicycle Club) 21:25 and John Backhouse (Maxxis 4 RT) 21:50. Second and third place in the club TT league event were Phillip Gleave 22:10 and Stephen Sladin 23:05 (both PB's).
Best lady was Maggie McPhillips (Stockport Clarion CC) in 27:34 from Aleisha Mellor (Lyme RC/CCC) 27:59 and Diana Bite (Unattached) 28:13. The CCC league event was topped by Sue Blake in 28:17 from Claire Thompson 28:56 and Polly Wilding 28:57.
Best junior was Matthew Braybrooke (Knutsford Tri Club) with 24:49. His warm up was unusual. He went for a run! Aleisha Mellor was next with 13 year old Tom Lewis recording an excellent 32:37 in his first 10.
The Saturday Club run had early morning rain and wind and with the threat of more, it must have deterred a few as only 5 turned out for the club run to the Shire Horse Centre at Cotebrook. It never rained on the ride which went out through Winsford and Wettenhall and returned with a mainly tailwind through Calvely and Church Minshull, making 48 miles at a good pace.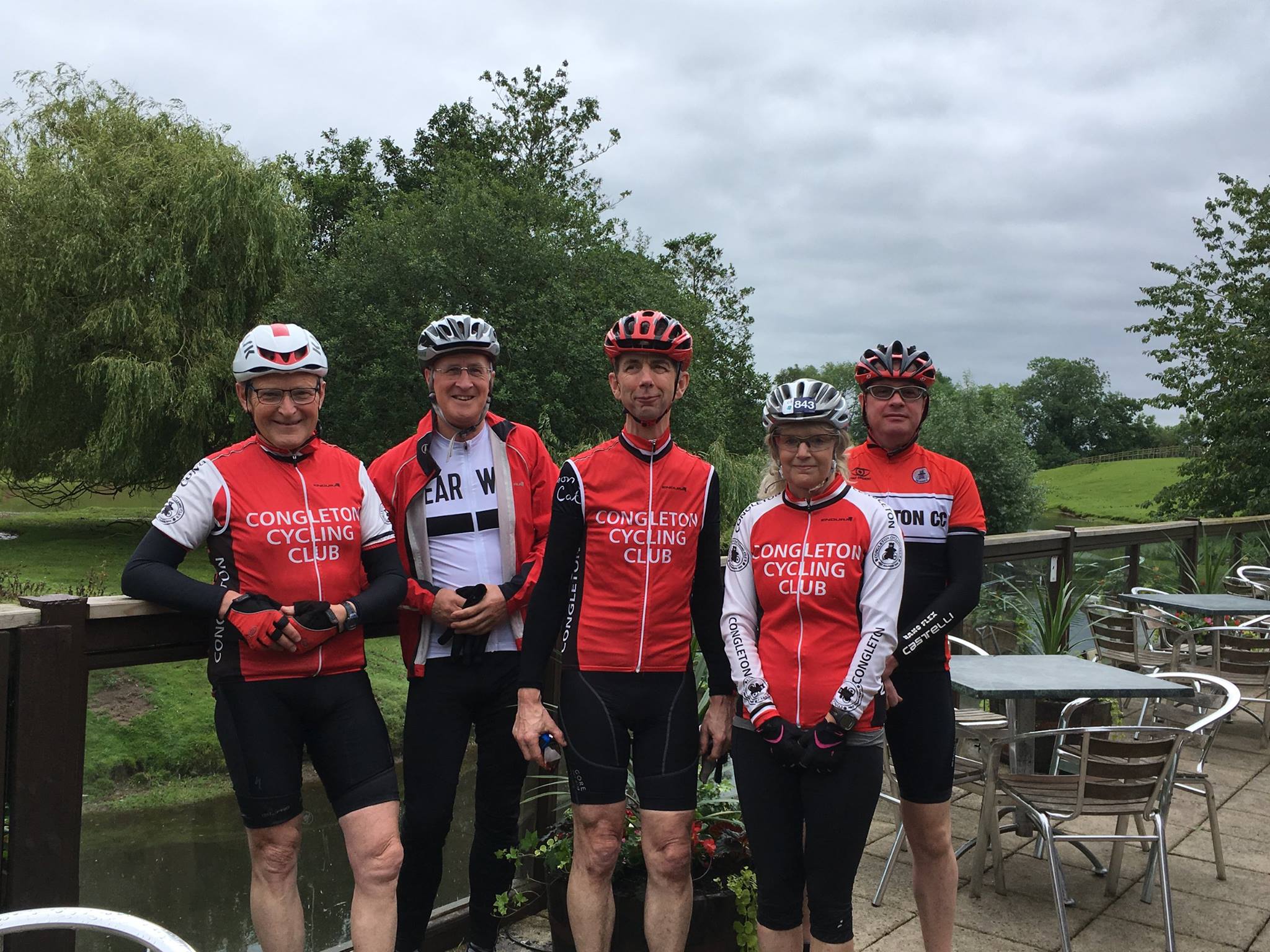 Week of 12th to 18th June
Whilst our club Audax event was taking place three club members were out on their own impromptu club rides. Two people headed off to Audlem, whereas the other rode out to Cumberbach.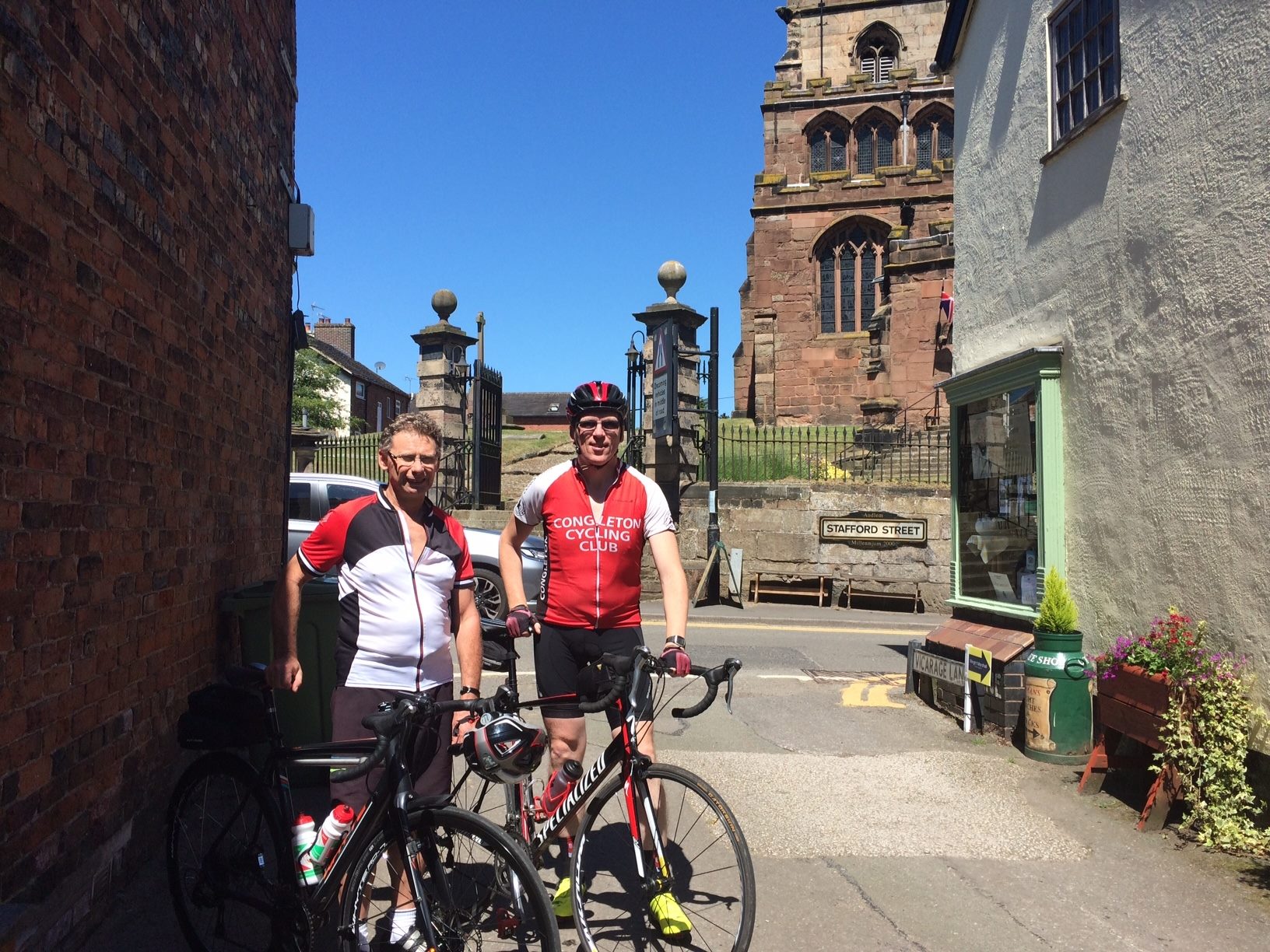 To the Audax event, it was forecasted to be an extremely hot day and they were not wrong. This was a tough event, giving riders three choices, these being, firstly, the 'Hills & Plains of Cheshire' 210kms, or secondly, 'Just the Hills of Cheshire' 110kms, or thirdly, 'Just the Plains of Cheshire' 118kms.
There were thirty five entrants in total, four of whom were from CCC Jill, John and Sarah Jervis and Jim Cook. Steve Dawson had ridden a recce of all the routes before the event took place and it was a good thing he did, as there were some changes needed at Bucklow Hill due to the new bypass being closed.
Eleven people chose to attempt the 'Hills & Plains of Cheshire' and nine 'Just the Hills'. The route took them up over the 'Cloud' then onto Algreave and through Wildboarclough before heading for the notorious climb known as 'Pyms Chair' near the Goyt Valley, which on a day like it was, was made even tougher by the heat. Thirteen people entered 'Just the Plains' which took them through the scenic Tatton Park. Everyone returned safely and refreshments were offered to all on their return. A huge thank you goes to Steve for his organisation of the event and thank you to Lesley Hart and Denise who helped on the day.
On the Saturday at the M & DTTA 50 mile Time Trial Championship, Ben Norbury retained the Championship at a time of 1 hr 55 mins 25 secs, on a very hot and difficult day. He was supported by 7 other club riders. Kelvin Milward 2:4:29. Mike Jones 2:7:52, Lee Wood 2:15:59, Steve Sladin 2:16: 14, Duncan Poole 2:25:15 and Polly Wilding 2:43:55.
Well done to all on a day when 41 riders either did not start or did not finish.
Ben was actually 2nd fastest in the open event which was won by Charles Taylor (Team Bottrill) in 1:51:36.
Meanwhile at a more sedate pace, the Saturday Club run went to the Snowdrop Cafe via Brereton, Middlewich and Byley. Everyone sat inside as it was too hot in the sun. Returning via Goostrey and Swettenham.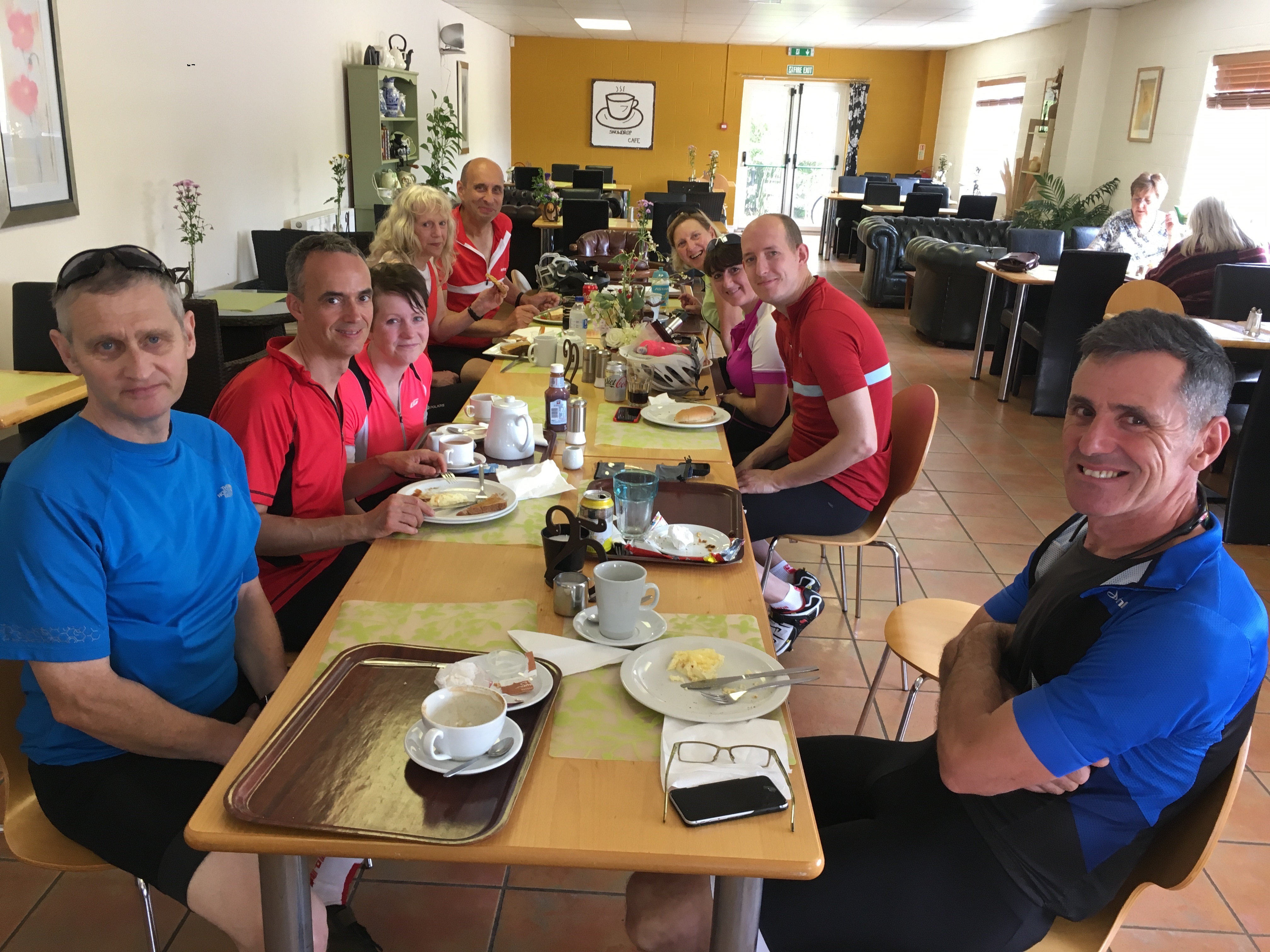 Events of week 19th to 27th
Never mind Glastonbury – Congleton Cycling Club? was at the Dent Music Festival this weekend. It was an excuse for a few scenic miles and a few more beers. Most used train and bike to get there, either via Leeds or Lancaster, and then went for a ride out on the Saturday. The photo shows some of them on the descent that reached a scary 26% on the road from Ingleton to Dent. There were a more than a few squeaky brakes on the way down.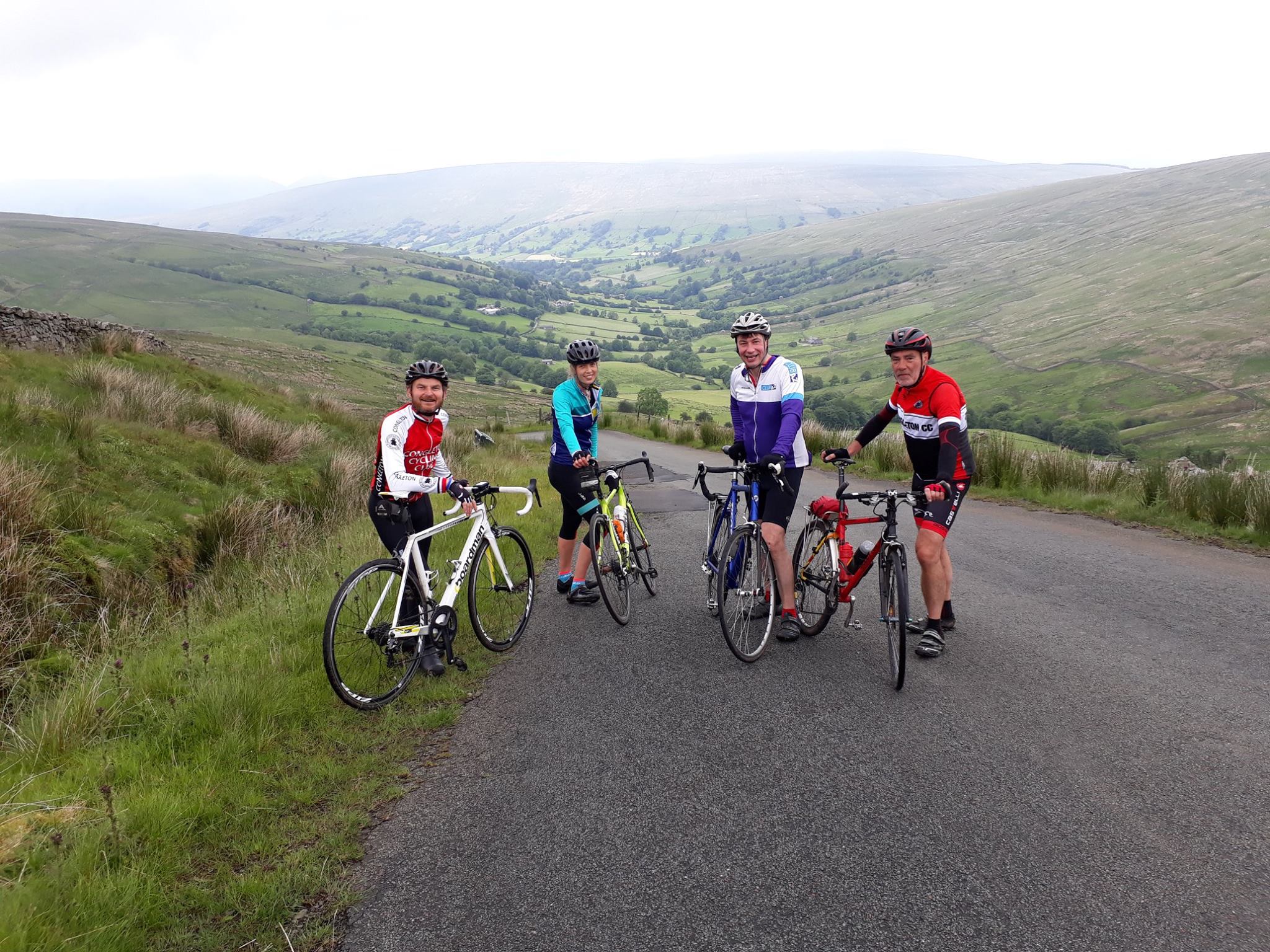 Other Club members participated in the usual Saturday and Sunday runs. The Sunday run went to Wales. OK so it was only just Wales! We rode to Holt to enjoy a refreshment stop at Cleopatra's. There were nine out on the ride. One surprised us by saying that he had never been to Wales before. The weather was better than forecast with rain jackets only necessary for about half an hour of the 82 mile ride. A good ride and the cafe stop was excellent.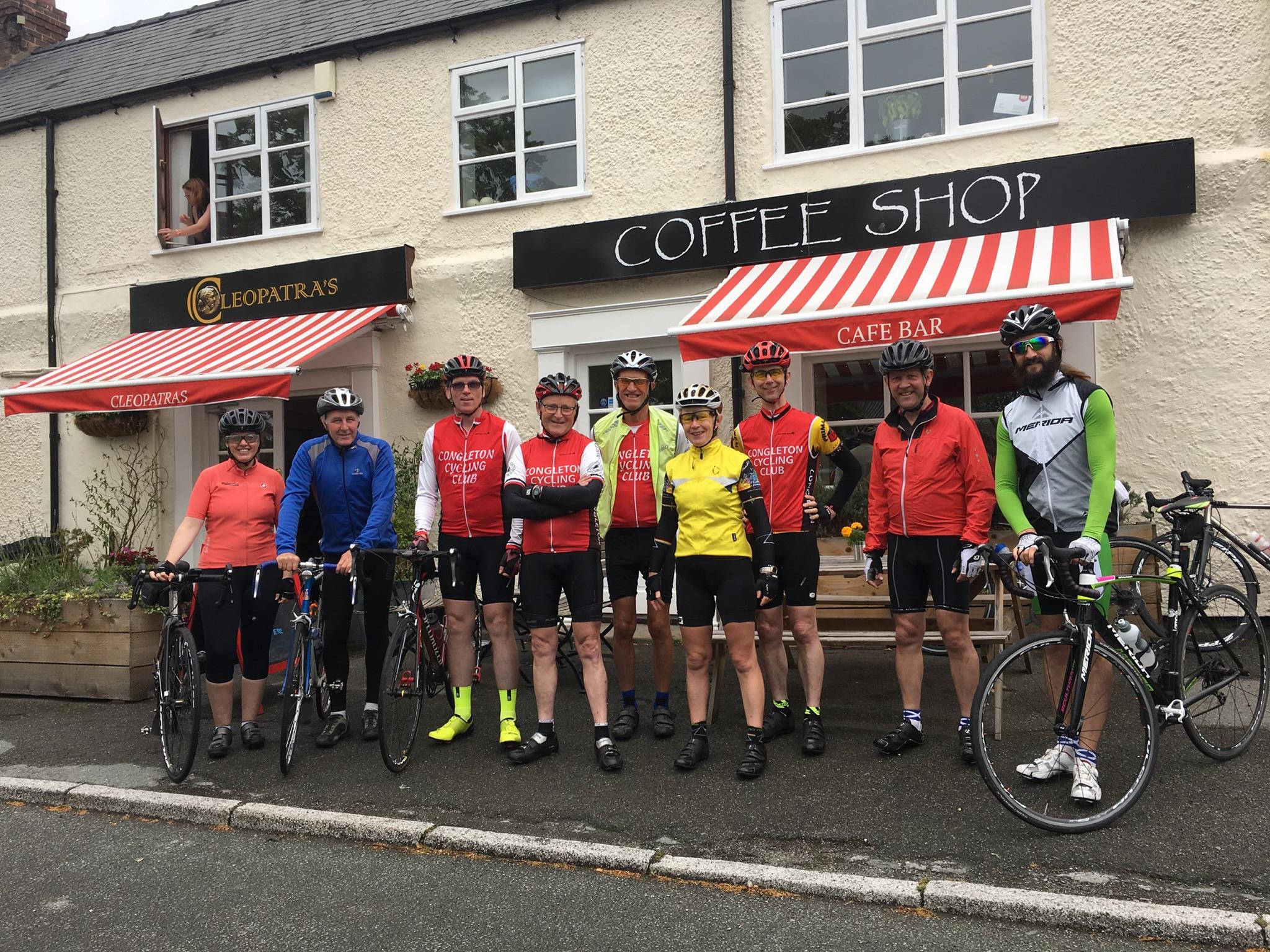 For the Saturday Run, eleven riders set off for The Weaver Vale Garden Centre, near Northwich. We had a good lunch at the garden centre (although there were a few muttering about breakfast items not being available). For the return we had a mile or so along busy roads, then over a couple of footbridges to join the Weaver Way. This took us to Davenham, from where it was a familiar route back home.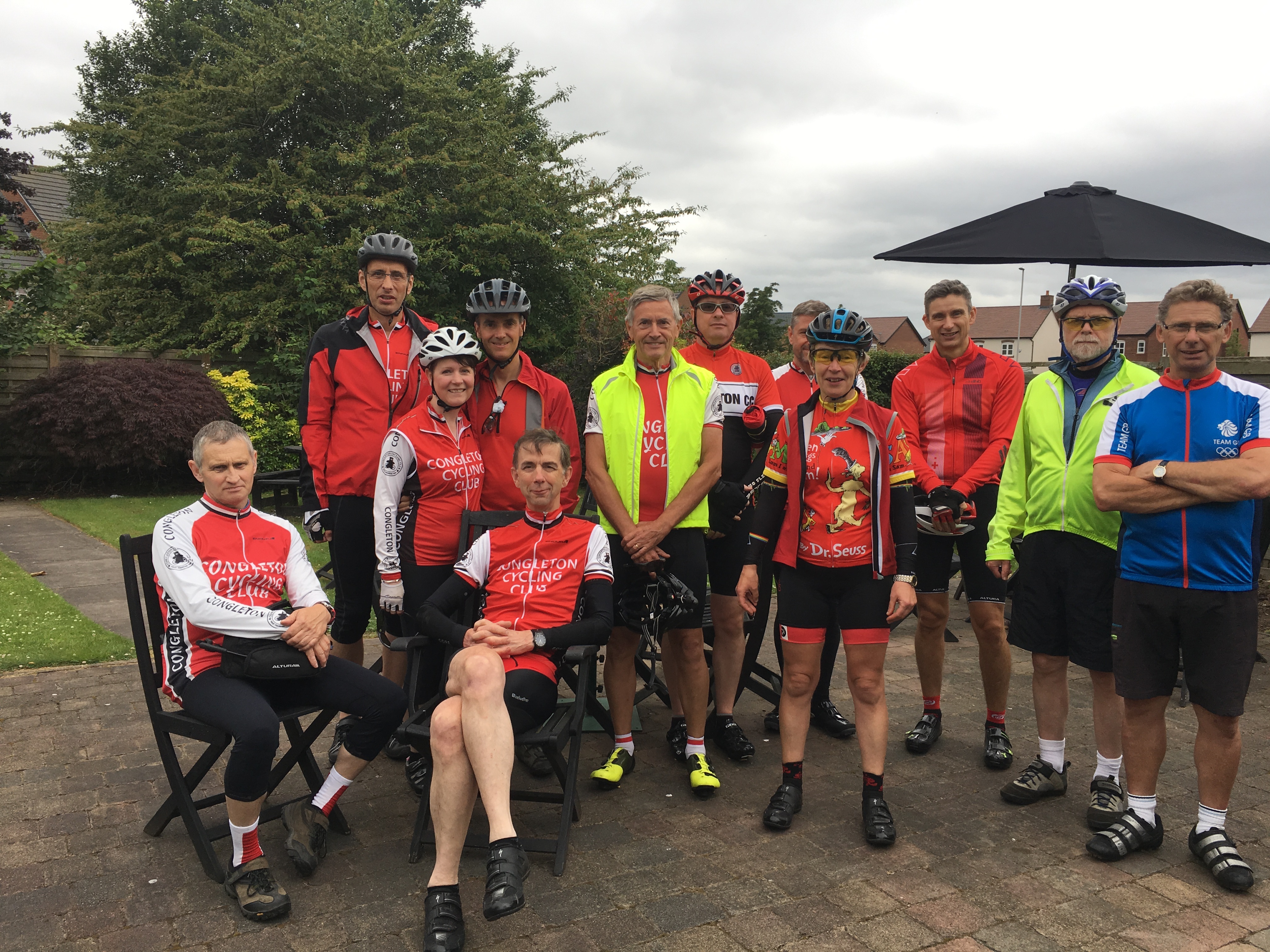 The Club 10 time trial held on the 20th June, at Gawsworth produced a crop of fast times.
Ben Norbury (20:48) just won from Joseph Dobson (20:51) with Kris Bowditch (Lyme R.C.) 21:21 in third spot.
In the Congleton League event Philip Gleave was second in 22:03 from Mark Allen 22:49 and Stephen Sladin 22:50 (all PB's). The best female was Diana Bite (no club) with 27:51 with Polly Wilding in top spot for Congleton in 28:15 (PB) from Sue Blake (28:35) and Lesley Norbury at 31:43.

(Photo – Christian Fox)
Press Report – mid-Sep 2017
Rides
It was a grey, dry and cool start for an August day on the 19th. Four members took a 20 mile route to The Rookery at Ettiley Heath. Unfortunately, while they ate, the rain started and they came out to sopping bikes. Not all of them had jackets but they managed to stay warm enough on the 10 miles home and overall it was not too wet.
The following day dawned bright and sunny when eight members set out for Lavender Barn. Some of the lanes were very muddy after yesterday's rain but, despite this, they reached Lavender Barn in good time. Lunch was served very quickly and eaten in the sunshine. The only problem on the way home was a very large puddle, which turned out to be deeper than one rider anticipated and he got an unexpected soaking when he rode through at speed.
It was a nice sunny day the following Saturday when eleven members travelled to the Pickle Jar bistro on the banks of the Weaver near Northwich, although it wasn't quite warm enough for everybody to sit outside for lunch. On the way home the Withington Wheelers 10 time trial was in progress at Lower Withington, so for a while they were passed by a succession of human missiles.
Eleven riders set off on the Sunday club ride to Fordhall Farm at Market Drayton on what turned out to be a rather eventful outing. One of their number had a gear problem and a call to Fordhall to reserve a table for lunch revealed that only Sunday lunches were available. Later, the same member suffered a blowout which needed a patch. During this stop, however, the group received a call back from Fordhall to say that their new Graze Cabin would be open, so they continued on. But 4 miles from their destination, a seemingly innocuous puddle of mucky water (possibly the only puddle in the whole of Shropshire, Staffordshire and Cheshire) brought down one of the group. Bruised and covered in muddy puddle water, he bravely decided to continue. His reward was a delicious alfresco lunch.
For the first Saturday ride of September, on the 02nd, eight riders enjoyed an uneventful ride to Minshull's Garden Centre.
On Sunday, despite the dire weather predictions earlier in the week, ten people set off for the Cheddleton Tea Rooms. The weather along the top was considered to be like the Mistral, except slightly cooler according to one of our European touring cyclists. After lunch and a few more sharp hills, they headed back via Endon and Lask Edge, having covered approximately fifty miles with fourteen hundred metres of climbing.
The next Saturday was definitely autumnal, so it was no surprise that only two riders turned up, then bailed out half way due to the foul weather.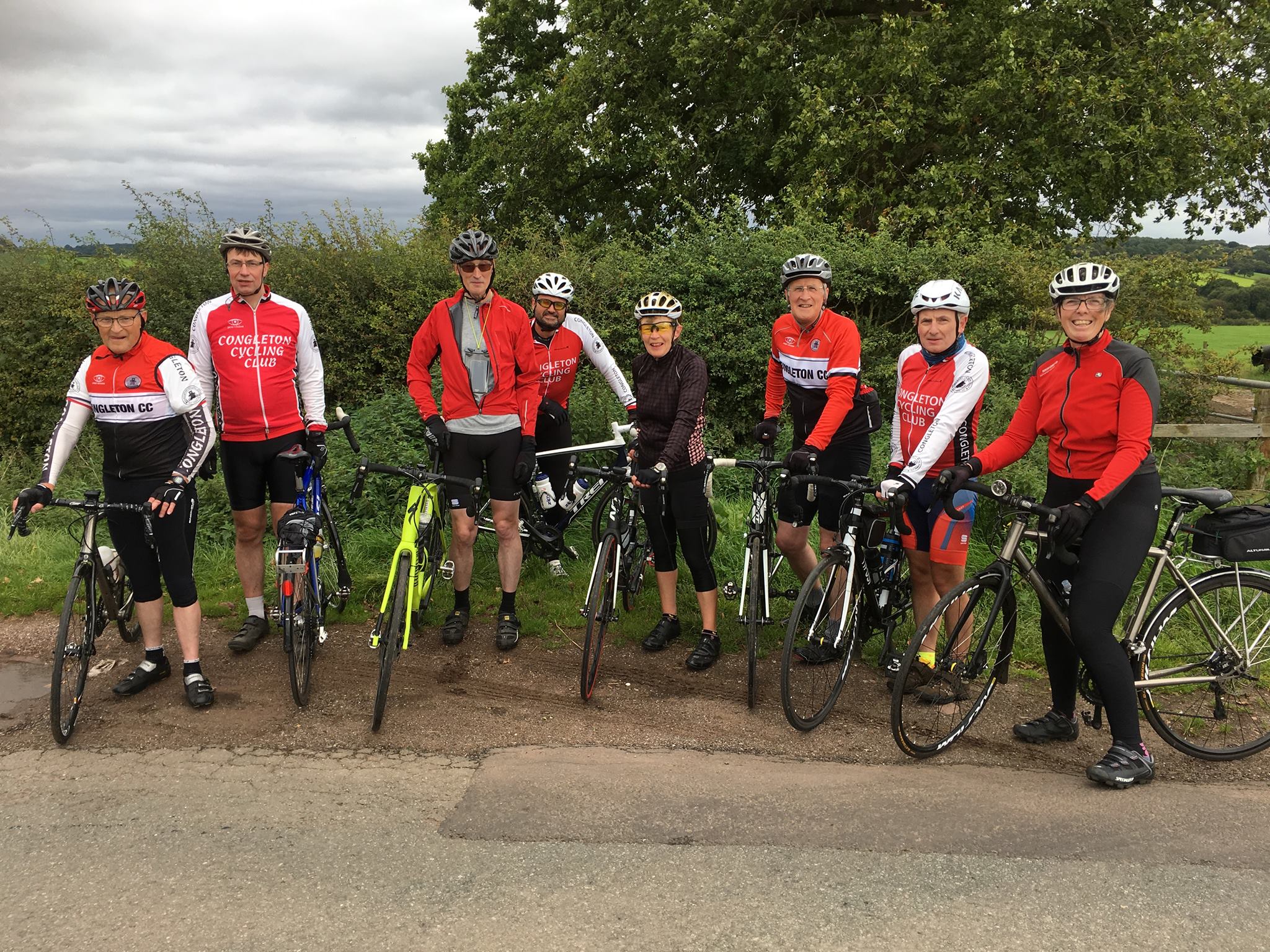 But the rain blew away overnight, so the two Sunday rides had much better conditions, though the weatherman used all the following words in the morning – force, gale, today, winds, rain. The weather turned out cool and blustery for the Sunday Steady Social Ride to the Fairways Garden Centre at Sutton, though the three riders did shorten the return ride slightly, missing the rain which arrived not long after they got back. Ten riders embarked on the normal Sunday ride, to Fletchers Garden Centre at Eccleshall. The group split into two, three members taking a less hilly route than the one advertised to rendezvous with the rest in Eccleshall. For them the hills came thick and fast or, perhaps, steep and slow, so they had climbed over 1000 metres by the time they stopped for lunch. After very welcome refreshments, the whole group set off for the trip back together and were relieved to complete the ride in the dry, despite one puncture.
Competition
On the competitive side, with autumn upon us, the last Club event was the 2-Up 10 mile Time Trial on the 15th August. Unfortunately, this turned into a 5 because of roadworks. It's always their last evening TT of the season and, though treated as a fun event, there were still some fast times.
The Pro Vision pair of Jon White and Mark Wood recorded 10:56 ahead of Stephen Sladin and Andrew Burgess (Pro Vision) 11:46 and Sam Alston riding with daughter Charli (Racing Chance) 12:12. Sam and Charli are pictured at the start. Seven riders did solo rides, of which Philip Gleave was quickest in 10:55.
But this was not the last event of the season in the area. One the 20th August there were some great results for the club in the West Cheshire 12-hour TT, which incorporated the Manchester and District Time Trail Association 12 hour Championship. Ben Norbury was second with 279 miles, only about a mile behind the winner Victor Chetta (Mid Shropshire Wheelers). Ben is the M & D Champion. Steve Sladin also put in a heroic ride just 5 days after crashing in last Tuesdays club evening TT. Suffering from bad bruising and grazing he finished the 12 in some discomfort, with around 227 miles. There were 18 passages though three-way traffic controls on the course and, but for these, distances would have been bigger. Ben might have threatened Neil Skellern's club record of 286.45 miles set in 2011. Neil was on Ben's support crew on Sunday.
Elsewhere on Sunday, Sam Alston finished 4th in his age group in the TLI National Road Race Championships on the Holt/Farndon Circuit. Sam is pictured in the race. He said "Another attack that didn't get anywhere!!! Bet I win the skinny leg competition!"
Finally, the club had 4 riders in the Withington Wheelers 10 on the little used J6/10 course at Lower Withington on the 26th. Adrian Pennington was there and got these pictures. In the order shown they were Duncan Poole, Kelvin Milward, Stephen Sladin and Paul Dentith.
Press Report – November 2017
Round up of Congleton Cycle Club Events for November (photos still to be added – sorry)
The inclement weather conditions resulted in a change in destination from a newly scouted out cafe at Dingle Farm near Warrington, to the closer High Leigh Garden Centre as the preferred choice for the Club Run on the 26th November. Despite the change to a more familiar cafe, a convoluted route with some less frequented roads by the Club was plotted with the new A556 bypass allowing us to now cross safely at Rostherne. 5 members braved the cold and occasionally wet conditions. Conditions underfoot were as bad as any of us could recount on Club runs we have previously been on, with a number of roads being turned into mini lakes and each of us having to take turns to get through the standing water at a number of places. Despite soggy conditions, spirits were not dampened when we arrived at High Legh, though it was hard to get going again with soggy gloves and jackets after the stop. We returned via Higher Wincham and Plumley before traversing more familiar territory at Boots Green and Goostrey. The delights of Dingle Farm can wait for another day when it is a bit warmer and drier.
Five riders set out on the Sunday Run on the 19th, on what was a cold and frosty morning. Despite initial worries, the roads and lanes were free of ice, and the riders soon warmed up as they rode along. They were all more than ready for lunch when the group reached Old Ma's at Gatesheath, where they joined a fair few cyclists who were already there. As usual the service was prompt and the food excellent. Feeling pleasantly full, group reluctantly ventured outside to start the journey home. Although it felt cold at first after the warmth of the cafe, the rider soon had to stop and take layers off or at least undo some zips. A good ride with some lovely sunshine and some great views.
On Saturday 18th, the Club undertook a 35 mile circuit and stopped at Congleton Garden Centre for refreshment. Oatcakes proved most popular, although 4 of the original 11 riders had headed for home rather than having a café stop. No muddy bikes this week which was a bonus. Great morning out enjoyed by all with the Cheshire lanes and autumnal colours providing spectacular views
On the 13th, Sunday's club run was on some very wet and muddy roads. Apologies were given to one member, who was out on a shiny and new carbon bike. Some of the tarmac resembled farm tracks. The 55 mile route went via Alsager, Audley, Woore and Loggerheads. As it was Remembrance Sunday, we stopped to observe a 2 minute silence at 11:00am. We stopped again soon afterwards for somewhat longer, to repair a puncture. The route home was via the Maer Hills through Madeley, Barthomley and Alsager again. We thought of the BBC 'Children in Need' Rickshaw riders who were heading all day into the same cold north westerly that bothered us. Their route passed by Congleton on the way to Salford! Indeed some Club Members who did not partake in the run, did meet up with the charity ride to offer encouragement.
On the 5th November, seven members met outside the Rugby Club for the Sunday club ride. The destination was the 'Priest House Cafe', at Audlem. It was a cold and damp start to the day; however, the weather did improve.
The usual route was taken out to Alsager, Betley, Wrinehill and over Baa Hill to Norton-in-the-Hales before reaching Audlem for lunch. We passed through three counties, Cheshire, Staffordshire and Shropshire. The welcome at the 'Priest House' was as warm as ever and we even found our tables, which had been reserved, were right by the lit wood burner. The riders had earned the food and hot drinks.
On the way home the sun did come out and it was slightly warmer. One member had a mechanical but he did manage to ride back. Once nearer to Congleton, people started to leave the group to return home.
A second Sunday ride, was held and eight members met in Madeley for the once a month steady Sunday social ride. The route was a 45 mile circular route around undulating, quiet country lanes. The weather started off a bit damp and miserable with a couple of stops to take off raincoats, only to have to stop again to put them back on. The roads were flooded in places and muddy and the stretch on the disused railway line was full of puddles, so we arrived at the Red Lion Farm lunch stop in quite a mucky state. Luckily they have a tiled floor and we all had a good snack and cake. The sun and blue sky were out for the ride back.
Juts a single ride on the Saturday and only three members whom hadn't seen an accurate weather forecast beforehand – set off from The Unicorn, before even leaving the outskirts of Congleton, the purple rain clouds were drenching the trio, and two of the group were decidedly underdressed. We valiantly tackled the hills and we really appreciated the Clarence Mill cafe at noon. Porridge, omelette, beans and eggs were had.
Group took the opportunity to visit the newish charity cycle gear shop at Prestbury and continued home via Siddington with cold winds, and looked forward to hot showers and to power wash their bikes.
Outside of the Club Runs the Club held a general knowledge quiz at the Rugby Club. The quiz focused on the formative years of the quizmaster and those that were teenagers in the '80s seemed to score particularly well.
A number of members also went along to hear the story of Tommy Godwin at Alsager Library. Tommy a local man from Stoke, who in 1939 set an incredible distance record of 75000 miles in one year, this record was only surpassed in the last couple of years
To up and coming events, the Club was selling tickets for the Christmas Prize Dinner at Astbury Golf Club for the 9th December.