Every year the club competes with Macclesfield Wheelers over a two leg time trial in remembrance of Karl Austin, who was killed in a TT accident in 2011. Usually it is over two 25 mile TT's but this year both legs were cut to 10 mile TT's on the J2/1 Monks Heath course because of roadworks.
The first leg, promoted by ourselves was in very bad weather. On June 4th, it had rained all day, although it did stop for the event. Macclesfield were handicapped by only having four starters. With the best 6 to count, they were forced to take a penalty, with the time of our 6th counting rider counting for both of their missing riders. Since our 6th counter fell off on a patch of diesel at the turn, this was a 29:01, meaning that we came away with a lead 2:28:09 to 2:37:43, and carried a 9:34 lead into the second leg.
Leg 1 FULL RESULT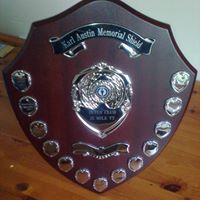 The second leg, promoted by Macclesfield wheelers on June 25th had a much better turn out in much better weather. Our top 6 time this time round were all inside 24 minutes with the top 3 under 22 minutes with a winning time of 20:37 from ben Norbury, meant another win for us 2:15:08 to 2:25:34, a difference of 10:26. This gave an aggregate over the two legs of exactly 20 minutes, meaning that we retain the shield for the fourth year in succession.
LEG 2 FULL RESULT
The counting Congleton riders over the two legs were Ben Norbury, Philip Gleave, Matt Stephenson, Stephen Sladin, Jake Dooley, Stephen Kane, Darren Johnson, and David Farrington. Well done to them and all of our riders.
Video of the second event HERE (Thanks Adrian Pennington)